During this pandemic, people are experiencing grief and loss while isolated from their communities of support. Books can be a comfort for those experiencing loss or looking for guidance.
During this pandemic, people are experiencing grief and loss while isolated from their communities that typically provide practical and emotional support. Books can be a comfort for those experiencing loss or looking for guidance on how to support others. Some might find themselves thinking seriously about death for the first time; others may be getting their affairs in order as a way to take control. The death-positive movement seeks to encourage engaging with mortality and empower people with knowledge about their choices around end-of-life. These death-positive resources, available as either ebooks, audiobooks, or free online resources, can help.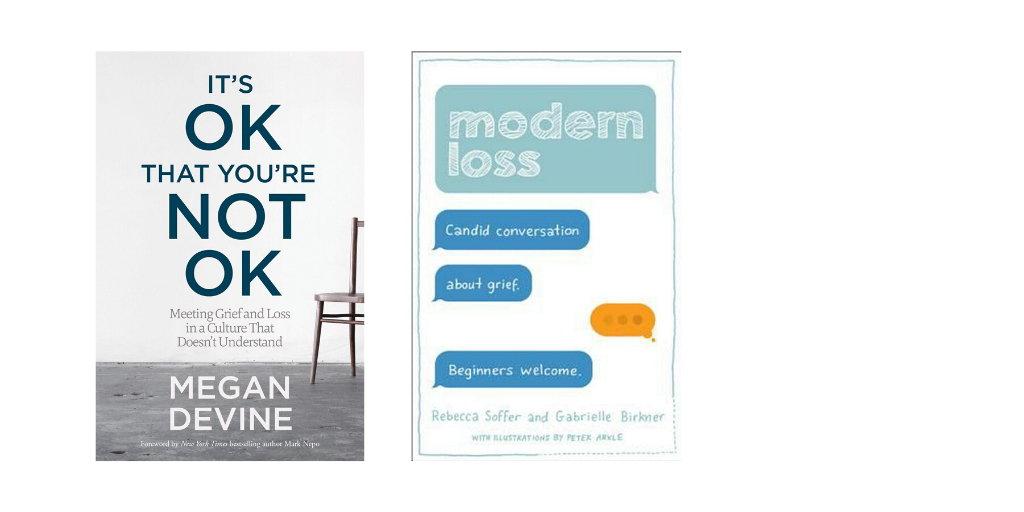 Devine, Megan. It's OK That You're Not OK: Meeting Grief and Loss in a Culture That Doesn't Understand. Sounds True. 2017. ISBN 9781622039074.
This is the most useful grief book of our times. Deeply empathetic but allergic to schmaltz and platitudes, Devine's work meets the grieving person where they are. For those supporting grievers, Devine provides concrete ideas of what to do to help, and perhaps most importantly, what not to say. No religious overtones for those who do not want them, but the book would likely not offend those for whom religion provides comfort. Devine hosts a robust online community and grief writing workshops at Refuge in Grief.
Soffer, Rebecca and Gabrielle Birkner. Modern Loss: Candid Conversation about Grief. Harper Wave. 2018. ISBN 9780062499189.
A collection of essays from grievers of all kinds digging into the often unexplored truths of grief, this book is an offshoot of the popular online community Modern Loss. The editors founded the website after meeting in a support group for young people whose parents had died; they felt there were few resources that spoke to their experience in a fashion relatable to their age and inclinations.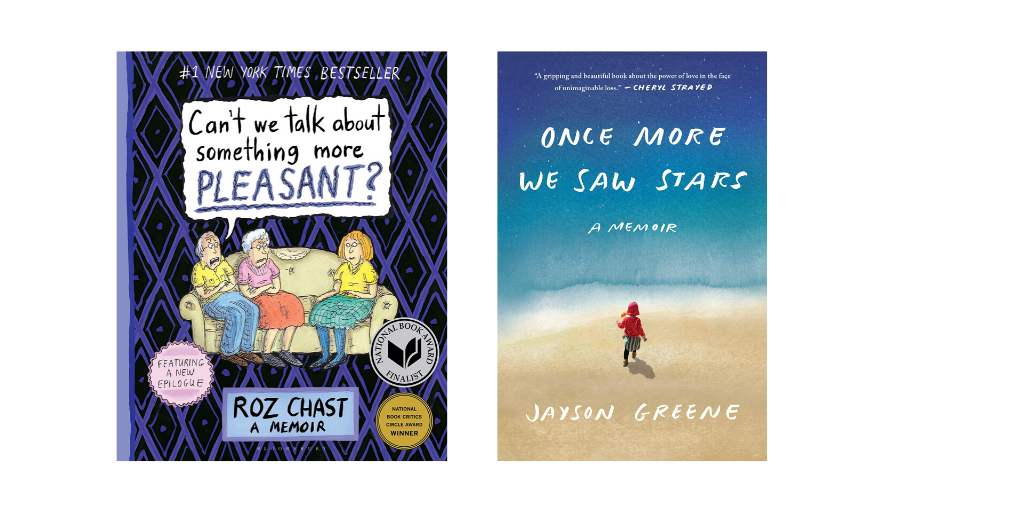 Chast, Roz. Can't We Talk About Something More Pleasant?: A Memoir. Bloomsbury. 2016. ISBN 9781632861016.
New Yorker cartoonist Roz Chast offers a memoir through cartoons that is at turns humorous and tear-jerking about the decline and deaths of her parents. The struggle of adult children who find themselves managing care for their parents particularly resonates in this current landscape.
Greene, Jayson. Once More We Saw Stars: A Memoir. Knopf. 2019. ISBN 9781524733537.
Even within the realm of grief, the loss of a child holds an unspeakable horror, leaving grieving parents often feeling a special isolation. Greene's memoir of losing his young daughter in a freak accident reads like a forest fire whose cleansing devastation eventually paves the way for new life. In the end, this book rewards those brave enough to take it on, when they feel ready for it.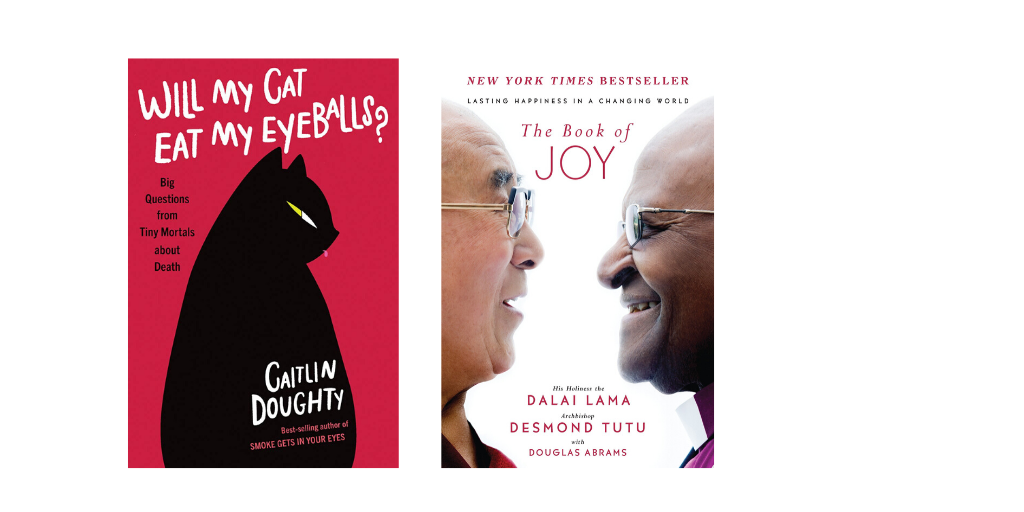 Doughty, Caitlin. Will My Cat Eat My Eyeballs?: Big Questions from Tiny Mortals About Death. Norton. 2019. ISBN 9780393652703.
Figuring out how to talk to kids about death is one of the biggest challenges parents face. The third best seller from mortician and death-positive activist Doughty brings her trademark pitch-perfect humor and clarity to children's questions about death. This book can act as a low-stakes gateway into tougher conversations and learning experiences by engaging children's natural curiosity in an open and honest way. Tons of practical death-positive information including everything from funeral planning to book recommendations to a COVID-19 toolkit is available at Doughty's nonprofit organization, The Order of the Good Death.
Tutu, Desmond, Dalai Lama, & others. The Book of Joy: Lasting Happiness in a Changing World. Avery. 2016. ISBN 9780399185045.
One might think this title would be about sunny optimism, but the whole book centers around finding joy through adversity, sadness, loss, and grief. It gives some great examples of what death positivity looks like through a Buddhist and also a devout Christian lens, but the authors usually speak much more generally about these issues, so it has broad appeal. The book chronicles a week of conversations between these two old friends, where one (Tutu) was in the midst of battling a recurrence of prostate cancer; mortality is a theme that's woven throughout. This book is a stealth death-positive primer for people who might be afraid to read a book that markets itself as about dealing with death anxiety.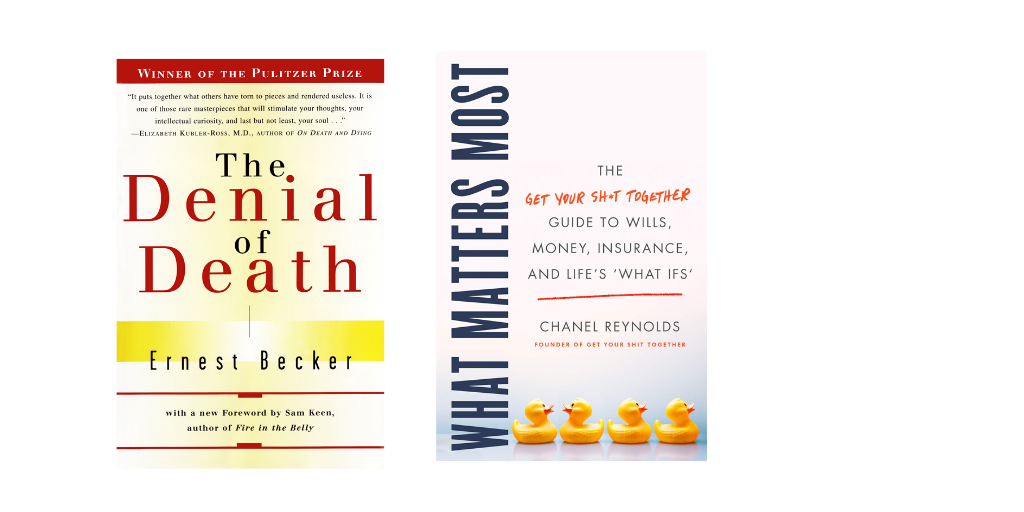 Becker, Ernest. The Denial of Death. Free Pr. 1997. ISBN 9780684832401.
For those interested in digging into the philosophical reasons behind death anxiety and the cultural phenomena it creates, this dense work delves into how and why humans attempt to ignore their mortality. A paperback release of a Pulitzer Prize winner published in 1974, this title eventually led to the creation of the schools of thought known as Terror Management Theory and death positivity. Illuminating further reading, including how these ideas play out today, is available via the Ernest Becker Foundation.
Reynolds, Chanel. What Matters Most: The Get Your Shit Together Guide to Wills, Money, Insurance, and Life's "What-ifs." Harper Wave. 2019. ISBN 9780062689436.
Reynolds bravely shares her actions surrounding the sudden death of her husband and what she wished she knew about wills, advance directives, finances, access to passwords, and insurance. She offers advice for accomplishing this preparation in small steps to avoid becoming overwhelmed. Her experience led her to found the website Get Your Shit Together, which provides handy checklists for getting prepared for the future and also what to do once a death has occurred. (An LJ 2019 Best Wellness Book)
State Advance Directive Forms
This joint resource from the end-of-life planning website Cake and The Order of the Good Death has free forms available for each U.S. state for completing a legally binding advance directive, and, when creating them might prove difficult during quarantine, Trusted Decision Maker forms. More information here.
---
Megan Rosenbloom is a health sciences librarian at the University of Southern California and author of the forthcoming book, Dark Archives: A Librarian's Investigation into the Science and History of Books Bound in Human Skin. She is a member of the Order of the Good Death and leader in the death-positive movement.