Libraries across the country are finding new ways to support patrons experiencing mental health challenges—as well as the staff who serve them
For many, public libraries are safe, nonjudgmental spaces to escape into a book, program, or quiet room. For regular visitors, library staff can be reassuring, familiar faces. These perceptions are thrown into sharp relief for users experiencing mental health challenges. Patrons navigating library services while grappling with mental health conditions, looking for resources to better understand their lives, or using the library as a refuge while experiencing homelessness or substance abuse often need additional resources, accommodations, and reserves of compassion.
According to the National Institute of Mental Health, nearly one in five U.S. adults live with a mental illness—46.6 million as of 2017. More than a quarter of those aged 18-25 report some form of mental illness, which has a higher prevalence among women than men. These issues range from mild to severe, comprising anxiety or sensory disorders, depression, schizophrenia, bipolar disorder, post-traumatic stress disorder (PTSD), and many more. Some 11.2 million Americans were diagnosable within that year with serious mental illness that resulted in functional impairment.
Given the wide range of individuals served by public libraries, it should come as no surprise that the full spectrum of mental health is reflected among library users. But that doesn't mean librarians feel prepared to address their needs. "Library staff are realizing that they were not given the training in their curriculum in school to know how to support someone who's experiencing a mental health issue," notes Elissa Hardy, community resource manager at the Denver Public Library (DPL).
BEST PRACTICES
Consensus in the field holds that there are a number of best practices for those on the front lines, as laid out in articles such as the University of Colorado Law School Colorado Law Scholarly Commons' "Mental Illness in the Library: Ten Tips to Better Serve Patrons" or the American Library Association's (ALA) Association of Specialized and Cooperative Library Agencies (ASCLA) "People with Mental Health Issues: What You Need To Know."
Clear and explicit policies, all sources agree, displayed throughout the building and on the library's website, should be consistently enforced so they can be pointed to when someone exhibits inappropriate behavior—although noise policies, loan periods, and accessibility standards should incorporate enough flexibility to accommodate nondisruptive library users with mental illness (for example, a patron who talks to herself can be reminded that the noise may bother others, and could be offered a study room).
When extending reference help, staff should set limits on the time and resources dedicated to a single person, and be clear that any suggestions are options rather than advice or counsel. In the case of behavioral challenges, focus should be on the behavior, not the patron, who can be offered the choice to modify their actions or leave the library. Colorado Law Scholarly Commons suggest using firm, assertive, but not aggressive, language, and remaining professional so as not to escalate the encounter. Above all, treat the patron with the same respect and consideration offered to others.
In the case of more threatening behavior, staff need always to be aware of security procedures and support options. A statement like "I need to go check with someone else about that" can offer a way to step away from a difficult situation to find backup. Workers should look out for each other—not only in public-facing situations, but also behind the scenes, when colleagues may need help themselves.
To learn more about mental illness, organizations such as the National Alliance on Mental Illness (NAMI) and Mental Health America provide a wealth of information, resources, reading lists, and infographics. Many state libraries have fact sheets on the mental health for librarians, and ALA publishes a number of online resources.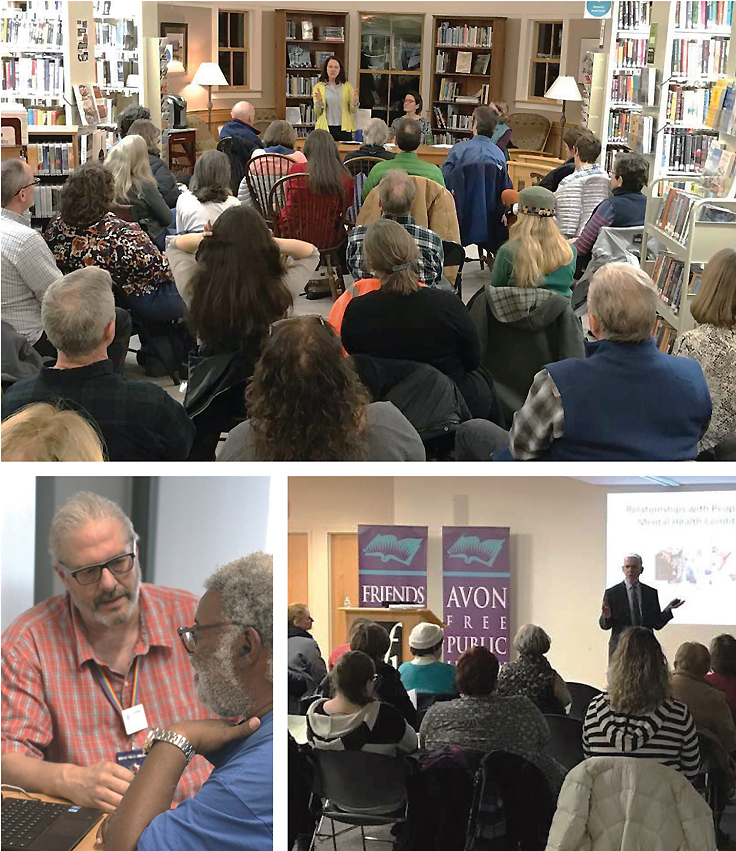 TO YOUR HEALTH: Risk and Resilience panel discussion at Charlotte Public Library, VT, draws a large crowd; Peer Navigator Jonathan Strauss counseling a patron at Denver Public Library; Rick Fisher, LCSW, speaks at the "Interacting with People with Mental Health Conditions" program at the Avon Free Public Library.
Top photo by Cindi Robinson, Charlotte PL; Bottom left photo by Sherry Spitsnaugle, Denver PL; bottom right photo by Tina Panik, Avon Free Public Library
MENTAL HEALTH FIRST AID
In the same spirit that physical first aid, CPR or defibrillator, and Naloxone administration training are offered to library workers, many libraries have instituted Mental Health First Aid (MHFA) training, an eight-hour course developed by the National Council on Behavioral Health. The state libraries of California, New Jersey, and Ohio have secured Library Services and Technology (LSTA) funding from the Institute of Museum and Library Services (IMLS) to support MHFA training for their states' public libraries, which pay the trainers who provide it.
The State Library of Ohio launched a grant initiative in 2018, inviting libraries throughout the state to request up to $4,999 in federal funds for MHFA, Youth MHFA, or Gatekeeper (suicide prevention) training and materials. "We were thrilled with the interest," State Library consultant and LSTA coordinator Cindy Boyden tells LJ. "We heard from rural small libraries, we heard from large urban libraries, we were seeing proposals indicating that the trainers themselves were willing to provide the training at no cost."
The training, which outlines ways to help a person who may be experiencing a mental health–related crisis such as anxiety, depression, psychosis, and addictions, includes strategies for recognizing signs, how to assess the risk of self-harm, how best to reach out, how to de-escalate a situation, and how to connect a person with appropriate resources.
"It helps demystify a lot of misconceptions associated with mental health," says Boyden. "The information that's disseminated in the training is digestible—it's usable every day." The grants enabled more than 1,200 Ohio library staff and community members at 24 libraries to receive the training beginning in July 2018. Most will have wrapped up this summer, and the State Library is currently collecting final reports assessing their experiences. Boyden hopes to fund another round after the next fiscal year begins in October.
NAVIGATING RESOURCES
Librarians are often asked to help steer patrons through an array of mental health resources and databases to find the assistance they need. "One of the biggest things I hear, especially from public librarians, is that they'll have someone who just doesn't know where to get treatment," says Sarah Miles, National Network of Libraries of Medicine (NNLM) South Central Region health professions coordinator. However, many library employees have not received the training necessary to navigate specialized material.
A free course offered by NNLM, "Caring for the Mind: Providing Mental Health Information at Your Library," helps library staff connect patrons with information and services. Funded by the National Library of Medicine (NLM), part of the federal National Institutes of Health, the course is offered in versions from a one-hour stand-alone session, either online or in-person at conferences, to a four-hour class that offers continuing education credit for a consumer health information specialization through the Medical Library Association. In addition to useful background information, each class discusses challenges particular to library work: how to conduct a mental health reference interview, or programming around mental wellness.
The use of resources and databases is a strong component of the course, with NLM resources such as PubMed featured "front and center," says Miles. "They're free to use and they're authoritative." Other resources—also free—from NAMI and the Substance Abuse and Mental Health Services Administration (SAMHSA) are highlighted, and a resource handout and PowerPoint are available on NNLM's Caring for the Mind website.
PARTNERING FOR HEALTH IN SAN DIEGO
MHFA has been an important piece of the Mental Health Services program at San Diego Public Library (SDPL), CA. SDPL access services librarian Joseph Meisner, who has been trained to teach MHFA along with some 30 other librarians, reports that about two-thirds of the 36-branch system's staff have taken the course—funded with a $1 million Mental Health Initiative grant from LSTA— since June 2017; his goal is 100 percent staff completion.
Located on the third floor of SDPL's Main Branch, the Mental Health Services program is the result of a partnership with the San Diego County Health & Human Services Agency, offering outreach that includes referrals for housing services, addiction counseling, legal assistance, and mental and physical health services, as well as advocacy for Social Security Disability Insurance. Offices currently are open three days a week.
Partnerships, large and small, abound. The library offers training on how staff can better utilize the city's 211 service, a federal phone help line that offers direct links to social service referrals. SDPL also works with San Diego State University, which offers a Roadmap to Recovery Program—a course for people diagnosed with mental illness that teaches various life skills—on conducting needs assessment for the local population.
In March, the library hosted its second Mental Health Resource Fair. The event brings together more than 20 local health and wellness organizations—a win for city residents, social services, and the library alike. "Folks can come and see all these different services in one spot, but it's also nice networking for all those different organizations," says Meisner, and it positions SDPL as part of that community as well. "That's been pretty powerful for us."
Meisner would like to see the Mental Health Services Office open seven days a week, and continues to advocate for the necessary funding. "We keep that conversation open when we're talking to stakeholders, be they philanthropic efforts or political efforts," he tells LJ. "We let them know that we have the space and we have the need."
EXPERT HELP
Staff education is invaluable, but often mental health challenges faced by library users require the attention of trained social workers and care professionals. Some 30 libraries nationwide and across Canada have brought on social or outreach workers in paid positions, and many more are looking to do so.
San Francisco Public Library (SFPL) hired the first library social worker, Leah Esguerra, in 2009. She performs clinical assessments in the library and reports back to colleagues who provide case management. She and her team have helped hundreds access job training, housing, counseling, social services, and rehabilitation.
In early 2012 Pima County Public Library (PCPL), AZ, partnered with the Pima County Health Department to become the first library in the nation to hire a public health nurse as permanent staff member. "We could see there was this gap in our service where people needed more of our time than we could [provide] on desk, and we needed an option besides kicking people out for the day or calling the police department," explains library services and Main Library manager Kate DeMeester.
The program not only brings professional physical and mental health services to patrons, but the nurses are able to manage cases in ways librarians can't. "From a privacy standpoint, if [library staff] make a referral, when that person comes back and sees us in a week or two, we're not going to say, 'Hey, did you go talk to so-and-so?'" says DeMeester. "We don't want them to feel like they're being monitored by us, or that their requests are being tracked. But nursing is a different profession, and that kind of follow-up is expected."
If a visiting nurse can't handle a person in severe crisis, PCPL can call the local crisis center or Tucson Police Department, which has been conducting its own internal training to better serve community members with mental health issues. The library has seen a major reduction in calls to the police, however, says DeMeester; after the program's first year, 911 police calls decreased by 38 percent.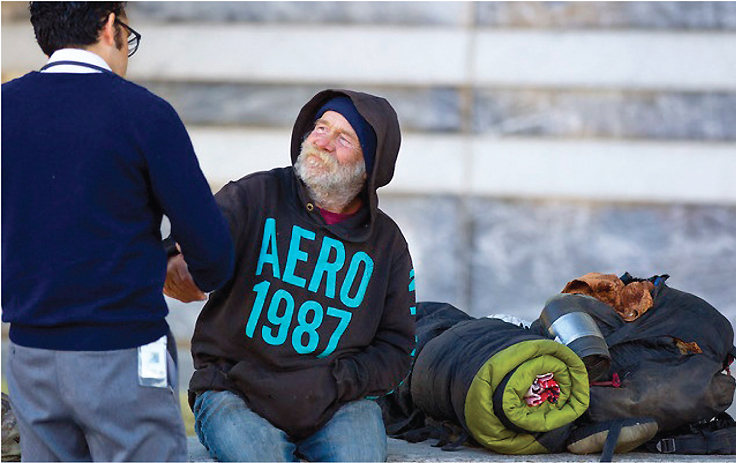 REACHING OUT: Pima County Public Library nurse Daniel Lopez, l., talks with David Caldwell, r., at the Joel D. Valdez Main Library.
Photo courtesy of Pima County Corrections
LEVERAGING LIVED EXPERIENCE
A number of libraries are engaging another kind of expert—people who have experienced mental health challenges themselves. In 2012, Denver's Homeless Services Action Committee recommended adding a social worker to the staff, but the scope of the work was overwhelming for one person. When Hardy joined the library in 2015, she instituted DPL's Community Resource Program (CRP) along with the Peer Navigator Program, which deploys a team of individuals who have experienced homelessness, a mental health diagnosis, recovery from substance abuse, or the criminal justice system. There are no requirements to become a peer navigator other than that lived experience, a high school diploma or GED, and a commitment to helping others. Members of the team receive training at DPL on basic library processes, and a local nonprofit, Colorado Mental Wellness Network, offers peer support specialist training.
"When someone comes in and asks for support, they can meet with someone who's had a similar experience, has navigated the system, and has some internal knowledge around that," Hardy tells LJ. "The relationship that they can build with people because of that is amazing. That rapport is established really quickly." This year DPL has a CRP team of ten, including four social workers and six peer navigators, who cover all 26 branches.
Hardy and her colleagues have received so many questions about social work services in public libraries that last year she helped form the Public Library Association (PLA) Social Work Interest Group. The website offers articles, blog posts, and the opportunity for librarians interested in developing similar programs to ask questions.
WHOLE-COMMUNITY PROGRAMMING
Education, advocacy, and proactive self-care are important parts of the work, and there are many thoughtful ways to start conversations around mental health in the community—particularly for libraries with smaller budgets or fewer resources.
In fall 2018, Tina Panik, reference and adult services manager at the Avon Free Public Library, CT, felt a growing undercurrent of stress at the library. "The texture of our interactions with patrons was changing and our staff was feeling like they were missing things, or they weren't able to help people as fully as they needed to." She was seeing more people upset about current events, more "sandwich generation" adults caring for both children and parents, more seniors navigating life challenges.
With funding from NNLM, Panik and Jennifer Bennett, coordinator at the Avon Senior Center, joined forces to produce "Take Care of Yourself," a yearlong series of community conversations featuring invited speakers on topics including Mental Health 101, depression, memory loss—they have purchased software and training for a virtual reality program that gives users the experience of dementia—hoarding, positive body image, grief, substance abuse, sexuality, PTSD, and the legal aspects of conservatorship. Half of the topics will be offered twice: for the general public and again for town of Avon employees, from the public works department to the town manager's office and, of course, the library.
"We want both town employees and the public to know that when you're encountering people, or you're working with them, there's a way to have informed compassion," notes Panik.
Response has been extremely positive so far, and both Panik and Bennett are pleased to see that people are willing to talk about sensitive subjects, and listen. "If they don't need the information now," says Panik, "six months from now they might come back to us and say, 'You had that program on positive body image and my daughter's struggling. Can you help me find something?'"
Between 1996 and 2016, the suicide rate in Vermont increased by more than 48 percent. In northwest Chittenden County, the Charlotte and Carpenter-Carse libraries teamed up to host a series of conversations on Risk and Resiliency in February, featuring a panel of three local mental health experts and in a separate event, Ron Powers, author of No One Cares About Crazy People: The Chaos and Heartbreak of Mental Health in America (Hachette).
"Part of the issue is the whole stigma around mental health issues and people being afraid to talk about it. So we were hoping if we just presented it as just a conversation, anybody could come," says Charlotte Public Library director Margaret Woodruff. "And that's what ended up happening."
The panels, made possible with technology and education grants from NNLM, were well-attended, particularly by parents of teens and educators. Both libraries made sure that attendees walked away with plenty of informational printouts, and grants from NNLM also allowed them to augment their mental health print collections and purchase two iPads apiece, loaded with mental health resources that patrons could access in the privacy of the library. A survey following the events showed residents eager to learn more about resilience, for themselves and their children, and the partners are applying for further funding to implement a new series in the fall.
SMALL STEPS MATTER
The push to build out the libraries' mental health materials was not a secondary decision. Many agencies, state libraries, and local schools and academic institutions can help advise on collection development. Libraries can also encourage the use at home of in-school resources, such as Cameron's Collection—a set of nearly 40 ebook titles from Gale, a Cengage company, in collaboration with the Cameron K. Gallagher Foundation, that provide resources and tools to help teens who are battling with depression and anxiety and that can be shared and accessed privately. ProQuest's Consumer Health Database contains at least 50 publications covering psychology and mental health. Rosen Publishing Group's Teen Health & Wellness resources cover a wide range of subjects for middle and high school students.
Libraries across Canada and the United States have added Seasonal Affective Disorder (SAD) light therapy lamps to their collections for in-house and home checkout. As part of its city's Mental Health Initiative, Colorado's Longmont Public Library began circulating Wellbeing Bags, stocked with books, movies, music, and articles designed to spark conversations about mental health. In March, the Hawaii State Public Library at Oahu hosted "Minds Matter: A Teen Mental Health Art Exhibition," a student-led initiative. Guest speakers from Kapiolani Community College, Mental Health America of Hawaii, the Hawaii chapter of NAMI, and Waikiki Health spoke at the opening reception.
Even libraries without significant state or local funding should look at what resources they have on hand, or local agencies to partner with, and jump in. "Does your system have money that you could spend with a health department or local provider, or are you going to need free services and just be able to offer space?" asks DeMeester. "It's about first knowing how far you can go, and then finding the partner that fits what you have to offer."
Any library worker can attend MHFA or the NNLM training, and managers and leaders should support them in doing so. "I don't think we should assume that librarians have every skill inherently to deal with every possible crisis and change in humanity," notes Panik. "We've got to get training on it."
"AN ISSUE THAT'S NOT GOING AWAY"
---
The benefits of initiatives supporting mental health are easy to gauge in terms of individuals helped, programs attended, and materials checked out—yet at the same time often difficult to quantify because of the need for patron privacy. Libraries may also experience some pushback about accommodating customers with mental health challenges.
In addition, employees may also object to being asked to engage with challenges they aren't prepared for or don't wish to confront. San Diego's Meisner agrees that it's a genuine concern. "I definitely agree that jobs can expand if you're not careful," he says. "But it's an issue that's not going away, so why not get the tools? We're going to wake up tomorrow and come back to our libraries and people are still going to be suffering from mental health issues, big and small. If we have that understanding, even if it's to get them through a minor crisis...better to have that than to just hope everything's going to be okay."
---
MENTAL HEALTH BEHIND THE DESK
Librarians and library staff have worked to make the library space a more welcoming and equitable experience for mentally ill patrons. However, librarians and library workers themselves also sometimes live with mental illness while at the same time providing service and support every day to patrons and colleagues.
Librarianship can be a challenging profession for those of us with a mental illness. Whether public, academic, or school, librarians and library workers engage with and help people on a daily basis. Demands are placed on us by our community and peers. We place demands on ourselves. Without a support system (and sometimes even with one), we may become overwhelmed, anxious, panicky, depressed, and potentially burn out. Even without extra stressors, it can be hard to manage a mental illness or illnesses. Because mental health is so misunderstood, administrators, colleagues, and others may not recognize problematic behaviors of someone with a mental illness for what they are: symptoms. Mental illness is still greatly stigmatized, preventing some from seeking help. Often referred to as an invisible disability, mental illness can further isolate the sufferer and perpetuate the secrecy.
A CRUCIAL CONVERSATION
Breaking that silence, the conversation surrounding mental illness in librarianship is thriving on library Twitter; in blog posts from In the Library with the Lead Pipe, Hack Library School, ACRLblog, Letters to a Young Librarian, individual librarian/library workers/MLIS student blogs; at conferences; and in a growing list of library and information science publications.
LIS Mental Health Week was started by Kelly McElroy, a 2017 LJ Mover & Shaker [M&S], and Cecily Walker in 2016 as an avenue for LIS professionals to discuss, support, and understand what it means to be mentally ill, how it impacts our work, and those we love. These are not easy experiences to share. The silence that surrounds mental illness is a result, in part, of our fear that revealing a mental health struggle may put our jobs at risk; open us up to criticism from administrators, supervisors, and colleagues; or diminish us in the eyes of others. As a result, many who work in libraries stay silent about their mental illness or illnesses. The LIS Mental Health Week Twitter chat includes a bot for sending anonymous tweets, highlighting the strong stigma and fear surrounding disclosure.
Through continued conversations about mental health and library work, librarians and library workers make a statement about changes that must occur in our libraries, MLIS programs, and perhaps the structure of our work life. What has emerged from these discussions is consensus that there is still a lack of understanding about mental illness in the workplace and confusion over what support those with mental health concerns need.
GETTING THE WORDS OUT
Progress in educating and building understanding among the public as a whole, and our profession in particular, has been slow. Still, empathy and compassion are growing. LIS Mental Health Week and the connected LIS Mental Health Zine, Reserve and Renew, are helping boost awareness and move forward a thoughtful and honest conversation about mental health, library work, and support. Issues can be purchased for a $5 donation, which goes to the nonprofit Mental Health First Aid USA. Since its beginning, LIS Mental Health Week combines a LIS Mental Health Twitter chat (#LISMentalHealth), used throughout the year in blog posts, and events and activities to raise awareness led by librarians and library workers whenever they work. The zine, developed by Violet Fox, a 2019 LJ M&S, and Annie Pho, builds on the annual mental health week by bringing together writings, illustrations, and other creative works from within the LIS community, providing an ideal platform for the voices of those who struggle with mental illness. There is hope that through these efforts the library can become a more welcoming and understanding space for all those who work there.
---
For some suggestions on mental health collection development, see "Collecting Mental Health."
---
Abigail L. Phillips, PhD, Assistant Professor, School of Information Studies, University of Wisconsin–Milwaukee, is always happy to talk mental health and mental illness via Twitter (@abigailleigh)