LJ's Design Institute in Missoula, MT, tackled new needs, tools, and techniques for library design in inspiring surroundings
LJ 's recent Design Institute took place in Missoula Public Library's (MPL) newly constructed home nestled between rolling hills. The beautiful top-floor event space featured dramatic views and was filled with a crowd of librarians and architects eager to engage with the changing challenges of designing a truly great library.
PLANNING WITH PARTNERS
Following welcome remarks from LJ and MPL Director Slaven Lee, the day kicked off with a panel on the first fundamental of building: how to pay for it. Traci Engel Lesneski, CEO and principal of MSR Design, and Dennis Humphries, consulting principal of RATIO Design, were led by moderator Honore Bray, retired director of MPL.
The panel took as its touchstone the IFLA/Systematic Public Library of the Year Award 2022–winning MPL building designed by MSR. Bray cited her inspiration: Danish and Swedish "cultural houses." She and Karl Olson, development coordinator for the MPL Foundation, sought organizations interested in sharing a new building with the library. "A long and grueling six months of interviews" assessing community needs followed, Bray said. They learned the town wanted kindergarten readiness, hands-on experiences, and STEM learning. This led to partnerships with SpectrUM, the University of Montana's science center; Families First Learning Lab; and Missoula Community Access Television.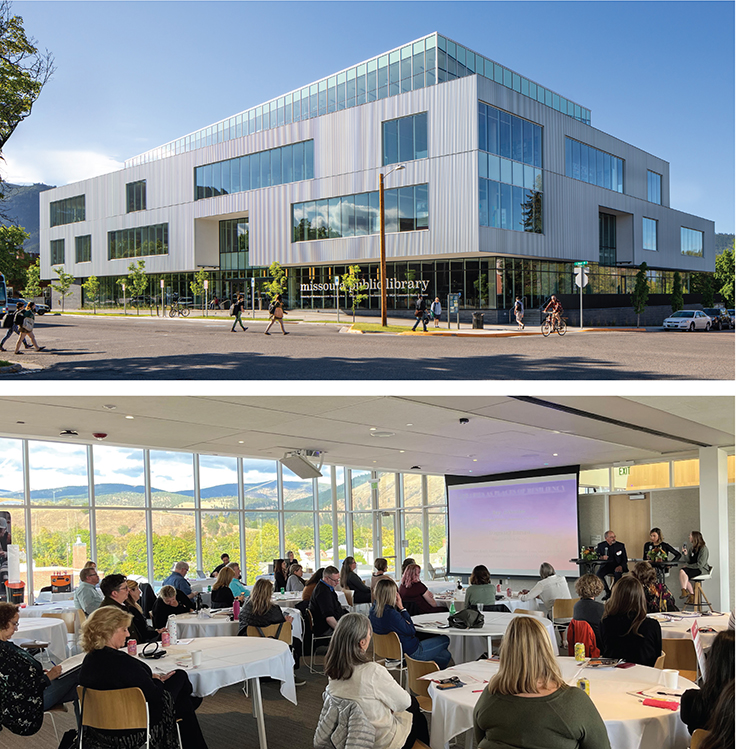 LEADING THE CONVERSATION

Architects, librarians, partners, and vendor sponsors co-created a deep dive into how to create a truly community-driven library space. Top: the award-winning Missoula Library, an inspiring setting. Bottom: Lively discussion in the top-floor event space, surrounded by mountain views. Top photo by Lara Swimmer, bottom photo by Kevin Henegan
When the library went to county commissioners for a $30 million bond issue, said Bray, they were fairly certain it wouldn't happen. But "two hours later, commissioners were crying because of the stories of what the library has done for people in their lives. It was a yes vote."
The library wanted local architects to partner with a national library specialist. A team of 27 community representatives, including a high school student, assessed seven national firms before choosing MSR, in part because the team spent a week in Missoula getting to know what community members liked and wanted.
Lesneski explained that while interviewing community members, many conversations centered on making the most of the partnerships, such as siting "collections next to exhibits, engaging learning in multiple ways." That didn't align with the partners' first vision of how to share the space. They had concerns about "being together in an immersive environment instead of multiple storefronts, and what that would mean for their donors and the experience" as distinct organizations, Lesneski explained. But they worked through it, and Lesneski said, "as you walk around today to experience…the container for the partners it feels like a cohesive family, but each personality shines through."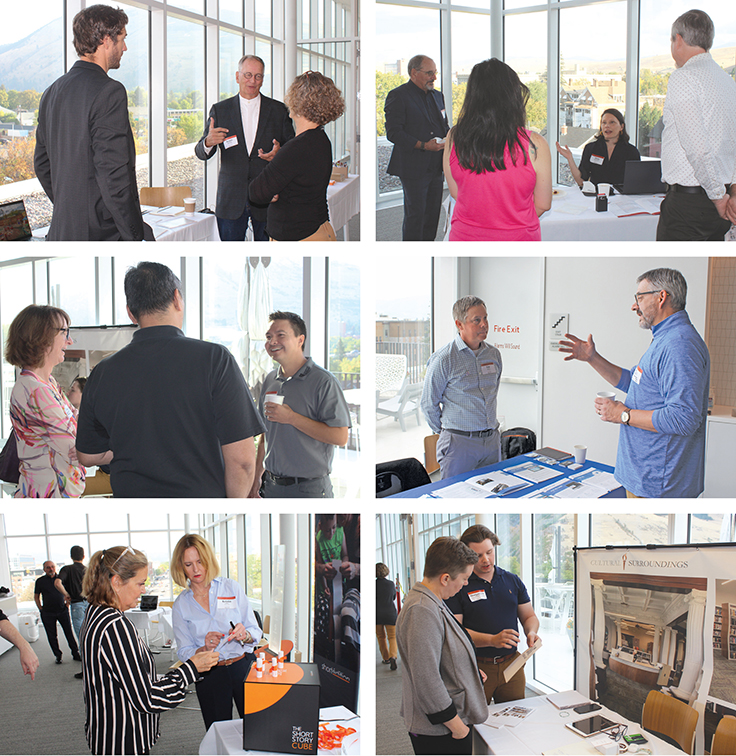 SHARING RESOURCES Architects and vendors interacted with attendees. Top row, l: Joel Miller (l.) and Dennis Humphries from RATIO Design; r: Ray Johnston (l.) and Mona Johnston Zellers (seated) from Johnston Architects. Middle row, l.: Kenji Chicott from Lyngsoe Systems (r.); r. Tim Lawson (l.) from Tech Logic. Bottom row, l.: Kristin LeRoy from Short Editions (r.); r. Montgomery McKenzie (r.) from Cultural Surroundings. Photos by Kevin Henegan
Humphries shared his experience convening possible partners in communities where the library does not start with such a vision. He often "asks for a coalition of all the local nonprofits to come in and see what the common themes are; you don't want to compete, you want to complement."
Partnerships are a major source of alternative funding, said Lesneski. And they enable libraries to expand services. "You rely on those partners, so the library staff doesn't have to own that knowledge to extend that knowledge."
The downside is potential watering down of the library's brand. That, in turn, can hamper support. Missoula brought in a consultant and came up with a new name for the shared space—The Link—only to find that funders and voters said, "we are funding a library," according to Bray. It took several weeks to get all the partners on board.

WELCOME, ALL! Attendees checked in and signed up for challenge sessions (l.); LJ Editor in Chief Meredith Schwartz (l.) with Missoula Library Director Slaven Lee (c.) and Jesse Herbert-Meny, library partner and DI moderator. Photos by Kevin Henegan
Partnerships can also create legal complications. MPL had been told they couldn't use a general obligation bond to fund space housing nonprofits. An intensive process with multiple attorneys and finance experts eventually came up with a workable model: bond money was used only for library spaces, while the Foundation funded the partners.
Regardless of who is footing the bill, a dollar won't stretch as far as it used to, reminded Humphries. Most library construction projects take five to seven years. Said Humphries, "Five years ago we didn't have a pandemic or cost inflation. We are trying to build buildings costed out when it was half [the cost it is now], and it's a real struggle." He cited a library in McCall, ID, which had a
$6 million bond approved. The cost is now $11 million. How to reconcile those two numbers? "The easiest way is to cut square footage, but you can't cut small into smaller," said Humphries. Instead, the city found an inventive way to use future capital funding.
Lesneski said she faced similar issues in Bozeman, including labor shortages. She advised talking about costs from the beginning of a project and "always have some safety valves in your pocket. What are the first things that can go?"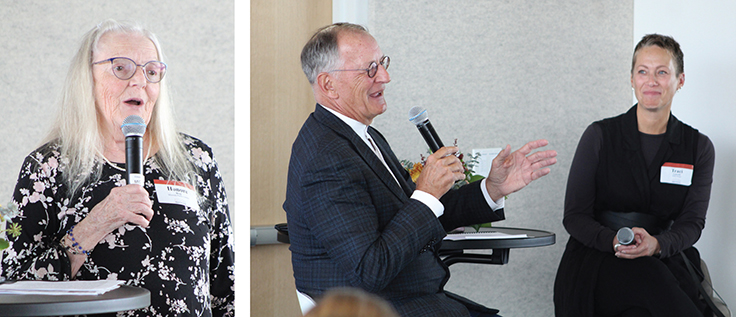 PARTNERING FOR SUCCESS Retired Missoula Director Honore Bray (l.), who sheperded the library to completion, moderated a panel on funding through partnerships with RATIO Design's Dennis Humphries (c.) and MSR's Traci Engel Lesneski (lead architect on Missoula's new library). Photos by Kevin Henegan
PLANNING WITH PEOPLE
In "Planning for a People-Centered Future," Jessie Herbert-Meny, director of the spectrum Discovery Area, one of MPL's partners, moderated panelists Mindy Sorg, senior registered interior designer at OPN Architects, and Joel Miller, associate AIA, RATIO Design. Sorg kicked off by stating that modern library design starts with "immersing ourselves in the community"—not just the portions that already use the library. To reach those that don't, Sorg says she frequently works with the United Way. Sorg's team goes to events like "touch a truck" to ask kids what activities they want and adults what obstacles keep them away.
Miller noted that "We are sometimes preaching to the choir at community events, people who are already strong supporters of the library. This touches on inclusivity: We have to think really hard about the demographics we are serving and how to reach those folks."
Sometimes increased use of technology can engage community members, said Miller. Virtual reality, for example, enables them to walk through floor plans—something Herbert-Many said kids found compelling during MPL's design.
But one of Sorg's most successful feedback gathering sessions was extremely low tech—unexpectedly faced with an audience that didn't speak English and no interpreter, she abandoned her PowerPoint and broke out markers, encouraging kids by example to draw what they wanted.
Sorg noted, however, that not all feedback is going to be implemented. It must be evaluated to see whether it aligns with the priorities, funding, and master plan. Architects, Sorg said, can not only help librarians "make those tough decisions" but also "convey those messages."
Miller added, "Sometimes the constraints of a project can push ideas into innovation."
TAKING THE LONG VIEW A panel on planning moderated by Jesse Herbert-Meny (l.), director of spectrUM Discovery Area (a Missoula library partner), featured RATIO's Joel Miller (c.) and OPN's Mindy Sorg. Photos by Kevin Henegan
Sorg named other considerations of human-centered design: "How is it biophilic, how can we create spaces of refuge, journey, opportunity, a little bit of risk?" She urged considering sound as well as sight to create spaces that feel separate while still preserving staff sightlines. "You feel the sound, it just gets nice and quiet with a different ceiling element: a little nook, still safe, not isolated."
Miller added the importance of simple intuitive design for wayfinding that doesn't rely on language—including reliance on glass, which also promotes a relationship to nature and human wellness.
Sorg also suggested letting that connection to nature—and of course the books and programs—provide the decoration, keeping finishes simple.
Miller said that holds true even for teen and children's spaces. While they "have been very colorful and bright in the past, in some of the focus groups we have been finding the opposite. Maybe as a reaction to distance learning," he said, participants want to "step away from technology, a place to reconnect to nature."
Because "we're trying to design very specific solutions for a very broad range of people," Miller notes, "diversity of space is what makes a really great library." That means "a variety of thermal comfort, sunny spots where someone can bask on a rock, cooler spots, darker spaces where people can step away from hypersensitivity from patterns, etc."
COMMUNITY CATALYSTS
On "Community Catalyzers," Barbara Theroux, president of the Friends of MPL, led Toby Olsen, associate principal, OPN architects, and Chris Noll, principal, Noll & Tam Architects, in a discussion of how libraries can not only reflect the culture of their communities but center equity and inclusion in the design and construction process.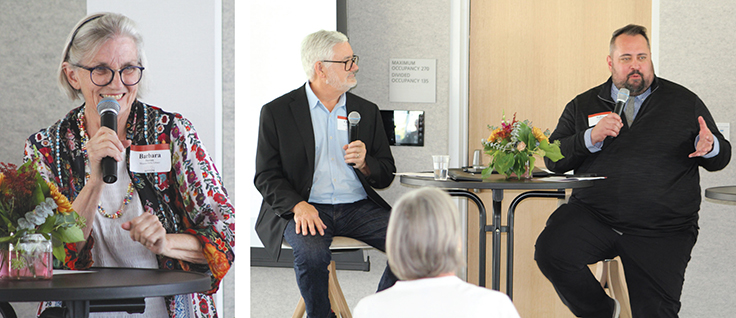 COMMUNITY AS DRIVER

A panel on community catalyzers was moderated by Barbara Theroux (l.), president of Friends of Missoula Library; giving insights were Noll & Tam's Chris Noll (c.) and OPN's Toby Olsen. Photos by Kevin Henegan
Noll cautioned against trying to be all things to all people. "The array of possibilities is so broad it takes leadership to come up with the subset that is really going to work," he said, suggesting that trustees and library planners work with other community leaders. Olsen agreed. "These are the groups our community needs to represent better," he said, and the key is "meeting people as they are where they are."
Noll is currently working on two libraries in Portland, OR, located in historically Black neighborhoods. Said Noll, "They're beloved by their communities, but the history of racial discrimination is pretty grim. They have had freeways and huge event centers and hospitals to drive people out of that community in the last 40, 50 years, and now gentrification." Noll's firm designed the outreach process for both around reaching out to the Black community. While there are many other groups in the neighborhoods, and the Black residents are no longer the numerical majority because of that history, Noll and Tam and the library have set a goal to "achieve racial restorative justice, to restore faith in government" by giving something back to a community that has had so much taken. Multnomah County Library "is 100 percent behind this," said Noll.
The team is going to churches, community centers, homes, and cafés to ask, "What makes a difference to them, what would feel to them like justice?" Among the answers: creating exhibitions, collections, and spaces dedicated to that community, such as the Black Cultural Center; space to meet in small groups; and color palettes, textures, materials, and furnishings that feel welcoming.
Noll noted that the design process can be used to unite community factions that are at odds. In Half Moon Bay, CA, an entrenched anti-tax faction was opposed to the new library. Noll and Tam "devised a pretty intense community process for four months to bring these people together." They made participants work at tables and refused to let members of the same faction sit together. It was contentious, but ended in consensus. Said Noll, "Everyone who was fighting the library is now claiming this is their success."
Olsen noted that divisions can also arise in multibranch systems over disparities between branches. "Often you have a have and have not feeling, 'How come they get all the great stuff over here?'" He suggested that could be somewhat mitigated by creating a consistent feel across branches.
RESPONDING TO CHANGE
Mona Johnston Zellers, partner, Johnston Architects, and Jane Catalano, principal interior designer, Noll & Tam Architects, were moderated by Xavier Kneedler-Shorten, dean's assistant, Mansfield Library, University of Montana, Missoula, for "Changing Role of Technology and Responsive Design."
Zellers began by discussing how the building responds to its context, such as taking advantage of daylight yet making it easy to shade, and using prevailing winds for ventilation. On the user side, she mentioned the need to plug in a laptop all over the library.
CENTERING TECH Xaview Kneedler-Shorten (l.) from Mansfield Library moderated a panel on tech-responsive design, featuring Johnston Architects' Mona Johnston Zellers (c.) and Noll & Tam's Jane Catalano. Photos by Kevin Henegan
Catalano agreed, saying libraries "always need more power everywhere." Catalano urged raised floor systems if possible, noting that low-profile ones are sufficient for power even if there's not room to handle ventilation, and that if neither is an option, over-carpet systems are available.
As more people work remotely, Zellers noted increased need for acoustically isolated spaces. To preserve staff sightlines, she is using glass walls. Catalano added that pre-made pods are a potentially cheaper, more flexible alternative. They cost $10,000–$40,000, have their own lights and ventilation, and can be moved around. She also raised the possibility of using "acoustic treatments and white noise to create good spaces for this kind of thing without putting walls around them." Zellers noted that furniture can be arranged to create semi-enclosed, semi-private spaces.
Catalano noted that it's not enough to build in tech without also having staff on hand to train patrons to use it. And too much technology can be off-putting. "We might get tempted to say, 'Ooh, touch screens everywhere, it's so great,' but some people are not comfortable using that." Similarly, she noted, the common trend of replacing desktop computers with laptops may not work for all audiences.
Zellers emphasized the importance of seeing what is working—and not working—in other libraries. Kneedler-Shorten offered the example of the one-button recording studio. Mansfield Library implemented one because a staffer learned about them at another library, and has now spun off a lightboard studio and podcast room as well.
LIBRARIES AS CENTERS OF RESILIENCY
Wrapping up the day, Ray Johnston, founding partner of Johnston Architects, and Dagmara Larsen, principal, MSR Design, addressed libraries as places of resiliency, moderated by Emily Petty Puckett, interim associate university librarian for operations, University of Michigan.
Larsen polled the audience about what natural disasters they face: Drought, fire and smoke, strong winds, tornadoes, floods, blizzards, and extreme heat waves all impacted attendees, and, as Larsen noted, are getting more severe and frequent. Johnston added social issues such as homelessness, poverty, and economic downturns, raising the concept of social resilience.
Larsen noted that the host library faces a smoke season so severe that you can't see out of the windows. MSR built in filtration and air distribution so the library can serve as "a place of respite when your home is smokey and you need a place to hang out with your kids."
Johnston said that in one area, fires spurred local nonprofits to band together and realize they could achieve more. "That social resiliency formed the foundation of the fundraising for a new facility that would be a place of refuge."
STRONGER TOGETHER Illuminating the notion of libraries as resilient places were (l.-r.) Johnston Architects' Ray Johnston, MSR's Dagmara Larsen, and moderator Emily Petty Puckett. Photo by Kevin Henegan
Larsen added an example from Idaho. Facing drought and heat, increasing temperatures, power outages, and rising energy prices, the library aimed to serve as a cooling place. That's as much about knowing the site as it is about technology, Johnston noted: analyzing glare and heat gain from sunlight. The solution can be as simple as a sunscreen system or the form of the building, he said, as well as using "solar panels and other alternative energy sources to feed very efficient heating and cooling systems."
Larsen noted that high- and low-tech solutions can be used together or as alternatives. At MPL, MSR used fresh air sensors. "When there is smoke, the building shuts down, so it is self-circulating." But, she noted, that won't work during a power outage. "If we didn't have tech and power, what would we do?" Such "passive solutions" include thicker walls, black roofs to absorb heat, or towers to create a chimney effect.
Johnston said he kicks off design projects with an eco-charette including the owner, city officials, and contractor to discuss how to make a building more sustainable. This is required for LEED certification, he said, but worth doing even if a library doesn't plan to apply. "You can often think of several things that are going to be sustainable and reduce your operating costs." Daylight, for instance, not only decreases power bills, but makes a building more resilient to power loss. Larsen added, "Don't think of the outside space as an accessory that you cut first" if the budget needs trimming. "Shady things outside the building are a working passive strategy that is cheaper than cooling."
As a step toward social resilience, Larsen suggested designing libraries that allow for taking in children in the summer or for an overnight stay and feeding them. She urged, "if you don't have a kitchen, have one, it's the heart of survival."
Larsen closed the program with inspiring words: "The resilience of your community is because of you."
---
In addition to the architects, vendor sponsors Cultural Surroundings, Lyngsoe Systems, Short Édition, and Tech Logic, shared information on how to incorporate automated materials handling into library designs, round them out with furnishings, and offer unique short stories on demand both inside the library and out.