LJ's Design Institute returned to in-person convenings at New York Public Library's reimagined flagship circulating library.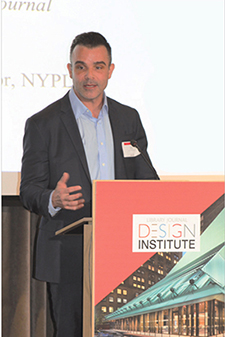 NYPL's Brian Bannon welcomed the crowd to the penthouse event space at the Stavros Niarchos Foundation Library
After a two-year COVID hiatus on in-person events, LJ resumed holding its live Design Institute at the New York Public Library's (NYPL) newly renovated central circulating branch, the Stavros Niarchos Foundation Library (SNFL). The ambitiously re-envisioned space was the perfect exemplar of what a difference building design can make to what services are possible, what patrons can achieve, and the experience of being welcomed and inspired.
The day kicked off in the SNFL's glassed-in rooftop event space with a welcome from NYPL Merryl & James Tisch Director Brian Bannon. The energy in the room was mirrored by the first session, on Energy in Place. Dr. Brandy McNeil, director of adult services, NYPL, and a 2017 LJ Mover & Shaker, led panelists Peter Bolek, president and director of design, HBM Architects, and Jeffrey Hoover, principal, Tappé Architects, in a discussion of how design can ensure that community members feel a sense of belonging inside the library and out.
Bolek cited the importance of quality details and thoughtful implementation to create a space that "would elevate someone, like a museum."
The library building should contain, exude, and reflect the energy of its occupants, and that energy should be perceived even from outside, said Hoover, such as in Boston Public Library's recent renovation. "They [used] the most transparent glass you can buy and put the laptop ledge in front of it," he noted. "The thing they showcase in the window is the activity."
Bolek urged attendees to learn what is important to each community and incorporate that into the design. He suggested including as many patrons as possible, asking them to bring one photo that exemplifies their culture or career and talk about it.
As an example of what such information can lead to, Hoover mentioned a library he designed in Henrico County, VA. The local community feedback Tappé got said, "we may be poor, but we are still proud." In response, the architects installed interactive flat panel displays showcasing local history.
Bolek cited the main Toledo, OH, library that featured WPA murals. His team incorporated Art Deco design elements to connect the old and new.
Balancing tech, the panelists agreed, is also important. Access to tech patrons want to try is welcoming, but too much that's intimidating or irrelevant has the opposite effect.
McNeil led a discussion of exteriors, such as the SNFL roof deck. Hoover said intended use is an important consideration, and recommended that libraries "configure it in a way that says, 'this is library space,' not just public space."
Bolek suggested an openable exterior wall to blur the boundaries between inside and out, and mentioned that co-location with other civic entities leads to using the space between to welcome both audiences.
Another challenge both architects mentioned is how to reflect a changing neighborhood to help both longtime residents and newcomers feel they belong. Bolek proposed flexible spaces that adapt throughout the day as different populations ebb and flow. He also suggested "private spaces as well as public living room spaces, fireplaces, so the community can come together." Hoover, however, qualified that sentiment, noting that "not all living rooms are great." In impoverished areas, he said, "make it someplace where people can come and experience something different."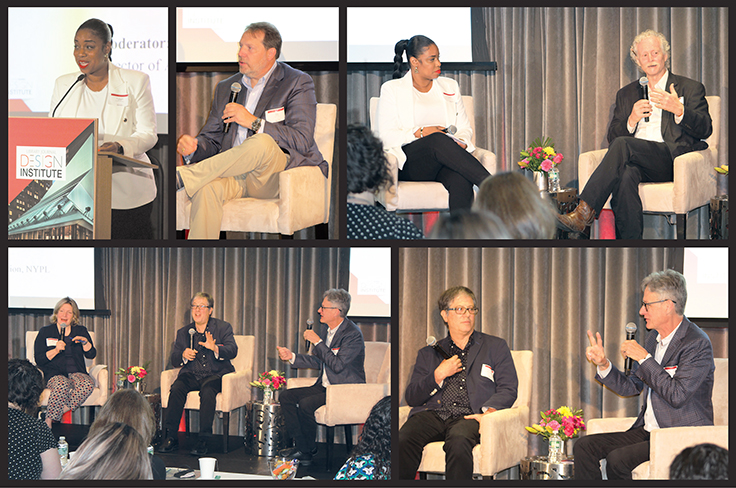 Top row: Moderator Dr. Brandy McNeil (l.) from NYPL conversed with HBM's Peter Bolek (c.) and Tappé's Jeffrey Hoover (r.) on creating welcoming library spaces. Bottom row: During a panel on leveraging existing assets moderated by NYPL's Risa Honig (l.), HMA2's Henry Myerberg (c.) and StudioGC's Rick McCarthy (r.) compared notes
CREATIVE CONSTRAINTS
Leveraging What You Have examined how to deliver effective upgrades when renovating historic buildings, designing within existing square footage, or collocating with other organizations. Panelists Henry Myerberg, owner and founder, HMA2 Architects, and Rick McCarthy, library studio director, StudioGC, were moderated by Risa Honig, VP of Capital Planning and Construction, NYPL.
Honig led off by asking the experts for examples of leveraging existing assets. McCarthy mentioned a library in Wheaton, IL, located across the street from a beautiful park. He proposed taking out the street.
Myerberg recommended asking why the library wants to expand. He cited a 50,000 square foot library that wanted to add another 30,000. When the financial crisis came, they had to scale back. The library was turning away visitors and needed more room for programming, the director explained. "They had book stacks in these beautiful double height spaces and people spaces in the basement." Myerberg recommended, "Turn the library upside down. Put the books downstairs, and the people space up top." He also suggested that libraries ask of event spaces, "How is this space used when it doesn't have events in it?" One flexible solution is installing walls that open when not in use.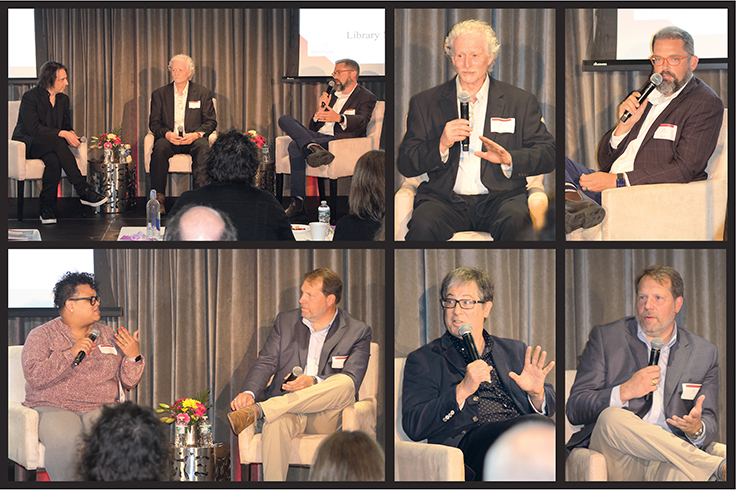 Top row: Discussing community connections. moderator Sean Ferguson (l.) from NYPL talked to Hoover (c.) and VMDO's Jim Kovach about strategies for establishing connections. Bottom row: Marie Coughlin from Staten Island Neighborhood Library Network moderated a panel on design, with insight from Bolek and Meyerberg
It's important not to simply ask each department what they want, said McCarthy. The result is designs the library can't afford, because no one asks whether functions can be shared. In one such library, said McCarthy, "We got it down to 52,000 square feet and got them everything they wanted, and that saved them millions of dollars."
Cost aside, said Myerberg, "when you create something that isn't too big it feels more energized," like a crowded restaurant, he said.
It's also important, panelists agreed, to consider all audiences and needs for a space, such as a low-stimulus area, and to recognize that these are growing as libraries work at becoming more inclusive. Said Myerberg, "Embrace the complexity of the process and keep the staff involved all the way through."
INPUT AND BUY-IN
Hoover returned with Jim Kovach, associate principal, VMDO, for a panel on community connections moderated by Sean Ferguson, Chatham Square Library manager, NYPL, who asked how to get community buy-in. Hoover explained that it's crucial to start talking to the community before you design.
"It's a design process in itself to figure out how to reach out," said Kovach. Hoover concurred; he chooses from among online surveys, focus groups, interviews, and meetings, all customized. Both agreed that the widespread adoption of digital tools like Zoom has led to new options.
Hoover learned from outreach librarians in Suffolk, VA, to recruit community ambassadors who gather input from non-users—"a pyramid scheme of outreach," he said. One barrier can be a lack of trust. To combat that, he suggested, bring a multicultural team of designers to gather feedback. "There's much more intent now to structure our team and approach with a diversity of perspectives," he said, "to make sure that the people we are working with see themselves represented."
Where that feedback is gathered matters too, Hoover noted, suggesting libraries and architects "meet the people where they are in an environment that is already comfortable to them" such as a classroom or market, and ask them to name spaces they already like and use.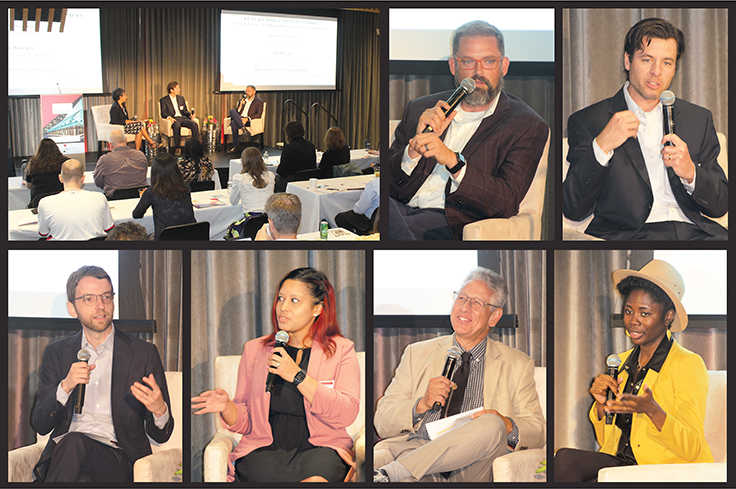 NYPL's Siva Ramakrishnan (l.) discussed future directions in teen spaces with Kovach (c.), StudioGC's Darren Schretter (r.). Bottom row: Center for an Urban Future's Eli Dvorkin (l.) led a panel on branch libraries with NYC library system representatives (l.-r.) : Tiffany McRae from NYPL; John Katimaris from Queens PL; and Taina Evans from Brooklyn PL.
QUICK CHANGE ARTISTS
Bolek and Myerberg returned for the Just in Time Design panel with moderator Melissa Davis, associate director for NYPL's central Bronx neighborhood, to discuss how libraries can build spaces that enable quickly changing services. Myerberg shared how much he had learned about flexibility from libraries' COVID responses, from pick-up kits to broadcast programming. Myerberg also spoke to the importance of designing meeting spaces to support hybrid programs. Meanwhile, Bolek praised flexible furniture on casters to define spaces without walls, and power towers.
Both architects encountered pre-pandemic projects put on hold that now must be rethought. Bolek noted, "the most important thing is not just to move forward with what you've already developed," but to "keep thinking about what can be done to improve this before it is implemented." Among the things libraries learned they wanted, the panelists shared, are drive-up windows and outdoor spaces.
DESIGN FOR LEARNING
Kovach returned with Darren Schretter, principal, StudioGC, to discuss future directions in media, next/new generations, and learning spaces, moderated by Siva Ramakrishnan, associate director of young adult services, NYPL.
Ramakrishnan asked how to design spaces to make teens feel they belong. Said Kovach, teens are "halfway between the kid you have known for so long and this free radical that is running outside of all known orbits, and great teen space design acknowledges both." Exemplifying out of the box thinking, in Fairfax, VA, he said, the head of teen services is considering positioning the teen space outside the gates.
Schretter suggested that the key to a successful teen space is to make sure it stands on its own, not an adjunct to other spaces, and has the full attention of the design team.
Ramakrishnan asked how to create fluidity between children's and teens' spaces. Schretter suggested an autonomous tween area that holds items to target both groups, as well as content creation spaces that appeal to teens focused on self-expression and are usable by others during the day.
Kovach suggested giving teen space "blurry edges" so that a teen or tween who is not quite ready to join can participate indirectly. As an example, he suggested a gaming system on casters that can move into larger spaces for events like e-sports tournaments. Schretter emphasized designing a thoughtful gaming space that reflects the best of home setups, such as soft and low seating.
Kovach noted that blurring the line between indoor and outdoor space is valuable for messy maker activities. He suggests stocking maker spaces with "just out-of-reach technology" that makes teens inquisitive, and a staffer to guide them. The library of things, he said, can be a bridge to the maker space. Schretter added that it should be on display.

Vendors were also part of the day. Getting featured spots to discuss their companies were Neil Gillott (l.) and Jason Downs from Lyngsoe Systems, Montgomery McKenzie (c.) from Cultural Surroundings, and Tom Loy (r.) from Tech Logic.
BRANCHING OUT
Taina Evans, regional director, Brooklyn Public Library (BPL); John Katimaris, VP of Capital Projects Management, Queens Public Library (QPL), and Tiffany McCrae, Mott Haven Library Manager, NYPL, joined moderator Eli Dvorkin, editorial and policy director for the Center for an Urban Future, to discuss reimagining branch libraries.
Dvorkin asked McCrae, who manages a 117-year-old Bronx branch that went through a two-year renovation, about her experience. Seeing the reinvestment in—and reinvention of—the branch was "amazing" for herself, staff, and community, she said. Listening to community needs drives her priorities, she noted, including making the third floor a teen media lab so they have space away from adults. Local staff "should definitely have a say," she said, before, during, and after the renovation. McCrae was involved in the nitty gritty. "I put in a lot of tickets," she said. "At the end they said thank you for having that eagle eye, because we tackled a lot of little things that could have become bigger issues."
Evans spoke to what to do when renovations or space are limited. The Making Space Project at BPL developed a kit of parts comprising pieces of modular furniture to be used in some of BPL's 61 branches that can't be renovated yet, or where historic buildings limit changes. The parts—including screens on stands and curtain room dividers—can be moved as needed. Evans wants to replicate the kit in all 10 locations she manages.
Katimaris outlined a data-driven approach to facilities in a multi-branch system. "You need to know honestly where you are, where you want to be, when you want to get there, and the resources required to get to your destination. Develop your asset information system, the report card of your portfolio," he advised. "You can tabulate it, you can disaggregate it, you can assign urgency. That gives you your game plan." He also said libraries should build earmarks into strategic plans. "Without that all you have is a to-do list, or worse, a wish list." Every project needs discretionary funds to avoid costly delays, he added.
He urged early attention to small problems before they grow: "Today's lack of maintenance is tomorrow's capital project." He encouraged librarians to ask a lot of questions of architects. "Don't be embarrassed to ask three times till you understand the answer."
And, he added, prepare for pushback. "On any given day you are going to get somebody mad at you," he said.
Lessons learned during the early days of the pandemic have emerged as actionable strategies now that librarians and designers are once again convening in person. LJ's next Design Institute will take place in Missoula, MT, on Sept. 29.
Photos by Kevin Henegan
---
For more on LJ's Design Institute NYC, see the day's 5 Design Challenges.