Not always easy reading given Bedient's fierce bent but wholly accessible and bracing; the images rushing down these pages in tightly paced cadence take readers on a haunting journey; dense and intense, energized and anguished, this strong first outing has storytelling appeal; this work will attract a broad cross-section of readers, whether their concerns are politics, parenting, or poetics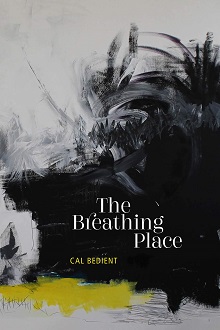 Bedient, Cal. The Breathing Place. Omnidawn. Oct. 2020. 80p. ISBN 9781632430823. pap. $17.95. POETRY
"Tonight, in an ecstasy of disease, gray hair/ dangles from blackening clouds./ but at eighty-three I am past caring." Veteran poet Bedient ( The Multiple) has been with us for awhile—"The Era," Part 2 of his in-your-face new collection, mentions Bobby Kennedy and the Cuban revolution—but, refreshingly, this work is neither autumnal nor Baby Boomer nostalgic. Bedient is one angry man, unrelenting when faced with life's harsh realities, its "system of hesitations and horrors," revealing throughout, "I have made the/ disregarded my home, With all its poor…." Though he cites battlegrounds from Vietnam to Syria and castigates "The white crisis, the white House/ blood type," what troubles here is not just humanmade: "Galaxies formed to flash goodbye we die in every direction." But while "Canoeing a Worn River," he's not sailing toward sunset, instead advising "Engage;// Lower your oars for the recommencing./ Tease, deny, the restrictions only art can alter."
VERDICT Not always easy reading given Bedient's fierce bent but wholly accessible and bracing.
Corral, Eduard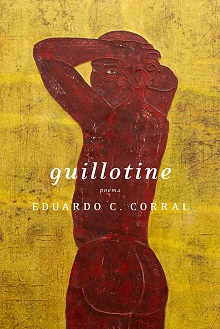 o C. Guillotine. Graywolf. Aug. 2020. 72p. ISBN $16. POETRY
In his latest, corruscatingly brilliant collection, Yale Younger Poet Corral (Slow Lightning) communicates a sense of loss and betrayal along the Mexican-American border in a multivoiced narrative that becomes a single story, a single low wail. Brief, pungent, perfectly crafted lines create a nightmarish atmosphere surrounding border crossings, as the moon shivers, hungry animals lurk, crossers lie down with the dead ("The coyote was the third to die./ Your money/ is still in his wallet"), scorpions drag a razor across a speaker's body (the title's guillotine in miniature), and in a room far away a mirror is so "furred with frost & lust, it howls." Along with the sense of danger and desperation, the poems carry a highly charged sense of eroticism ("There's nudity/ around the corner/ bones cracked/ & iridescent") that brings no respite ("His beard: an avalanche of honey,/ an avalanche/ of thorns"). Meanwhile, speakers recall México as a homeland of both beauty and terror, where lightning bugs flash and bodies disappear in the desert.
VERDICT The images rushing down these pages in tightly paced cadence take readers on a haunting journey, with Corral's impressionism delivering more than taut realism ever could. Highly recommended.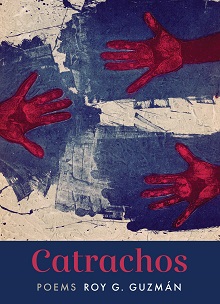 Guzmán, Roy G. Catrachos. Graywolf. May 2020. 112p. ISBN 9781644450239. pap. $16. POETRY
In his debut collection, NEA fellow Guzmán braids together his immigrant family's life and his own queer coming of age, with side trips to a series of "Queerodactyl" poems featuring an outspoken dinosaur ("I ain't/ roaring like a DinoKatyPerry. Bring it! I said:// Bring it!!! Now sashay"). America isn't easy—one poem is titled "When a Person Says Go Back To Your Country"—but there's grit. Highlighting cultural disjunction, Guzmán notes that a professor "appalled when I said/ Nora still had a future to look forward to even in the 19th/ century… never met the Latinas in my family." Indeed, the term catrachos denotes Hondurans and connotes toughness (it was coined when Hondurans joined with Salvadorans to defeat 19th-century American freebooters), which explains Guzmán's wily dinosaur: "After they locate & excavate your wing fossils,/ perseverance might be the trait you're known for." Guzmán is tough, too, when negotiating queerness, recalling fearing his father (" I lie to him so I can live") and the Pulse nightclub shooting ("a gun is a heart that has forgotten// to sing").
VERDICT Dense and intense, energized and anguished, this strong first outing has storytelling appeal.
Hall, Alexandria. Field Music. Ecco: HarperCollins. Oct. 2020. 96p. ISBN 9780063008380. pap. $16.99. POETRY
Hall opens her National Poetry series–winning debut by evoking "meadows inflamed and gone blonde/ with rash goldenrod" but immediately veers away from pretty-picture making: "I want/ to love something. Not to open my mouth/ like the long, smooth flower/ of a ravenous weed." While depicting hardscrabble life in rural Vermont ("Winter pushes my father and his home and his froze-up pipes"), she reveals her own brash, bright personality and hunger for life. Face to face with a Cézanne, she picks up the challenge and makes the painting her own—"So/ I stood there all night trying to meet that messy landscape's glance,/ massaging its junk, snapping its bra, growling lowly in its ear,/ baring my teeth"—and throughout we see her grow, from her first sexual experience ("I didn't want romantic/ I wanted him to suck my lips off my face") to marriage ("the bear trap that had once gripped// my ankle") and children ("My baby// was as heavy as a headstone"). All the while continuing to deliver the special music of her surroundings. VERDICT A gracious and embraceable work for a wide range of readers.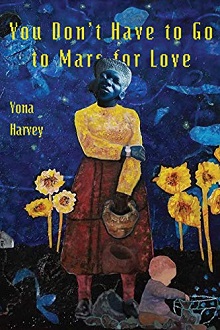 Harvey, Yona. You Don't Have To Go to Mars for Love. Four Way. Sept. 2020. 82p. ISBN 9781945588563. pap. $16.95. POETRY
Winner of the Kate Tufts Discovery Award for Hemming the Water, Harvey returns after seven years with a collection featuring an unnamed protagonist pushing the boundaries of her Black body while undertaking an Afro-futuristic journey—not surprising for a poet who claimed an Eisner Award for her contribution to World of Wakanda. She opens with portraits of Black womanhood, ranging from a mother worried about her sports-playing son's injury to a stunning portrait of Etta James, then streams this imagery into her vision of the troubled magpie ("a blend-in bird") who wants to start over. The result is an imaginatively wrought journey through snow ("Down weakly in a snow bank/ She slid into her own self") and space ("Nobody straightens their hair anymore./ Space trips & limited air supplies will get you conscious quick") to the unknowable promise of a Great Beyond. Do you have to go to Mars for love?
VERDICT Harvey delivers a pervasive understanding of hunting for self, identity, and safety, rimmed with triumph ("The boy outflamed/ the flame he was becoming") and told in language that's fluid, headlong, and edgily conversational.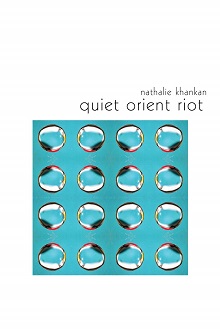 Khankan, Nathalie. Quiet Orient Riot. Omnidawn. Oct. 2020. 80p. ISBN 9781632430830. pap. $17.95. POETRY
Urgent and open-hearted, this absorbing debut collection has Khankan (Arabic languages & literature, Berkeley) musing, "to say i once wrote an email to mahmoud darwish i don't know if he saw about being newly arrived in the occupied territories | before i knew to call it territory…." Soon, though, "topographical categories shift & our bodies move toward a lid with a tighter seal," as life cramps down amid "margins…utterly regrettable." Intriguingly, these political observations are framed by the personal: the poet's aim to have a child, as her struggles with fertility ("my ovaries have been in the hands of men on both sides") parallel but are never reduced to an awareness of her community's declining birth rate. "Count this child girl | count her on this side" she proclaims in poems celebrating motherhood just as she celebrates her homeland: "cumin is pervasive…colors erupt & recline against rocks & thyme."
VERDICT Written in a sort of disciplined stream of consciousness, with pipes instead of line breaks and titles embedded in capital letters, this work will attract a broad cross-section of readers, whether their concerns are politics, parenting, or poetics.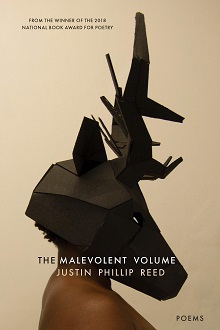 Reed, Justin Phillip. The Malevolent Volume. Coffee House. Apr. 2020. 104p. ISBN 9781566895767. pap. $16.95. POETRY
Reed's second volume delivers exactly what you would want: something as painfully original, yet even more carefully crafted, than his National Book Award–winning debut, Indecency. The speaker balances on a knife's edge between the world's profound and intimately experienced violence, as delivered by anyone in power ("He loves to say// he hates me, meaning his need to use me/ confuses him") and his own sense of inadequacy and anxious will to survive ("There it goes, thin thing,/ cheshiring between trees whose/ reaper-robes trail/ their trains deep underground:/ your life, hangin out/ like an exposure"). But with mythic and literary references, other-than-human identities start to emerge—beginning with the Minotaur's "crimson lyric from an ode its new throat/ hummed"—and a Black spirit arises to challenge embedded hostilities. The speaker once "metronomed now toward/ 'My life in poems' and then 'I want to live,'/ tore 'my accountability to a community' from 'I can't bear/ to be among,' turned from 'violence is a resort' to/ 'the careful pursuit of beauty'" but by the end takes charge: "we recognized the cries we didn't pretend not// to hear them hearing did not make us want to stop."
VERDICT Fierce, fresh, highly recommended.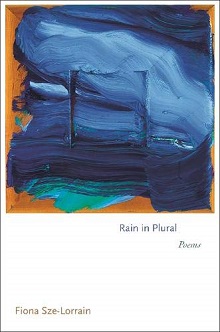 Sze-Lorrain, Fiona. Rain in Plural. Princeton Univ. Sept. 2020. 120p. ISBN 9780691203584. $45; pap. ISBN 9780691203560. $14.95. POETRY
In an elegy to her grandmother, Sze-Lorrain observes, "Now I touch its skin, the cream of being alive," distancing herself with that pronoun while asking what we are: body, memory, relationships? She then proceeds to arc astonishingly through human experience. Part 1 is personal, revealing that in our containedness, we still live richly if we learn to look outward and live in "used spaces." A speaker standing near-naked in a barn registers anxiety, desire, and above all watchfulness, key to our capacity to frame and reframe the world not through bludgeoning but re-seeing (and thence language, "pushy as ever," with ­"strangers in the midst of longing and speech.") For though "goats do not prepare/ for rain or transition," we do; a monk asked to "reclock the emptiness./ …showed me how/ to leave each window outside." The remaining sections open up to the world, with Part 2 acknowledging our "grueling times/ grueling politics"; Part 3, how we knock up against "time and the body, a diurnal tyranny," experience ever mediated; Part 4, the importance of place; and Part 5, everyday frustrations small and large.
VERDICT A splendid follow-up to the LJ best-booked The Ruined Elegance with broader appeal.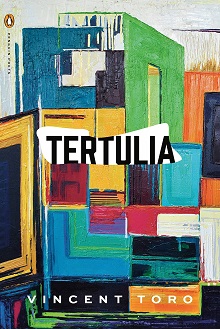 Toro, Vincent. Tertulia. Jun. 2020. Penguin. (Poets). 128p. ISBN 9780143135340. pap. $20. POETRY
A poem in this second collection from award-winning poet Toro ( Stereo.Island.Mosaic.) is titled "Human Instamatic," and that he is, unfurling visually acute poems in a rich linguistic impasto that never obscures what is happening. Divided into five acts, the collection is presented as a tertulia, gatherings for discussed typically held in someone's home in Spain or Latin America, and is further framed by multiple references to films and film techniques that amplify the sense of movement and image. Throughout, Toro addresses the harsh realities of the Latinx outsider experience in America: "The killer is always Brown," he says in "Latinx­orcismos," elsewhere noting "Illegal my eyes/ ….Unforgiven for surging/ into dialect." A series of poems titled "Cicatrices" (healing via scar tissue) evoke family damage; another series, "Core Curriculum Standards," hollows out readers with visions of a truly substandard, unenlightened school experience. The icepick-perceptive ­"Appropriation" shifts views to note of friends, "though none of our forebears/ slept in the big house, their bisabuelos were chained to trapiches,/ while my bisabuelo was most likely ordained to wield the lash that struck them."
VERDICT A rich, ambitious, and inventive observation of Latinx life in America.
---
This article was originally published in Library Journal's August 2020 issue.