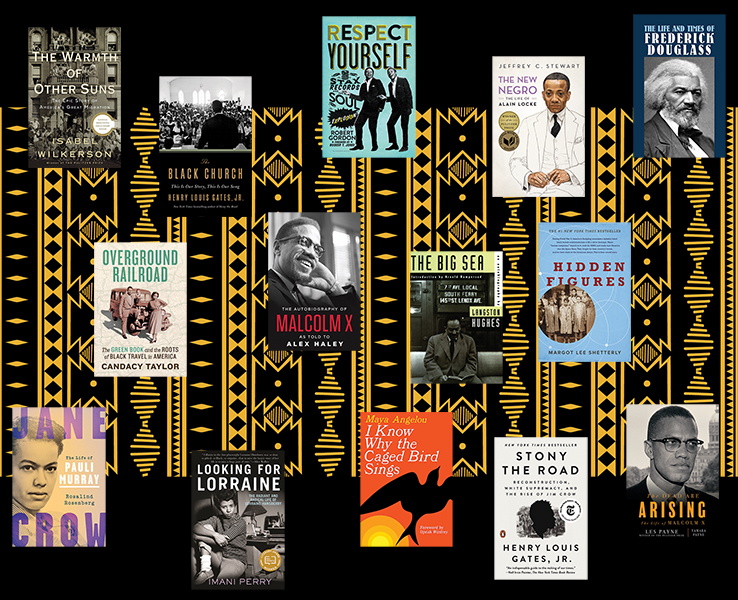 According to Columbia University Libraries, historians wrote texts on African American history as early as the 19th century. However, a more widespread appreciation of African American identity and its place in U.S. history did not occur until the mid-20th century, particularly during the 1960s. Correspondingly, the road to bibliographic inclusion in libraries has not been easy, as many have struggled to recognize African American history as intertwined with U.S. history.
To solve the problem on the academic level, many colleges and universities created focused departments. Public libraries had fewer formal structures, relying on the standby tools of word of mouth, patron requests, and reviews, as well as research to help inform purchasing decisions. Thankfully, today patrons and librarians have a range of options to choose from. In addition to new titles and classics getting new attention, there is a range of formats devoted to the subject, including graphic novels, audiobooks, films and documentaries, and databases. Since the rise of the #MeToo and Black Lives Matter movements, and the higher visibility of LGBTQ authors and activists, collections specialists have also begun expanding holdings to include feminist writings, stories of equal rights, and the recognition of LGBTQ voices. This is especially important collection development work since these materials provide intersectional context to lived experiences in both the 20th and 21st centuries.
LOOKING AHEAD & ENACTING CHANGE
A key challenge when collecting 20th-century African American history is the tendency to focus on one issue or figure, such as the civil rights movement or Martin Luther King Jr. while ignoring other historical events and personages; pressing issues relating to economics; and personal concerns, including religious diversity. Complicating matters further is personal and system-wide bias; these materials do not always receive the same attention or funding as works on other subjects, and thus focused and sustained attention must be paid to build complete and dimensional collections.
Additionally, libraries should consider how they classify titles in light of patron browsing behavior, as explored in the 2018
Library Trends
article
"Browsing Through Bias"
by Sara A. Howard and Steven A. Knowlton. Displays and designated areas of fiction and nonfiction are essential, but library administrators should be aware that adding materials to a collection and/or celebrating an important month—vital moves for any community—are only initial steps. More needs to be done to publicize the availability and variety of collections, and author presentations, book spotlights, and book clubs are but a few possibilities. Creating responsive, useful, and sustaining collections is an ever-changing (and challenging) process. This list is intended to be a starting point.
Starred (
) titles are considered essential for most libraries.
NARRATIVE VOICES
Baldwin, James.
The Fire Next Time.
Vintage. 1992. 128p. ISBN 9780679744726. pap. $13.95.
This bold essay details Baldwin's life in Harlem, the prevalent racism that existed, and the damage it has caused. A rallying cry told through letters, this is an important argument about the poison of racism.
Douglass, Frederick.
The Life and Times of Frederick Douglass: His Early Life as a Slave, His Escape from Bondage, and His Complete History.
Dover. 2003. 470p. ISBN 9780486431703. pap. $15.95.
This is one of several volumes of Douglass's autobiography, originally published after the end of the Civil War, that includes a fuller history of his upbringing in slavery and his time as an abolitionist.
Du Bois, W. E. B.
The Souls of Black Folk: With "The Talented Tenth" and "The Souls of White Folk."
Penguin. Feb. 2021. 288p. ISBN 9780143134435. $25..
First published in 1903, the best-known essays of writer Du Bois are presented here, with a new introduction by Ibram X. Kendi. In this historical piece, Du Bois argues for basic rights for Black people.
Hurston, Zora Neale. Barracoon: The Story of the Last Black Cargo. Amistad. 2018. 208p. ISBN 9780062748201. $24.99.
In 1927, Hurston interviewed Cudjo Lewis, the last living formerly enslaved person. Hurston spent months with Lewis, supplying her voice in helping him detail the brutality of slavery.
Northrup, Solomon. Twelve Years a Slave: Narrative of Solomon Northup, a Citizen of New York, Kidnapped in Washington City in 1841. Applewood. 2013. 352p. ISBN 9781429093378. pap. $19.95.
In 1841, Northrup was kidnapped and sold into slavery. His account of plantation life and his eventual escape is chronicled in this autobiography. It was adapted into an award-winning film in 2012.
BIOGRAPHY & MEMOIR
Angelou, Maya.
I Know Why the Caged Bird Sings.
Vintage. 2009. 289p. ISBN 9780812980028. pap. $18.
This classic work recounts Angelou's upbringing in Arkansas, the loving relationship with her grandmother, uncle, and brother; the fractured relationship with her parents; and the power of literature to overcome racism and trauma.
Davis, Miles & Quincy Troupe.
Miles: The Autobiography.
S. &. S. 2011. 441p. ISBN 9781451643183. pap. $22.
Originally published in 1989, Miles's autobiography recalls his life as a jazz trumpeter and steady rise to bandleader. The book is also an unflinching look at his own personal shortcomings.
Haley, Alex. Roots: The Saga of an American Family. Da Capo. 2016. 912p. ISBN 9780306824852. pap. $18.99.
Initially published in 1976, this award-winning novel, based on Haley's ancestors, tells the story of Kunta Kinte: kidnapped in Gambia as a child, transported to the United States, and sold into slavery.
Hansberry, Lorraine.
To Be Young, Gifted and Black.
Vintage. 1995. 304p. ISBN 9780679764151. $14.95.
Playwright Hansberry tells her own life story through the use of plays, essays, letters, drawings, and photographs. This is a portrait of a complicated, political feminist who made her mark in the world before her untimely death at 34.
Hughes, Langston.
The Big Sea: An Autobiography.
Hill and Wang. 1993. 368p. ISBN 9780809015498. pap. $18.
With this autobiography, first published in 1963, Hughes chronicles his childhood in the Midwest and his adulthood during the Harlem Renaissance, offering a deeper understanding of his classic works.
Hurston, Zora Neale.
Dust Tracks on a Road: An Autobiography.
Harper Perennial. 2006. 308p. ISBN 9780060854089. pap. $14.99.
Originally published in 1942, Hurston's autobiography details her life in the rural South. Though the book received extensive criticism and remains controversial because of contradictions in her writing, it is still regarded as essential by her fans.
Malcolm X & Alex Haley.
The Autobiography of Malcolm X.
Ballantine. 1992. 528p. ISBN 9780345379757. $28.
As told to author Haley, this classic autobiography, originally published in 1964, is an uncompromising testament of how Malcolm X ultimately became a thoughtful, yet controversial civil rights leader.
Payne, Les & Tamara Payne.
The Dead Are Arising: The Life of Malcolm X.
Liveright. 2020. 640p. ISBN 9781631491665. $35.
With this award-winning biography, the Paynes fill in gaps in the historical record surrounding what motivated Malcom X, as both an extremely public—yet simultaneously private—person. A solid complement to The Autobiography of Malcolm X.
Perry, Imani.
Looking for Lorraine: The Radiant and Radical Life of Lorraine Hansberry.
Beacon. 2018. 256p. ISBN 9780807064498. $26.95.
In this award-winning account, Perry offers a revealing look at Hansberry beyond her acclaimed play, A Raisin in the Sun, allowing for a deeper appreciation of her lesser-known works as well as her life in general.
Rosenberg, Rosalind.
Jane Crow: The Life of Pauli Murray.
Oxford Univ. 2017. 512p. ISBN 9780190656454. $31.95.
An enriching portrait of activist, lawyer, and Episcopal priest Murray. For those interested in early pioneers of women's rights, this biography offers a fascinating look at a gender identity and Black history in the mid-20th century.
Stewart, Jeffrey C.
The New Negro: The Life of Alain Locke.
Oxford Univ. 2018. 944p. ISBN 9780195089578. $39.95.
With this Pulitzer Prize–winning biography, Stewart presents a complete study of a complicated man navigating the world as a gay, African American intellectual during the Harlem Renaissance.
Wright, Richard.
Black Boy.
Harper Perennial. 2020. 464p. ISBN 9780062964137. pap. $17.99.
In this autobiography, Wright recounts his upbringing in parts of the South and his later move to Chicago. He also recalls experiences with racism, which would inspire his works, such as Native Son.
CULTURAL EXAMINATIONS
Boyle, Kevin.
Arc of Justice: A Saga of Race, Civil Rights, and Murder in the Jazz Age.
Holt McDougal. 2005. 448p. ISBN 9780805079333. pap. $20.
In 1925, Ossian Sweet, an African American physician, moved to a formerly all-white Detroit neighborhood. While Sweet was defending his home from agitators, a white man was shot and killed. Boyle expertly recounts the ensuing trial.
Remember Me to Harlem: The Letters of Langston Hughes and Carl Van Vechten. Vintage. 2002. 400p. ed. by Emily Bernard. ISBN 9780375727078. pap. $16.
During the Harlem Renaissance, writer and photographer Carl Van Vechten corresponded with Langston Hughes. Their relationship, equally fraught and beneficial for both parties, is told through a series of previously unpublished letters.
Gates, Henry Louis, Jr.
The Black Church: This Is Our Story, This Is Our Song.
Penguin Pr. 2021. 304p. ISBN 9781984880338. $30.
This companion to the PBS documentary of the same name explores the cultural significance of the Black church and how it has shaped Black identity, from slavery to the present day. An informative work, suitable for adults and teens alike.
Gates, Henry Louis, Jr.
Stony the Road: Reconstruction, White Supremacy, and the Rise of Jim Crow.
Penguin Pr. 2020. 320p. ISBN 9780525559559. pap. $20.
A tenuous relationship developed between Southern whites and freed slaves at the end of the Civil War and dawn of Reconstruction. The challenges of this time (and the creation of Jim Crow laws) are the basis of this remarkable book.
Gordon, Robert.
Respect Yourself: Stax Records and the Soul Explosion.
Bloomsbury. 2013. 463p. ISBN 9781596915770. $30.
Memphis-based Stax Records launched the careers of Otis Redding and Booker T. & the M. G.'s, among others. This eye-opening biography details how a small independent label became the launching pad of popular R&B and soul acts.
Gorn, Elliot J. Let the People See: The Story of Emmett Till. Oxford Univ. 2018. 392p. ISBN 9780199325122. $27.95.
This notable account uses interviews and primary sources to expose the history of racial violence in the United States by focusing on the 1955 lynching of Emmett Till, an African American teenager falsely accused of flirting with a white woman.
Shetterly, Margot Lee.
Hidden Figures: The American Dream and the Untold Story of the Black Women Mathematicians Who Helped Win the Space Race.
Morrow. 2016. 368p. ISBN 9780062363596. $27.99.
The source for the acclaimed film Hidden Figures, this book tells the story of African American women who achieved a foothold in their careers as mathematicians and scientists while working on some of NASA's greatest successes in the 1960s.
Taylor, Candacy A.
Overground Railroad: The Green Book and the Roots of Black Travel in America.
Abrams. 2020. 360p. ISBN 9781419738173. $35.
Taylor takes readers on a historical tour of the United States by way of the Green Book, a guide for African Americans looking to travel without fear of encountering violence. An evocative title on the Green Book's lasting significance.
Wilkerson, Isabel.
The Warmth of Other Suns: The Epic Story of America's Great Migration.
Random. 2010. 640p. ISBN 9780679444329. $38.
Wilkerson's groundbreaking account of the Great Migration brings personal perspectives front and center, as nearly six million African Americans left the South between 1915 and 1970 and settled in Northern and Midwestern cities, reshaping the cultural and political landscape.
DOCUMENTARIES
Burns, Ken. Jazz. 2000. PBS, shoppbs.org. 1095 min. $94.99.
In this ten-episode series, documentarian Burns explores the creation and lasting influence of jazz and its subgenres, along with musicians who popularized the form.
Gates, Henry Louis, Jr. The African Americans: Many Rivers To Cross. 2013. PBS, shoppbs.org. 360 min. $34.99.
Details the trials and triumphs of African Americans throughout the centuries, from the slave trade of the 17th century to the presidency of Barack Obama. An ideal companion to Eyes on the Prize.
Hampton, Henry. Eyes on the Prize: America's Civil Rights Years, 1954–1965. 1987. PBS, shoppbs.org. 360 min. $39.99.
This classic six-episode documentary series covers Brown v. Board of Education, the March on Washington, the Freedom Rides, student sit-ins, and much more.
Kates, Nancy & Bennett Singer. Brother Outsider: The Life of Bayard Rustin. 2003. ITVS. 90 min. $17.99.
An essential figure in the civil rights movement, Rustin was relegated "to the background" because of his homosexuality. This is a comprehensive look at his life as an activist.
Peck, Raoul. I Am Not Your Negro. 2016. Magnolia Pictures. 95 min. $13.99.
Based on the unpublished manuscript Remember This House, Peck's film explores James Baldwin's views on racism, along with his relationships with civil rights leaders, such as Medgar Evers.
Zwerin, Charlotte. Thelonious Monk: Straight, No Chaser. 1988. Warner Brothers. 90 min. $17.99.
Interviews and concert footage offer brilliant insight into the life of talented, yet troubled jazz pianist Thelonious Monk and his lasting influence.
---
Leah Huey is Adult Reference Assistant at Dekalb Public Library, IL. A specialist in historic preservation, she has reviewed for LJ since 2018.