When the COVID-19 pandemic forced Broward County Library, FL, to close its branches to the public, it immediately surveyed patron needs and created a targeted, data-driven marketing campaign to inform customers about electronic resources, online programs, and other content the library was offering. Los Angeles Public Library created new cardholders with its Art Card, designed by Gajin Fujita, an established graffiti artist. These very different campaigns, aimed directly at patron needs and preferences, earned the two libraries Honorable Mention for LJ's 2020 Marketer of the Year Award.
BROWARD COUNTY LIBRARY
BROWARD COUNTY LIBRARY MARKETING, PUBLICITY, AND COMMUNICATIONS TEAM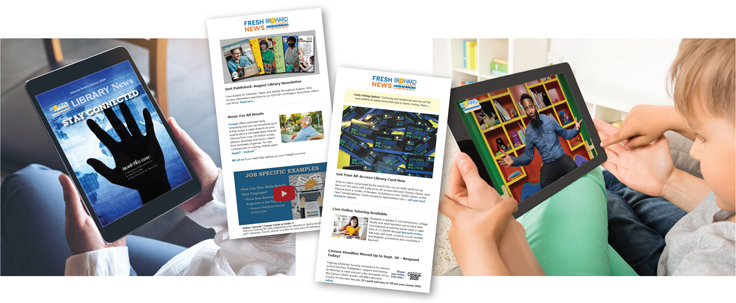 MEETING PANDEMIC NEEDS

Broward initiatives during the COVID-19 building closures have focused on what the community asked for, l.-r.: The library's Stay Connected online magazine, the Fresh Broward online news bulletin, and the Story Time laptop feature for kids
When the COVID-19 pandemic forced Broward County Library (BCL), FL, to close its branches to the public, it immediately launched a survey to gauge the needs of its patrons during the crisis. Eventually netting 5,000 responses, the survey enabled BCL to create a targeted, data-driven marketing campaign, reaching out to specific demographic groups via e-newsletters, digital magazines, Facebook, Twitter, and Instagram to inform customers about electronic resources, online programs, and other content the library was offering.
"From the earliest days of the pandemic, I have been amazed by BCL's uncanny success and speed in reaching out to [people of] every age, gender, and race throughout Broward County by providing e-resources and successfully informing the community of their availability," says Hannah Handler Hostyk, copresident of the Friends of the Stirling Road Library.
In addition, the marketing team distributed 13 press releases from mid- March through August on topics such as new online events and recent awards. As a result, local media outlets informed the public about library services and covered BCL as a vital local institution helping its community through the pandemic.
The outreach had a clear impact. In April alone, checkouts of OverDrive ebooks spiked 25 percent compared with April 2019. Axis 360 ebooks for children and teens rose 62 percent during the same period. From March 5 through June 12, 13,814 new patrons signed up for online e-library cards.
"While we continue to adjust our lives, it has been a pleasure to watch [BCL] evolve into this new territory and master it," says Shaheewa Jarrett Gelin, president of the Broward County Black Chamber of Commerce.
In its nomination, BCL attributes the success of its outreach efforts to "asking—not telling—a community in crisis what they needed from their library and then responding quickly, compassionately, and effectively."
The Broward County Library Marketing, Publicity, and Communications Team includes Stephen Grubb, Pamela J. Smith, Ari Rothenberg, Della Attisani, Vena Paylo, and Catherine McElrath.—Matt Enis
---
LOS ANGELES PUBLIC LIBRARY
PETER PERSIC

| Director, Public Relations & Marketing
CARD, SHARP

LAPL's Art Card promotion, l.-r.: Teaser campaign on a building before the grand reveal; the final design; Art Card illustrator Gajin Fugita conducting a street art workshop
Los Angeles Public Library's (LAPL) Public Relations and Marketing team aimed to create new cardholders through media buzz with its Art Card campaign. The team worked with the mayor's office and Cultural Affairs Department to choose Gajin Fujita, an established graffiti artist, and he agreed to lend his "Guardian Angel," a traditional Japanese superhero wearing a Dodgers jersey and slaying a dragon, and worked with the PR team and his gallery to design the card.
The library's PR team partnered with outside agencies at a cost of $56,750, and involved the library's digital content, branch and central library services, and circulation teams.
A teaser campaign and launch of the card were only the start. To promote the limited edition of 100,000 (all taken in six months), the team created library card signings, art workshops for teens, discussions for adults, and live social media events featuring Fujita, raising his profile as a library advocate and gaining wide newspaper, radio, and TV coverage.
A social media campaign across Facebook, Instagram, Pinterest, and Snapchat reached more than 2,000,000 of the city's 4,000,000 residents. In addition to Fujita talking about his artistic process and the library's importance to him as a child, the team interviewed a Japanese American librarian whom Fujita remembered from his childhood branch library, who now manages another LAPL branch.
The campaign was so successful that the team extended it and partnered with the Library Foundation of Los Angeles to create a line of merchandise, by far the most successful in the 25-year history of the store.
"As a communications and marketing professional with more than 20 years of experience, I was extremely impressed by last year's Art Card campaign," Bích Ngoc Cao, president of LAPL's Board of Library Commissioners, says, calling it "fun, fresh and engaging."
Even in a celebrity-jaded city, the right combination of art and emotion can still show the library in a new light.—Meredith Schwartz