When the Central Arkansas Library System (CALS) received an Honorable Mention for the Jerry Kline Community Impact Prize in 2020, the library was in the process of stepping up to meet the goals of a recent strategic plan and become the institution referenced in its new tagline: "The Library, Rewritten." This year, CALS has seen success with extensive community outreach and many projects that were still in progress in 2020, as well as supporting its public and staff during the pandemic.
None of these milestones could have been accomplished without robust local collaborations. From providing all Little Rock students with electronic resources and free meals—and the bus passes necessary to access them—to launching the Rock It! Lab for under-resourced entrepreneurs, helping ensure safe pedestrian routes to city parks, and establishing a virtual math tutoring program, the library has worked closely with a wide range of partners to make life better for everyone it serves. In turn, Little Rock voters acknowledged CALS's value on November 9, approving a proposed 0.5-mill increase to the local property tax rate.
Benito Lubazibwa, founder of the nonprofit Advancing Black Entrepreneurship (ABE) and CALS's primary partner on the Rock It! Lab, likes to quote an African proverb: "If you want to travel fast, travel alone, but if you want to travel far, travel together." That understanding of why collaboration is critical, and the skill in making it happen, has earned CALS the 2021 Jerry Kline Community Impact Prize, developed in partnership with the Gerald M. Kline Family Foundation.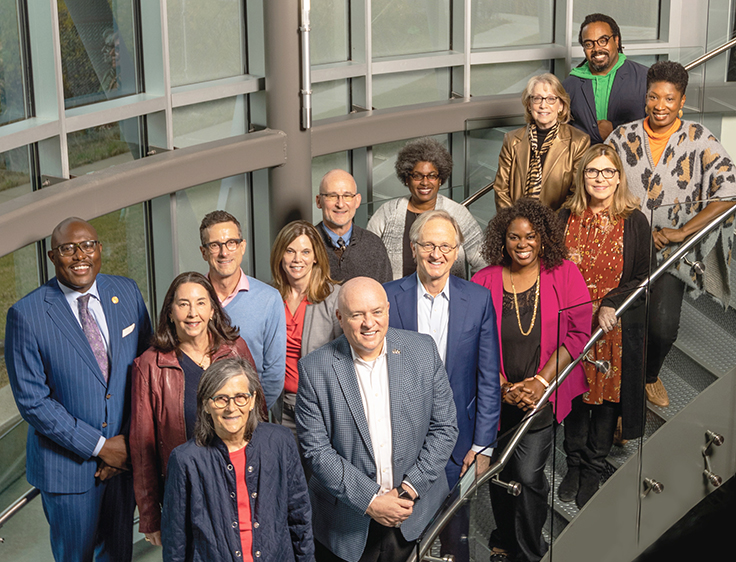 COLLABORATIVE EFFORTS

Many hands make good work at CALS. Clockwise from far l.: CALS's cooperative team: Back row, l.-r.: Little Rock Mayor Frank Scott Jr.; Little Rock City Director Capi Peck; CALS Deputy Executive Director of Technology & Collection Innovation Nathan James; CALS Director of Finance Jo Spencer; CALS Director of Operations Lance Ivy; CALS Board of Directors member Stacey McAdoo; CALS Board of Directors President Nancy Rousseau; and Director of UA Little Rock Children International Ryan Davis. Front row, l.-r.: Little Rock City Director Kathy Webb; Little Rock School District Superintendent Mike Poore; CALS Executive Director Nate Coulter; CALS Director of Communications Tameka Lee; CALS Deputy Executive Director of Library Operations and Director of Literacy & Learning Lisa Donovan; and Arkansas State Representative Denise Ennett. Photo by Jacob Slaton
BREAKING BARRIERS
CALS is the largest public library in Arkansas, with 14 branches plus a research facility dedicated to Arkansas history, serving 344,553 people in urban, suburban, and rural areas of Pulaski and Perry County—11 percent of the state's population. According to library data, the service area is 56 percent white, 33 percent African American or Black, 6 percent Hispanic, 2 percent Asian American, and 2 percent other races. Nearly 14.6 percent of Pulaski County residents live in poverty, according to the U.S. Census, while the overall per capital annual income for the county is $32,692.Since taking the helm in 2016, Executive Director Nate Coulter helped drive a major shift in the library's institutional culture. When he began work on a new strategic plan, Coulter drew on community input to help define how the library should move forward. The plan was approved by the CALS Board of Trustees in May 2019, and has helped clarify the library's mission, core values, and strategic goals. The top priority: to increase services to constituents from under-resourced and underserved communities.
"The library by itself can't do a lot of things that the community would like to have done, or address challenges the community faces," says Coulter. "But we stand at an intersection with other folks who can do some of that work and have deeper resources and perhaps broader reach than we do. The library can be a catalyst for getting those groups together."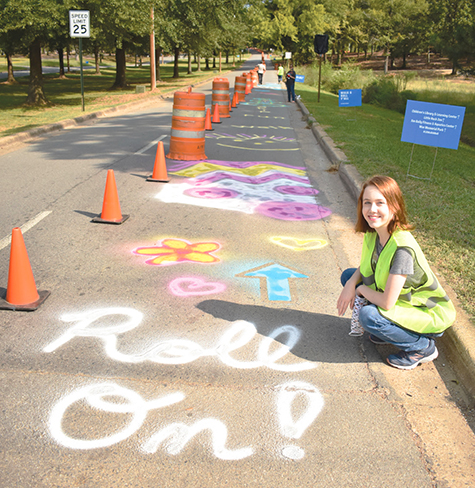 SAFE TRAVELS

Volunteer Brooke Elliott helps set up a temporary lane on Jonesboro Drive for CALS's Safe Routes Program. Photo courtesy of Central Arkansas Library System
MEETING PEOPLE WHERE THEY ARE
Coulter began by hiring an outreach team with community-specific liaisons. Maria Aguilar is the Latinx community liaison and Jessica McDaniel serves as liaison for the African American community; both spend much of their time outside of the library talking to residents, often in CALS's mobile hotspot vehicle. They visit schools, laundromats, grocery stores, churches, and community gardens, telling people what CALS has to offer and, in turn, asking them what they want from their library. "The main focus is taking the library where people are. We're not waiting for them," explains McDaniel. "Sometimes putting a face [on the library], a personal approach, is bringing people in. It's, 'Hey, did you know this was available? What are the barriers for why you haven't taken advantage? Do you want more information about how to get a card? Were you worried you couldn't get one because of an ID?'"
McDaniel and Aguilar are also bridges between the library and new partners, from the Little Rock Mexican Consulate—Aguilar's former workplace—to a group in a predominantly Black community that was seeking resources and books for a Little Free Library. "We're just trying to find where we can fill in the gaps," says McDaniel.
A recent grant from the Windgate Foundation will help upgrade the outreach van as the CALS Micro Mobile Library, with the capacity to issue library cards, check items from the collection out and in, provide internet access, and print essential documents. (Additional funding from the Wingate Foundation will allow the library to hire two digital literacy coaches and support instructors, materials, tools, and equipment for visual arts classes and programming.)
The Safe Routes to Parks project is a literal manifestation of Coulter's mission to increase access. The city is bisected by Interstate 630, which has been criticized since its construction in the 1960s and '70s for its role in displacing large portions of Little Rock's Black community and contributing to racial and economic divisions. CALS coordinated a collaboration with Little Rock's Parks and Recreation division and Public Works departments to connect the Children's Library to War Memorial Park, a large city park across I-630. With the help of a grant from the city planning agency, Metroplan, a safe and welcoming route is being built on Jonesboro Drive, which passes over the interstate.
"It's going to make it easier for kids to come on their bikes, walk, and have some green space, and it obviously will benefit our library," says Coulter. "That's one of the illustrations of how, when we sit down—because we've earned the credibility—people will come and talk to us. And if we put a little bit of skin in the game and say we're interested in this, it can sometimes pay large dividends like that."
ROCKING IT
As part of its emphasis on community commitment, CALS wanted to support local entrepreneurs who might not be able to afford the monthly charge at Little Rock's Innovation Hub. During a community focus group convened by the library's strategic planning consultants in early 2019, Coulter met ABE founder Lubazibwa, a Tanzanian American whose company, ReMix Ideas, provides access to training, mentorships, and microgrants. "The library has done a great job in terms of democratizing information and knowledge," says Lubazibwa. "I suggested that it'd be good if the library could democratize entrepreneurship."
Bolstered by funding from the United Way and the Small Business Administration, CALS partnered with ABE to launch the Rock It! Lab, a library-based center for under-resourced entrepreneurs—or, as Lubazibwa calls them, underestimated entrepreneurs. The program will help Black, Latinx, and women entrepreneurs gain access to knowledge capital, financial capital, and social capital. "Another part of it is hope capital," adds Lubazibwa. "We have created a village which really supports these entrepreneurs."
The lab, which opened in July, offers mentor matching, workshops, networking opportunities, business education, and one-on-one instruction. Ongoing programming includes "Beyond the Idea," a monthly event that allows participants to share their stories, and the 12-week Business Academy, a program aimed at Black entrepreneurs. Occupying three floors of CALS's Cox Building, Rock It! Includes maker, retail, and coworking spaces. ABE provides access to technical assistance, workshops, mentors, and entrepreneurial counseling. Inaugural classes began this fall. More than 120 people signed up for the first round of classes, and 31 were selected for the program.

GRAN DÍA

Working with the Downtown Little Rock Partnership and Consulate of Mexico, CALS threw a Day of the Dead party outside the library's Main Branch. Photos by Jacob Slaton
FEEDING BODIES
In 2018, the city of Little Rock received a grant from the National League of Cities and chose CALS to partner with on a meal distribution project. The library was the primary organization responsible for implementing the Be Mighty Little Rock campaign, which connects children and teens 18 and under to free U.S. Department of Agriculture (USDA) meals.
When the grant was first announced, recalls Coulter, the library had no expertise in providing meals on a large scale—"We'd handed out a few snacks." However, he noted, the library wasn't being asked to work out all the logistics, but rather coordinate the collaboration—something it was already good at.
CALS hired a coordinator who helped recruit partners throughout the city, including Arkansas Hunger Relief Alliance, advertising services provider AdClub Little Rock, local nonprofits and volunteer organizations, and the Little Rock School District (LRSD). Be Mighty advertised on city buses, the fire department distributed meals and let children play on the trucks, and a local park held a splash pad party to help raise the program's profile. Because many kids in the library's service area don't have reliable transportation to reach meal sites, CALS worked with the local transit authority, Rock Region METRO, to purchase free bus passes for eligible users in summer 2019.
In the campaign's first year it saw a 21 percent rise in local children participating in federal meal programs. Eleven CALS branches currently serve as year-round meal sites where kids can get meals during school breaks and on weekends. With the library's support, Parks and Recreation has expanded meal service at six community centers, added a nutrition component to after-school and summer programs, and registered Summer Playground Program participants in both CALS's Summer Reading Club and the Be Mighty METRO initiative.
As of last July, Be Mighty has served 4.5 million meals in Pulaski County across all locations, 432,110 of them in library branches. "The end result," says LRSD Superintendent Michael Alan Poore, "is we have young people that are growing up with supportive adults, with food in their belly and with knowledge to tackle the issues we face as a society."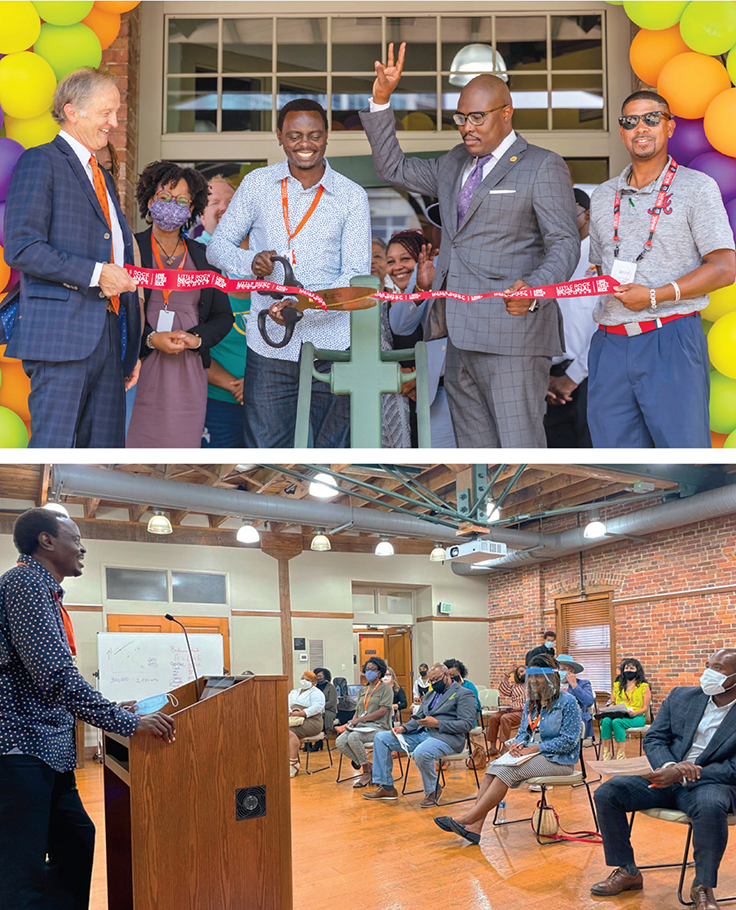 TAKING CARE OF BUSINESS

(top photo, l.-r.): CALS's Nate Coulter, Rock It! Lab Coordinator Leah Patterson, Advancing Black Entrepreneurship Executive Director Benito Lubazibwa, Scott, and Ambassador with the Little Rock Regional Chamber Andre Webster cut the ribbon at the Rock It! Lab's kickoff event. Bottom photo: Lubazibwa addresses participants in the Rock It! Lab's Business Incubator program. Top photo courtesy of Remix Ideas; bottom photo courtesy of Central Arkansas Library System
FEEDING MINDS
Through its longstanding partnership with LRSD, the library is able to provide Tech Cards for the district's students, allowing them to access subscriptions and databases through CALS's Student Portal from any location. The initiative began in 2017 with a pilot in eight schools. "We said, let's not worry about trying to get an address like libraries typically do when they hand out library cards," says Coulter. "Let's just give every kid in the school a Tech Card." In the 2019 school year 54,500 cards were distributed to students in the Little Rock, Pulaski County, Jacksonville, Perryville, and Bigelow public school districts, as well as nine private, parochial, and charter schools. All existing tech cards were renewed in 2020, and new cards issued where requested.
In fall 2020, a major grant from the Arkansas-based Walton Family Foundation enabled CALS to launch the Count UP Math Tutoring program. "There are a lot of literacy training organizations and literacy support groups for children, students, and adults," Coulter notes, "but it turned out there was nobody doing something that was math oriented."
The library collaborated with the University of Arkansas (UA) at Little Rock's math department to get up to speed on next steps, and hired a coordinator and two tutors, including one through Philander Smith College, a local Historically Black College/University. The coordinator organized a team of volunteers to provide online or, more recently, in-person one-on-one tutoring for students struggling with math. More than 100 students took part in the program's pilot year, and feedback from parents, kids, and tutors has been positive. Although funding from the Walton Family Foundation will end this winter, a grant from the Arkansas Department of Education and federal relief money will ensure that the program keeps going in 2022.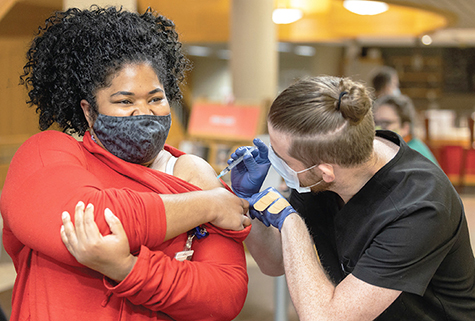 SAFETY FIRST Patrons can get vaccinated at the library, thanks to a Communities for Immunity grant from the CDC and IMLS. Photo by Jacob Slaton
The Encyclopedia of Arkansas (EOA), housed in the Bobby Roberts Library of Arkansas History and Art, is the only state encyclopedia in the country produced by a library system. The premier source of information on the state of Arkansas, EOA attracts users and educators from K–12 and higher education who hail from some 150 countries. In addition to being referenced in both scholarly and popular publications, the EOA has been cited in bills before the Arkansas General Assembly. It saw particularly heavy use during the pandemic, with 33 percent more web sessions taking place between March 2020 and 2021 as educators and students accessed its resources for virtual study. Recent grants from the National Endowment for the Humanities and the Arkansas Humanities Council will help EOA hire a second staff historian, make some tech upgrades, and add alt text to entries for visually impaired users.
In addition to EOA, the Roberts Library houses art galleries, a genealogy and archival research room, and the CALS Butler Center for Arkansas Studies. UA Little Rock's Center for Arkansas History and Culture is co-located in the Roberts Library. One of CALS's most important collections holds writings and artwork created by Japanese American children and adults who were interned at the Rohwer War Relocation Center in rural southeastern Arkansas between 1942 and 1945—the largest existing collection of art associated with any single U.S. internment camp.
PANDEMIC RESPONSE
During the COVID-19 pandemic, CALS worked hard to maintain services while keeping staff and patrons safe—eventually producing its own COVID response playbook to answer other libraries' questions. CALS closed to the public on March 13, 2020, and began providing curbside service within two weeks, with online programs and virtual reference and information services available remotely. By the end of that April, most branches had started providing a suite of services that included circulation of materials, mobile printing, holds requests, meals, and grab-and-go programming. Buildings began to open for computer access in May 2020 with safe operating protocols in place. "We didn't know what the answers were—nobody did—but we were not afraid to keep showing up and trying to figure out ways to help," says Coulter.
Ongoing partnerships with the city of Little Rock, Arkansas Hunger Relief Alliance, AdClub, and LRSD helped CALS quickly amplify its capacity to serve meals, creating a network of some 30 locations for grab-and-go meals for to children and teens—eight of them in CALS branches. The library joined forces with the Clinton Foundation and World Central Kitchen to serve lunch and dinner at three locations in underserved neighborhoods, seven days a week, and volunteers prepared meals at the Clinton Presidential Center.
This March, CALS was one of several libraries profiled in LJ for their work lobbying local legislators and the Arkansas governor to move library workers into a priority tier for early vaccinations. Despite Arkansas's low vaccination rate overall, approximately 90 percent of the library's nearly 300 employees have been vaccinated. CALS has offered multiple vaccination clinics on site at branches for both employees and the public.
While there was some initial tension between the public wanting library access and employees' concerns for their own safety, Coulter feels that, for the most part, everyone has navigated the issues safely. "It was a scary time, especially when you're feeling like you are an important part of the community," McDaniel agrees. "I do feel like it was difficult, but we handled it really well."
Although Coulter still sees some pushback by patrons against mask mandates, reinstituted in July in response to the surge of the Delta variant, he says, "I would ultimately say, look, I've got to protect my staff, and part of the protection is to accord them what they need to feel better about coming to work."
TOOLS FOR CHANGE

Top l.: Librarian Rachel Tanner organizes the tool library at the Dee Brown branch. Top r.: CALS staff members share library resources at the Unsheltered Outreach Fair in North Little Rock. Left photo by Jacob Slaton; right photo courtesy of Central Arkansas Library System
COMMUNITY APPROVAL
Individual complaints about masking notwithstanding, the community's regard for its library is clear. In 2019, 1.8 million people came through the library's doors, and although 2020 was an outlier in every way, library use was still high: Nearly 140,000 people attended live programs—either virtual or in-person—and patrons checked out 947,793 digital and 1,005,219 physical items.
In a public opinion survey fielded in May, more than 72 percent of respondents had a strongly favorable view of CALS. And while studies have shown that love of the library does not necessarily translate into votes, November's millage passed comparably to approval statistics—more than 71 percent of Little Rock voters showed up for the library.
The millage increase—the system's first since 2007—is anticipated to generate $2.3 million to $2.4 million per year, and will help the library expand its digital and print collections, upgrade technology, and address deferred maintenance and system sustainability needs.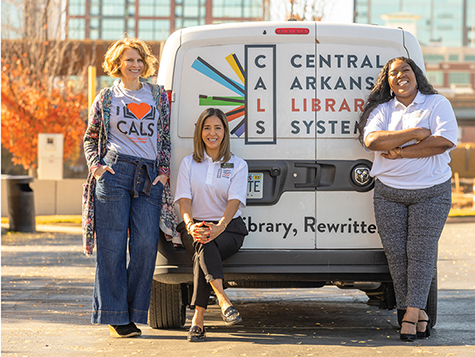 TAKING IT ON THE ROAD

The outreach team on wheels (l.-r.): Community Outreach Coordinator Courtney Jones; Community Liaison Maria Aguilar; and Community Liaison Jessica McDaniel. Photo by Jacob Slaton
KEEPING GREEN
A 2017 energy audit helped the system identify a series of improvements that it addressed through a $2 million loan, including LED lighting, water conservation measures, new HVAC equipment, and utility rate corrections. The project, completed under budget, produced enough energy savings to pay for the original project as well as fund a 66kW solar array at the Children's Library—this last not only an energy saver, but a useful teaching tool.
CALS is currently a partner in the largest solar project in Little Rock's city limits. In summer 2020, the system entered a 25-year contract with Entegrity, an energy services company, to buy electricity from its solar farm. CALS will receive a credit offset against its energy bills for its share of the solar output, saving tens of thousands of dollars a year, and putting cleaner energy on the grid.
The library's employee-led Green Team—formed as a result of the audit—helps identify potential areas to focus on, including systemwide recycling, green cleaning, and programming on environmental sustainability. Some pandemic relief funds will go toward installing water bottle filling stations, another Green Team idea.
LISTENING TO STAFF
The boost to CALS's budget will also augment salaries, particularly for public-facing employees, "a belated reward, or compensation, for their heroic efforts during the pandemic," says Coulter. He encourages staff to let him know what they need; for the past two years he has held monthly "Coffee with Nate" sessions to give staff a forum for bringing their thoughts to his attention. These can be ideas, criticisms, or issues that need to be addressed—"I'm a human can of WD-40 to loosen up squeaky doors and get things adjusted," he notes.
Coulter has also created affinity groups, safe spaces for staff who are members or allies of a particular group to talk with their colleagues about shared experiences, work on projects, and connect with other employees across the system. Current groups include those for Latinx, African American, and LGBTQIA+ staff, people with mental illness, and people with disabilities.
In addition to providing internal support, the groups are another way to help nurture creativity, says Coulter. "Not all good ideas are going to come from the top of an organization. Probably the majority of them may come from the people who are on the front lines and dealing with the issues every day."
Much of the credit for CALS's success inreaching its public goes to his staff, Coulter adds. "We have a lot of talented people who are good at identifying opportunities," he notes; sometimes the library's job is simply to connect the dots between good ideas and the community partners that can move them forward.
With each of CALS's successful projects comes not only satisfaction and positive feedback, he says, but increasing trust in the library as convener. "You get an accrued credibility benefit," he explains. "If you've done good things with partners in other areas, they will say, 'These people are serious, and they do things in a high-level way.' That's always going to be a function of having staff who are devoted and passionate and smart enough, insightful enough, to figure out where we should spend our finite time and energy." —Lisa Peet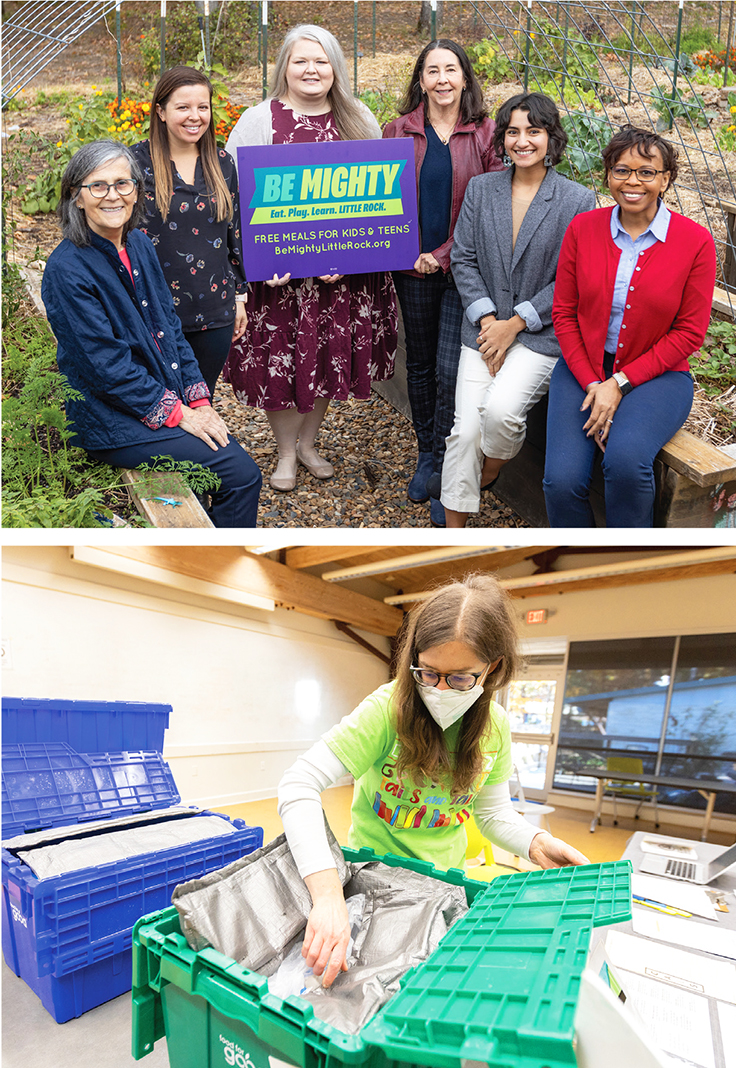 MIGHTY MEALS

Top photo: The Be Mighty Little Rock team (l.-r.): Webb; CALS Grants Coordinator Kay Kay DeRossette; CALS Youth Services Coordinator Ellen Samples; Peck; Be Mighty Coordinator Jasmine Zandi; and Children's Library Branch Manager Shya N. Washington. Bottom: CALS Library Assistant Diane Keisler prepares Be Mighty meals for distribution at the Dee Brown Library. Photos by Jacob Slaton
---
HONORABLE MENTIONS

SHARPSBURG COMMUNITY LIBRARY l PITTSBURGH, PA
Sara Mariacher | Branch Manager
Sharpsburg Community Library is one of a kind. It's the only branch in its system, Cooper-Siegel Community Library, started because many residents in the just-over-3,300 person-borough, across the river from Pittsburgh, lacked transportation to come to the main library. More than a quarter have no personal vehicle or home internet access, and there is no suitable public transit route. The library has only one full time employee, branch manager Sara Mariacher. But it makes the most of its singular position.
In 2018, previous management had run up a deficit and the library almost had to close. However, the community rallied to save it: The local laundromat donated $1 for every $1 spent. An anonymous donor gave $10,000, and the Fox Chapel Area School District raised more than $60,000 through a telethon.
The library returns the favor. Its two part-time assistants called every single patron with a library card or a Sharpsburg address when the building closed for the pandemic, connecting them to social services. The STEAM coordinator created weekly make-and-take kits until reopening this spring. Now that the building is open, the library is in the process of ditching Dewey in favor of a more intuitive bookstore model.
Beyond the building, Sharpsburg Community Library is deeply involved with other community organizations, collaborating with the recently formed Human Rights Commission to develop a community-wide education plan on equity, diversity, and inclusion (EDI), and planning to host an iPad kiosk where residents can submit discrimination complaints to the commission. Internally, staff participates in monthly EDI discussions and plans a diversity audit in the next six to nine months.
The library also serves as a stakeholder of the Sharpsburg Ecodistrict Collaborative, one of the country's first, hosting a community garden, solar panels, and an air quality monitor. The library also brings in a food bank produce truck, partners with Backpack for Hunger, and hosts a little free pantry to combat the local food access challenges.
Staff are focused on mental health as well as physical: They are trained in mental health first aid. Upcoming curricula will include mindfulness and social/emotional learning, and the library recently hosted a community dialogue around addiction. To keep the community itself healthy, the local state representative holds office hours at the library, and the library pioneered virtual candidate forums for local elections, which 60 percent of voters watched. Such practical innovations at the point of need are what helps Sharpsburg Community Library make an impact many times its size. —Meredith Schwartz
---

GAIL BORDEN PUBLIC LIBRARY DISTRICT l ELGIN, IL
Carole Medal | Executive Director
Gail Borden Public Library District (GBPL), like virtually all U.S. public libraries, had to pivot to virtual abruptly when COVID shut down schools and library buildings. Staff transitioned to "Your Library at Home" within a week; loaning, as well as the usual books and kits, appliances and devices from the Library of Things via the curbside and drive-up windows. By the end of July 2020, the library's virtual offerings had almost a million and a half views.
Importantly, the format also offered a platform for virtual discussions on racism, social justice, equity, and common ground in the context of the protests following George Floyd's murder by police. The library collaborated with local Black churches, city council members of color, activists, the police department, and social justice organizations to convene conversations facilitated by library staff and clergy.
The library's commitment to civic collaboration has roots that stretch back far beyond that moment. Indeed, says director Carole Medal, "Over a seven-to-ten year period, a scaffolding effect becomes evident, as previously successful relationships and maximizing partnerships reach new levels." One such collaboration is the non-profit credit union located in the library's lobby to serve the unbanked and underbanked among the library's financially vulnerable patrons; one the library staff thinks is unique in the U.S. so far, though the Credit Union National Association is working to change that.
As the pandemic further centered the gap between the digital haves and have nots, GBPL created three new positions to work on equity of access: a digital equity coordinator, a full-time Hispanic Services outreach associate, and a part-time outreach assistant. The library also convened an ad hoc Digital Equity Committee of tech-minded staff from across departments and has partnered with the largest local school district, the city, and Congressman Raja Krishnamoorthi's office to enact a digital equity plan.
In addition to providing practical help, the library has been responsive to the traumas it faces together with its community. Among its initiatives, it created circulating Resiliency Kits on topics such as Bullying, Addiction, and Divorce. In 2020, GBPL launched Mujeres con Propósito (Women with Resolve), a bimonthly peer-to-peer group to provide opportunities for Latinas to connect with each other and community leaders, share experiences, and explore topics for self-care and personal development. The group continued online during COVID-19.
This March, in partnership with Study Circles Aurora and Everyday Democracy, GBPL launched a six-week conversation group in which people from all walks of life discussed their first encounters with racism and how racism has affected their relationships, education, careers, and health. This combination of inventive solutions and collaborative mutual aid helps GBPL make a substantive impact on its community. —Meredith Schwartz