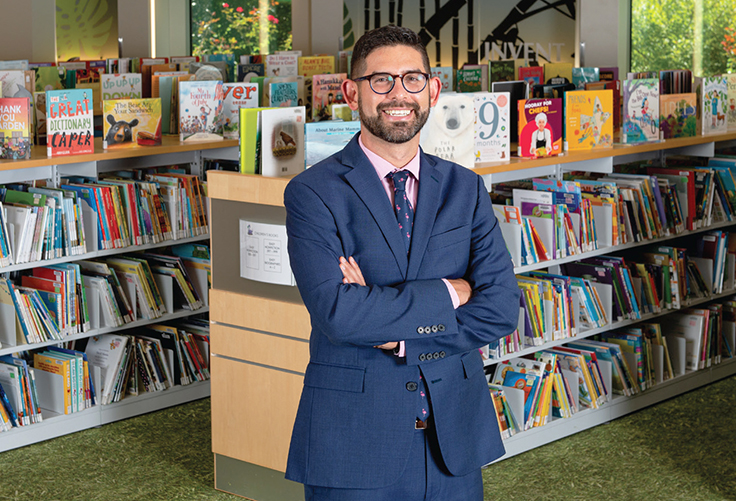 When Nicholas Brown joined Prince George's County Memorial Library System (PGCMLS) in January 2020, he stepped into a new role for the library. His title, Chief Operating Officer for Communication and Outreach, combines two functions usually carried out by different departments. But CEO Roberta Phillips envisioned a position that would combine marketing and outreach, offering a why to the library's communications work as well as a what.
Despite starting two months before the pandemic shuttered the system's 19 branches, Brown has exceeded those expectations, spearheading new efforts from a vaccine hotline to a statewide programing consortium to creative incubator spaces, and bringing in partners across the county and state. He has increased bilingual Spanish services in an area that is currently 19.5 percent Latinx and growing. He solidified the library's branding, message, and mission and secured several major long-term funders. Overall, Brown has brought a holistic, outside-the-box mindset to the role, greatly broadening the library's reach and earning him Library Journal's 2021 Marketer of the Year award, sponsored by Library Ideas.
VARIED BACKGROUND AND SKILL SET
Brown came to PGCMLS with a wide range of experience. Previously he was director of special productions and initiatives at Washington [DC] Performing Arts, served in the Librarian of Congress's (LC) Office of Special Events and Public Programs, and served as music specialist/concert producer for LC's Music Division from 2012–17. A musician, conductor, and vocalist, he's performed with a number of organizations and founded his own ensemble. Brown currently serves as an adjunct instructor at the Catholic University of America's department of Library and Information Science.
While he doesn't have a degree in marketing or communications, Brown says all his roles have been about community engagement. From his first experiences as a press intern for the Boston Symphony as a Brandeis undergraduate, his focus has been on connecting different audiences with resources. Exposure to a range of institutions has also given Brown an appreciation of thinking outside the traditional library marketing box. "It has given me a different perspective," he says. "I've done this work in the field in different contexts, and I see what works in different situations." His musical endeavors were often produced on a shoestring, doing public relations alongside the creative work.
"At the end of the day all of this work is about storytelling, whether it's resources, programs, opportunities, or services, in a way that's going to resonate with the audiences we're trying to reach," he says.
Brown's work is also based in a strong ethic of service, wanting to give back to the library and his community. "That's the kind of thought process he has," says Phillips. "How can we broaden our reach? How can we get people access to opportunity and experiences that they might not have? And how do we do it in a way that's really about bringing our resources together as a county?"
Phillips created the new position to combine marketing, programming, fundraising, outreach, digital services, and services for English language learners at a deputy director level. Brown joined COO for Public Services Michelle Hamiel, COO for Support Services Michael Gannon, Director of Dynamic Content and Engagement Stephen Fitzgerald, and a team of marketing, design, media relations, digital, and development specialists.
"There are so many connections to how we promote things and why we promote things, looking at target audiences and looking at customer feedback, that tied marketing and digital strategy into programming," explains Phillips. "All of those pieces made sense to me to come together, rather than to have them as separate entities."
Breaking down barriers and combining departments that had previously been separate offers Brown broad support, letting him to make changes "at the big picture level," he says, and allowing him to maximize budget money. Eliminating those silos also gives the process of publicizing the library's work an inherent logic, making it part of the flow of services; Brown has established a working group bringing content and services departments together with the communications team, allowing for conversation and cross-departmental support.
"The communications team is working in tandem with the programming team at every stage of the game," Brown explains, "so that the PR work is an ongoing process that is embedded in the development of a project instead of being a responsive thing after the fact, after something is developed."
PANDEMIC BEGINNINGS
Brown already knew his first priorities would include revitalizing the library's headliner programming, developing new high-visibility partnerships, stepping up fundraising efforts and advocacy among stakeholder groups, and working on branding. (He has strengthened the library's visual identity, working with an in-house designer to ensure that the PGCMLS logo appears in English and Spanish on all communication; Spanish-language guidelines have been added to the library's style guide.)
The COVID-necessitated organizational shakeup provided "a very unusual kind of opportunity to reinvent without having the hurdles of institutional change," he says. "The pandemic presented, in many ways, a clean slate for my work."
PGCMLS was involved in countywide emergency operations planning early in the pandemic and was the first system to close its buildings in March (Brown didn't meet most of his fellow staff members until after the branches reopened this past April). In spring 2020 the library moved rapidly to virtual programming—and was one of the first organizations in the area to offer Spanish-language educational programming online. Because many staff members were on paid administrative leave for the first six weeks of the shutdown, "In a lot of cases it was literally me or other colleagues doing story times," Brown recalls, "and then transitioning to the experts on the team once they came online."
Fortunately this wasn't new ground for Brown, who was often responsible for virtual content at both Washington Performing Arts and LC, handling licensing, permissions, and production of concert videos and making them available on different platforms.
VACCINES FOR ALL
Not all of the pandemic innovations were about programming. On April 1, the library launched an English/Spanish vaccine hunter hotline, an offshoot of the library's general vaccine availability messaging and Brown's own work on the Maryland Vaccine Hunters' Facebook group. Capitol One, which had partnered with PGCMLS in the past, approached the library to see if it had any ideas to support efforts around vaccine education—particularly in BIPOC communities where systemic racial and economic inequities were hampering the rollout, and for seniors or others with technology limitations. The library had recently instituted a call center, which was easily repurposed as a vaccine hotline and staffed with 11 part-time temporary workers.
The hotline, funded by Capitol One and the PGCMLS Foundation, was able to provide callers with more detailed information about how to find and book vaccines than the county's 311 line, including helping homebound residents book home appointments. "The phones were off the hook," Brown recalls. Local agencies consistently redirected callers to the library, and the county sent two vaccine vans to a library event at National Harbor. Once walk-in vaccines became available, hotline workers began cold-calling customers in target zip codes with low vaccination rates—more than 52,000 households. When the hotline closed after eight weeks, it had helped secure vaccine appointments for more than 1,400 customers, 32.9 percent of whom were Latinx.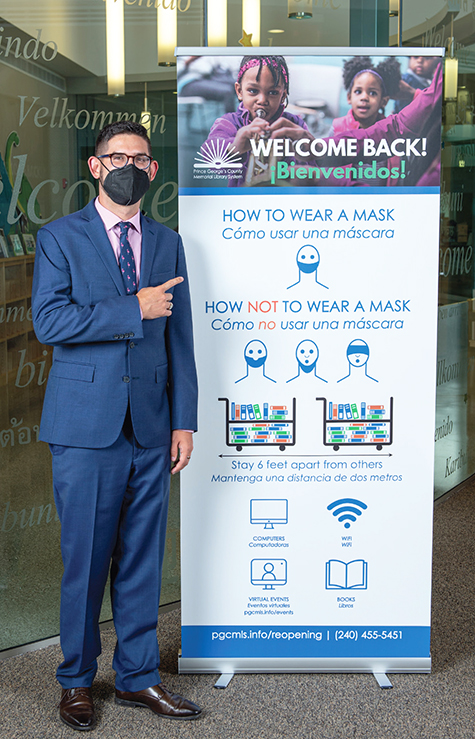 WELCOME TO ALL

Brown demonstrates new branded, bilingual signage that greets patrons returning to reopend branches. Photo ©2021 Rich Kessler
PROGRAMMING CONSORTIALLY
One of Brown's largest cross-promotional efforts began with a single author event. Before the pandemic, the library had scheduled several talks as part of its LGBTQ+ Pride Month and the Authors for Truth Series, including Ibram X. Kendi, who had planned to discuss his book How to Be an Antiracist in person in April. When Kendi rescheduled for a virtual event in July, Brown pulled in members of a monthly statewide outreach/marketing group composed of communications staff from PGCMLS, Enoch Pratt Free Library, Howard County Library System, Calvert Library, Anne Arundel County Public Library, Harford County Public Library, and Carroll County Public Library, as well as partners for the original event: the PGCMLS Foundation, nonprofit arts organization Joe's Movement Emporium, the Prince George's County Human Relations Commission, the Prince George's County Office of Human Rights (OHR), and the Prince George's Community College Center for Performing Arts.
Brown and his team worked with the Maryland State Library (MSL) to ensure that all public libraries in the state would be able to co-present Kendi's talk, with 19 eventually joining. The event garnered 276,782 advance registrations, more than 226,000 live views from around the world, and just short of 123,000 on-demand views over the 30 following days (see Brown's account for LJ, "Maryland Libraries' Antiracism Programming Goes Global").
Buoyed by the event's success, the group—now named Maryland Libraries Together—developed a competitive application for public libraries to propose a series of virtual statewide programs, with MSL providing financing through Institute of Museum and Library Services funds. Among other successful offerings, Enoch Pratt has presented an interdisciplinary program on race and photography, Howard County interviewed Caste author Isabel Wilkerson, and PGCMLS presented Viva Latino, with four Latinx authors discussing how contemporary Latin identity is reflected in literature.
The PGCMLS team recently spearheaded a statewide grant for an upcoming Maryland Libraries Together project, Indigenous Maryland, which will create a website and app to generate awareness of local Indigenous history through virtual tours and speakers. It is scheduled to be released over this winter and spring 2022, with content representing each of the counties and jurisdictions of partner libraries and input from local tribal nations and the Maryland Commission on Indian Affairs.
TWO-WAY PARTNERSHIPS
Much of Brown's innovative work is based on partnerships. "This has been a big tactic of mine everywhere that I've worked," Brown notes. "When we bring the right mix of partners to the table on certain projects, events, and initiatives, we all collectively help each other." Among other benefits, these reciprocal relationships help PGCMLS stretch its small marketing budget of $48,000.
For example, he has instigated partnerships with local sports franchises. Josh Bell's Book Club, a monthly discussion founded by the Washington Nationals' first baseman and facilitated by PGCMLS librarians, has led to the library's logo and program information being featured in every Nationals TV and radio broadcast since May, as well as prominent billboard placement. Similarly, at the beginning of the pandemic, the library developed a partnership with the soccer club D.C. United focused on virtual bilingual educational content, which has led to coverage on the local Spanish sports radio station.
"We could never in a million years afford to buy that level of exposure," says Brown. "But proving to the partners that our missions align and that we're able to help them accomplish their goals while also supporting our goals—that's a huge deal, and has had a big impact."
A partnership with OHR has led to a range of cooperative programming engaging local experts to address antiracism and civil rights topics, from human trafficking to Asian hate crimes—more than 110 programs in the past 18 months. "We identified a sweet spot," Brown explains. "They have a very small staff and they don't have technology production infrastructure like we do, so basically we just started programming together with them."
The county's "Kendi Coalition"—OHR, the Prince George's Community College Center for Performing Arts, and Joe's Movement Emporium—recently announced a collaboration with the library on "Freedom Stories," a two-year multidisciplinary initiative building on the themes of William G. Thomas III's book A Question of Freedom: The Families Who Challenged Slavery from the Nation's Founding to the Civil War. Components will include educational programming, a play based on the book's stories that have local roots, and the first ever countywide read.
"I see Nick as one of our most powerful allies," says OHR Executive Director Renée Battle-Brooks. "His belief in equity, his work to build programming that is accessible and wide-ranging, and his positive attitude marry to create opportunities for all of our residents to engage, to grow, to learn, and be heard."
FUNDING WITH LIBRARY ROOTS
Sam Brin, founder of the Pull Up Fund (and brother of Google founder Sergey Brin) was a regular PGCMLS user as a child, when his family emigrated to the United States. Today, Pull Up Prince George's is dedicated to closing achievement and opportunity gaps in the county, and its alignment with library goals has resulted in two major gifts totaling $2.52 million—the largest in PGCMLS history. Brown was the codeveloper, proposal creator, and pitchman for a three-part initiative with Pull Up. It began with Online 2Go, rolled out this year, which offers more than 900 borrowable Chromebooks with built-in internet to patrons; the program addresses the digital equity gap not fully solved by school laptop lending.
The project's next piece will be the development of the Commons, five technology labs distributed throughout the system to help advance opportunities for BIPOC, low income, and immigrant/refugee Prince Georgians to pursue STEM and creative technical training, higher education, and careers. Each location will have a specific theme: the Life Lab Career Center at the Beltsville branch, Social Justice Incubator at Bladensburg, E/Studio for Small Business and Entrepreneurship at Largo-Kettering, an expansion of the D.R.E.A.M. Music and Design Production Lab at Fairmount Heights, and the Foundry for Innovative and Creative Production at Oxon Hill. Targeted to middle schoolers through adults, the programming comes with built-in support—paid high school peer mentorships, fellowships to provide a semester's tuition at local trade schools or community college, and paid internship placements if participants want to become an instructor in the program.
The third part of the Pull Up Fund–funded project will provide programming for the PGCMLS location at the County Correctional Center, as well as re-entry programming and support, with a focus on incarcerated women, LGBTQ people, and those with families.
The project has involved tremendous effort, says Phillips, but Brown's connections have eased the way. "The collaboration that he has with so many different people, and so many different teams within the organization, helped make this really seamless and help it move forward."
PGCMLS's pandemic efforts not only provided what patrons needed, but offered them the opportunity to give back in kind, Brown notes. "We're in the business of constantly trying to make each individual who ever interacts with our system a champion and an advocate for the importance of the library," Brown notes. "In the last year and a half, people are coming out of the woodwork telling us their stories of how the library has changed their lives. And you can't pay for that to happen."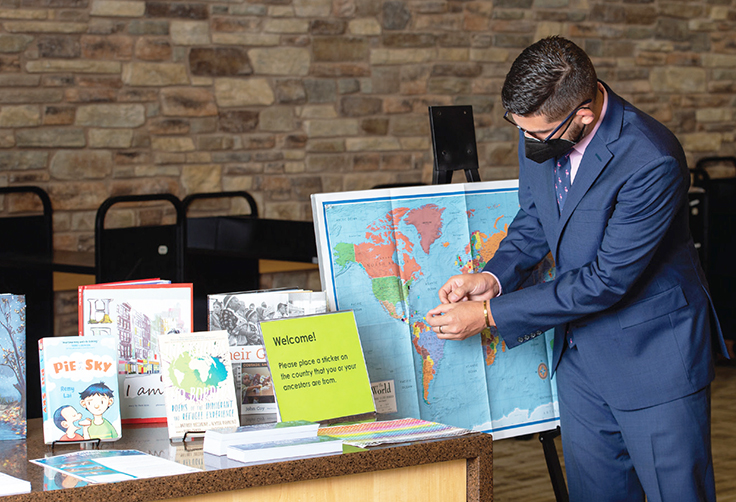 All photos ©2021 Rich Kessler
---
HONORABLE MENTION
Slone T. Williams

| Communications/Community User & Engagement Manager | Cobb County Public Library, GA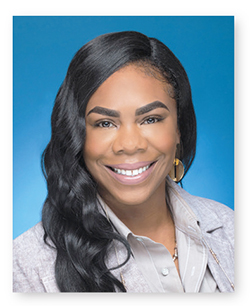 As part of Cobb County's Complete Count Committee, the Cobb County Public Library (CCPL), GA, began researching and planning for the 2020 Census in early 2019. Combining demographic data with 2010 Census participation rates revealed that non-white Hispanics and African Americans were less likely to participate, as were those who live in areas with lower incomes or a younger population. The library planned a comprehensive marketing campaign to encourage Census participation, particularly among those groups. A kick-off event including a watch party of the Census Bureau press conference was attended by officials, and throughout 2019 the library promoted Census awareness through social media, booths at community events, workshops, and a Census landing page. In January 2020, the library launched a year of planned promotions, hosting Census workshops for business owners and community organizations—until the pandemic intervened.
The library's marketing team transitioned to virtual events. Interestingly, these included youth as well as adults, such as "My 1st Census Story Times," shared across the library's social media and by community partners. CCPL also released monthly Census trivia contests for teens via an online form. For adults, CCPL hosted a Census "Wheel of Fortune" via Facebook Live.
Partners provided prizes as well as flyers for branches in undercounted areas and Census t-shirts for library staff. The library reciprocated by designing billboards, bus stop vinyl posters, and local radio ads.
The library used GIS tools to map areas with lower response rates and note nearby businesses, places of worship, and community centers with influence that could help promote the Census. From April through October 2020, CCPL made daily maps for decisionmakers. A performance gauge, originally intended for branches to display, became a digital measure for internal use and social media promotion.
When CCPL reopened seven branches with limited services in July 2020, they included Census kiosks funded by a $39,991 LibTech grant from the state. The Census Mobile Questionnaire Assistance Program partnered with the library to help respondents in the branches answer questions and access the census questionnaire on Census Bureau-issued mobile devices. The library also purchased 30 laptops and created three Census Mobile Kits containing 10 each to be checked out to community partners in undercounted areas. These efforts paid off: Cobb County's Census response rate, 70.4 percent. surpassed the 2010 rate of 66.7 percent. —Meredith Schwartz