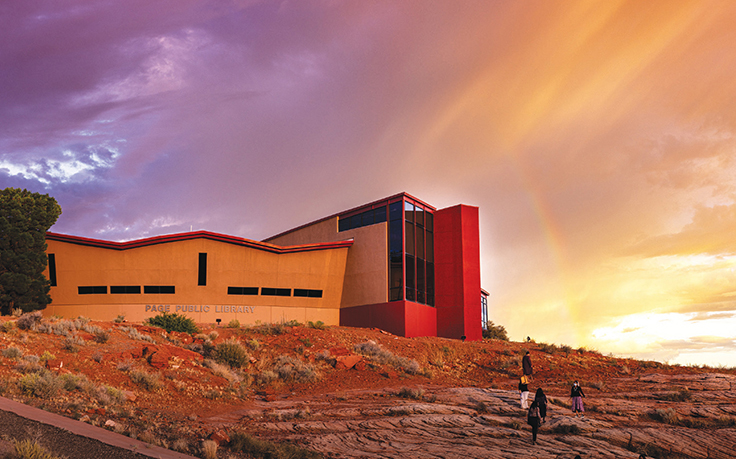 Libraries are many things to their communities—and sometimes, they're everything. The Page Public Library, on the northern Arizona border, is considered not just a library but the essential core of the community. "No matter what people need, they call the library," says Lynn Cormier, director of several departments for the City of Page, including the library. "If I say, 'You should call City Hall,' they say, 'No, I'm going to call the library.'"
Plenty of what the Page Library does looks, on the surface, like traditional work: book and media checkouts, expanded children's and teen services, programming and outreach for the local senior center. But other needs have been systematically addressed, as needed, in recent years. The library has helped Canyonlands Urgent Care get out the word about a Naloxone vending machine set up at the city's community center, and stocked items for checkout like bicycles, camping and pickleball equipment, and baking pans. Coconino Community College asks the library to help with customer service classes or to give instruction on APA or MLA formats. The library, college, and local Marriott partner on a job fair most recently attended by 45 businesses and more than 400 job seekers. And that's just the beginning.
"The only way to describe the Page Public Library is to call it the heartbeat of our city!" says Cormier. "It is the essential organ which continually pumps life-sustaining oxygen into all facets of our city and surrounding areas, including businesses, community organizations, and our municipal departments." The metaphor is apt; the library, with its staff of nine, has become a lifeline, serving adults, students, and businesses in creative and critical ways. For its sustaining work, Page Library is the recipient of LJ's 2023 Best Small Library in America Award, sponsored by Ingram Content Group.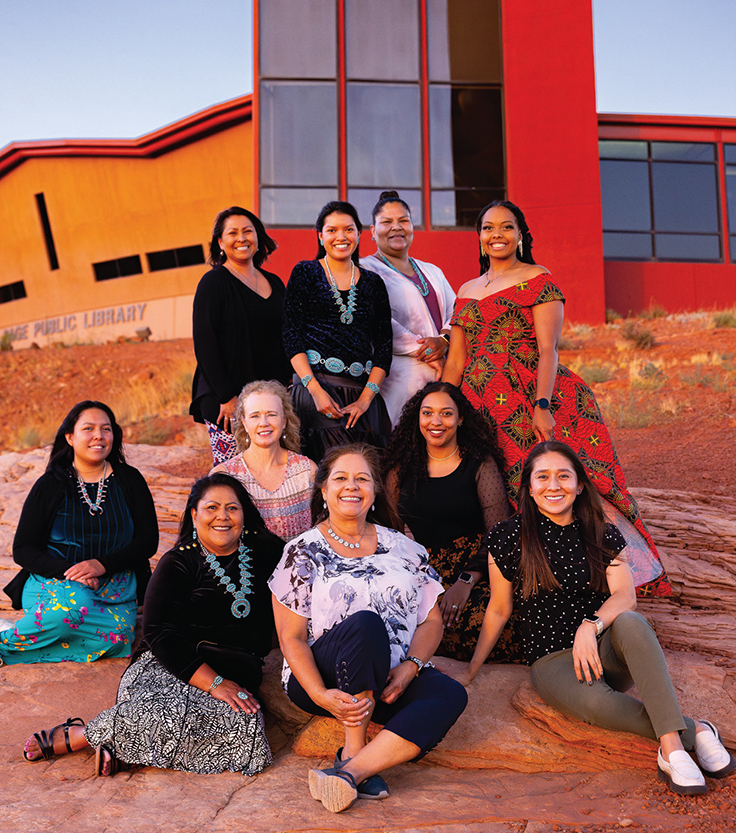 PAGE PL'S VIBRANT TEAM:

Standing, l.-r.: Library Specialist Megan Marks, Children's Library Aide Dawnisia Nez, Circulation Specialist Cheryl Blake, and Children's Coordinator Seairah Combest; sitting, l.-r.: Circulation Assistant Markeisia Nez, Circulation Supervisor Mariendia Nezy, Director of Community & Recreation Services Lynn Cormier, Library Manager Debbie Winlock, Reference Librarian Mikalah Lee, and Library Assistant Candace Tsingine. Photo by Raymond M. Chee
ALWAYS ASKING, ALWAYS LISTENING
Much of the library's success can be attributed to continuously asking what the community wants and listening to what it needs, then doing whatever it can to make that a reality. That's an approach Library Manager Debbie Winlock prioritized when she came to the Page Library in 2005 as director before becoming manager in 2018.
The city of Page, with a population of 7,000, occupies 16.6 square miles—but the library serves patrons from the adjacent Navajo Nation reservation, as well as the towns of Bitter Springs, Marble Canyon, LeChee, Greenehaven, Kaibeto, and Big Water, UT, covering some 7,500 miles across Coconino County. "We're a small, rural community," Winlock says, "and our area doesn't have a lot of resources."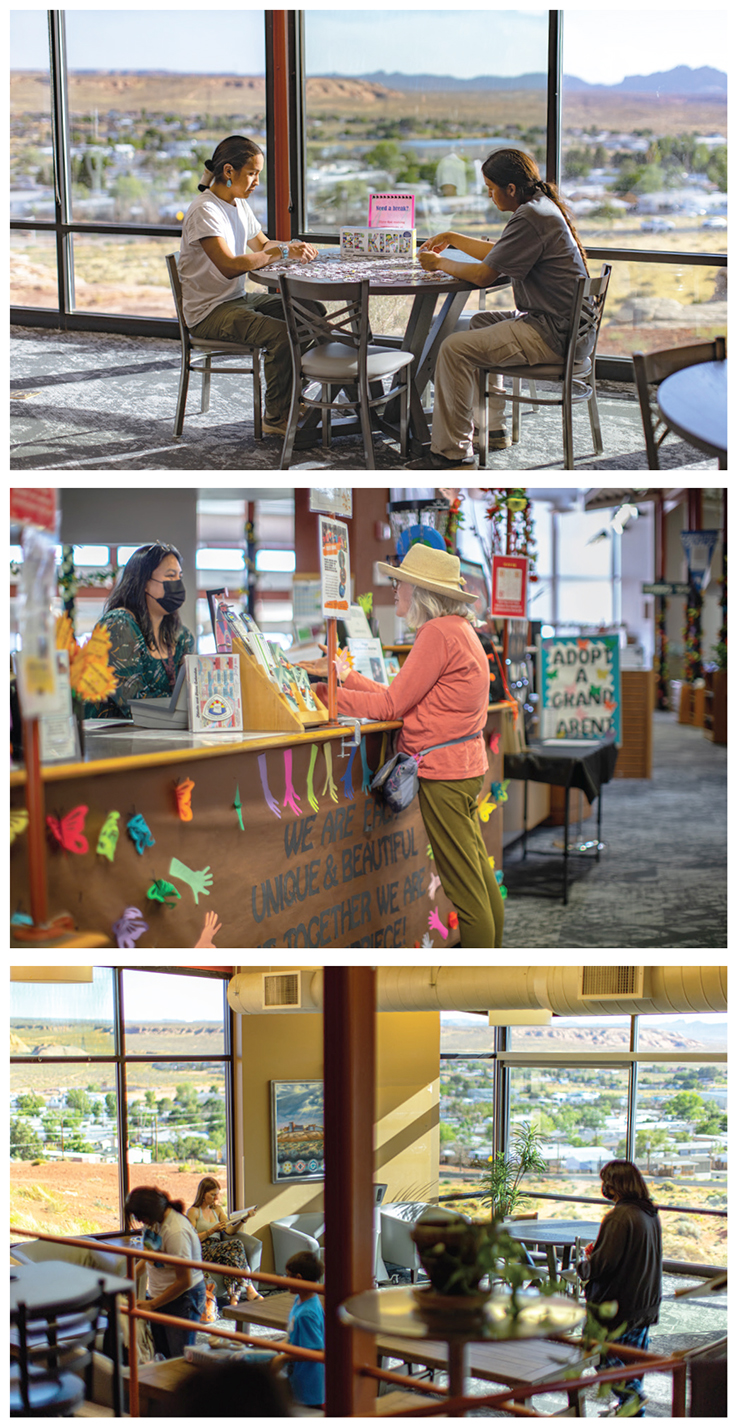 LIBRARY LIFE

Page Public Library offers residents the best of all worlds (top-botttom): puzzles with a view, helpful staff assistance at checkout, and more views to enjoy with library activity. Photos by Raymond M. Chee
To begin with, Winlock and her staff learned that there was little in the immediate area for kids and teens to do, other than sports that often required fees to participate. Lake Powell is a popular recreation spot, but most residents don't own boats. The largest nearby cities, Flagstaff, AZ and St. George, UT, are more than two hours away.
Winlock reached out to organizations in Flagstaff and other surrounding communities to discover what they offered, and began building partnerships and attending events. The children's and teen programming have proved so popular that other communities seek to understand how they can replicate Page's successes. Their creativity won Winlock the Arizona Library Association Outreach Service Award in 2021.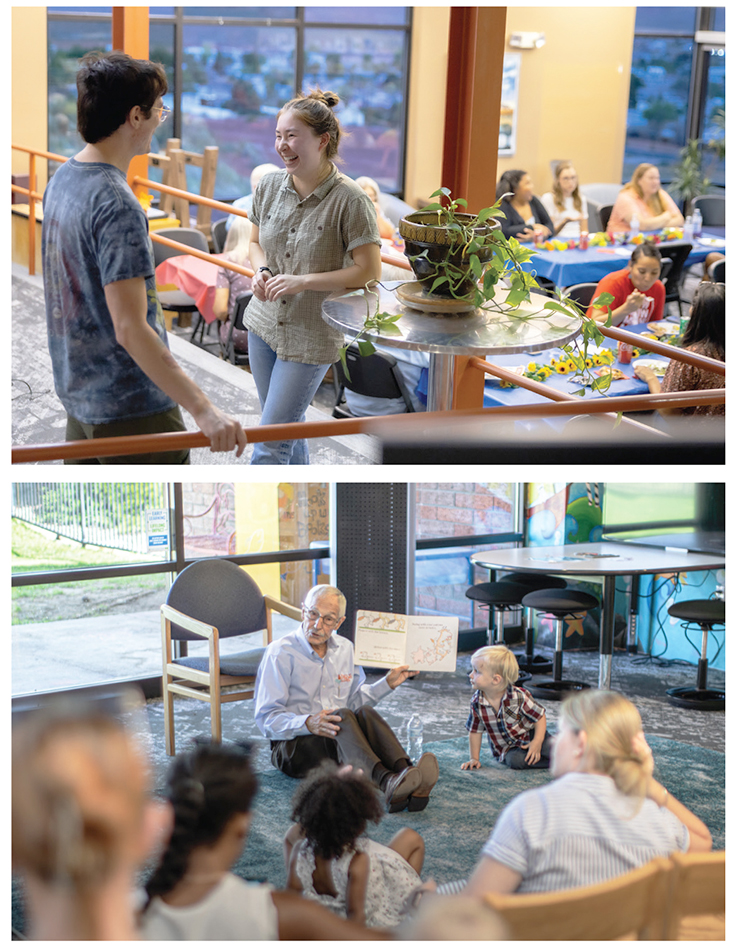 ALL AGES ACTIVITIES

The Adult Summer Reading Program party offers food and fun (top); Page Mayor Bill Diak often stops by to host story time as part of the Tiny Tot program (bottom). Photos by Raymond M. Chee
FILLING NEEDS AND WANTS
Winlock and staff increased programming to the point that the once-quiet library is now a hub of activity and people. Offering residents interesting, engaging activities was a priority, but community conversations revealed other necessities.
"One of our biggest needs in the last three years is the food program," Winlock says. "We have a lot of families that don't eat in the evenings, or [their children] go to school and have lunch and that's all. Right now we're doing breakfast and lunch, but actually we feed people all day long." In summer 2022, the library gave out 3,172 meals and 360 weekend meal bags; during the 2022–23 school year, 10,525 meals and 1,440 weekend meals were provided, all with the help of ongoing grants from St. Mary's Food Bank, which contributes meals for kids 18 and under, and the Circle of Page: Banquet Food Pantry, which provides fruits and vegetables for all patrons.
Many residents were unable to provide the support their youngest children needed to be ready for school, so the library instituted early literacy classes. These are now so well-attended that the 14,000 square foot library needs to find a separate space to hold them. The library is still searching, and in the meantime hosts events in its outdoor space or local parks, or rearranges furniture to accommodate crowds indoors. Winlock hopes to someday add a new programming room. The Page Unified School District's resources are limited, and students are not able to take books off campus, so students come for weekly classroom field trips to check out books and do activities.
Programming also extends beyond the library's walls, notes Children's Coordinator Seairah Combest, whose background in elementary education has helped her develop a range of appealing and varied children's activities. "We go to the parks and read," she says. "We also go to our local donut shop for programs." The library has arranged for story time at a Mexican restaurant, rescue helicopter business, and low-income housing facilities.
SIGN HERE

Debbie Winlock and Mariendia Nezy provide free notary and information service at the Navajo Nation reservation. Photos by Raymond M. Chee
The pandemic brought new challenges. Combest realized that the youngest community members—including her own children—were losing valuable socialization skill development because of lockdowns and social isolation. When kids returned to the library, she saw that they were delayed in their social abilities and more hesitant to take part. So she focused on making up for lost time. "We do a lot of social-emotional programming and hands-on [activities] for the first half hour of our programs," she says. "We create programs where it's not that they're forced to play together, but it makes it easier for them to interact with one another."
NERF WARS AND PARK GAMES
Teens can be difficult to program for, but Winlock and her staff found some unique—and playful—ways to get their attention. Nerf wars, held in the library after hours, have been particularly popular. "They love it," Winlock says. "The next day adults come in looking for materials and say, 'Look, I found this Nerf ball behind the stacks.'" Gaming events for teens are also a hit, and programs such as Movies in the Park. The library invested in lawn games, pickleball equipment, and volleyball sets, and movie nights begin with games at the John C. Page Park—even enticing teenagers who usually avoid family activities, patrons tell Winlock.
Staff also saw that some of teens were in need of basic life skills. "One of the biggest was hygiene," notes Reference Librarian Mikalah Lee, "or we'd do programs involving cooking and they couldn't do something as simple as read a recipe." Teens didn't have access to the health or home ec classes she'd had in middle school, Lee realized, and often parents who worked multiple jobs didn't have the bandwidth to fill in the gaps. "We started teaching cooking and hygiene in October [2022]," says Lee. "By the end of the year, I definitely saw a huge change." Teens who didn't think to help clean up after cooking classes now stay until everything's done, she adds. The program is expanding to include visits from county extension service agents to talk about nutrition.
In recent years the library's youth outreach has grown beyond programming. "We've had some teens that have been in trouble and ended up here doing community service," says Winlock—two of whom the Page Library ultimately hired because of their good work. "We had one who worked for the children's area for a few years, then moved to Phoenix and worked at a library there," she says. "Another hiree is a librarian in another school district now."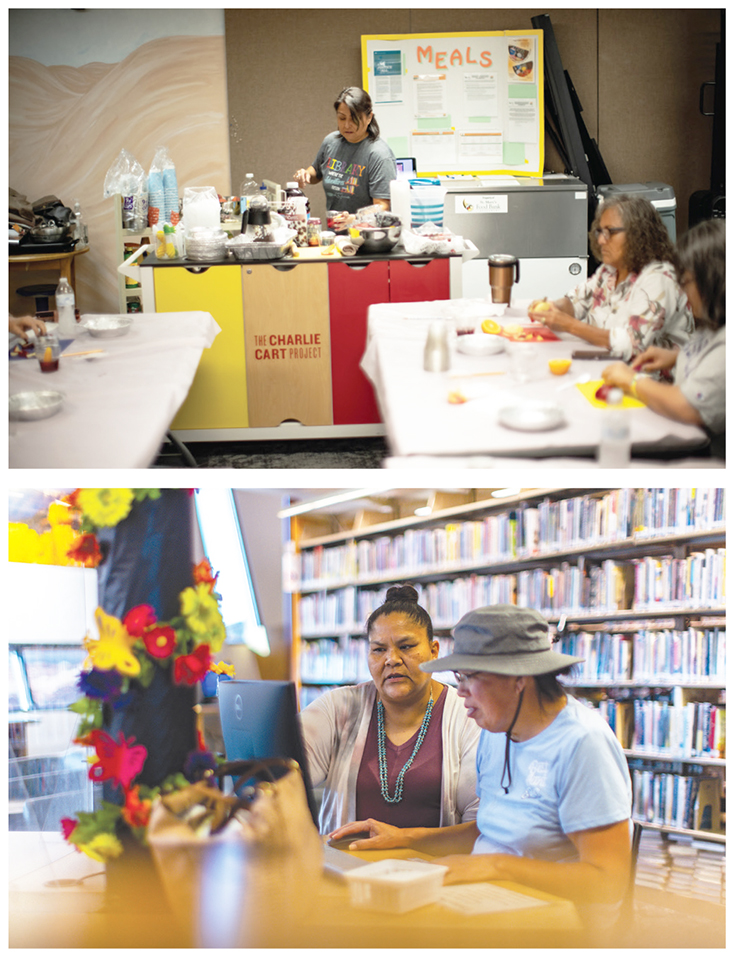 HANDS-ON HELP

Top: Megan Marks overseeing the adult program "Mocktails," where adult patrons learn how to make non-alcoholic drinks. Bottom: Cheryl Blake gives a patron technology instruction. Photos by Raymond M. Chee
THE NAVAJO NATION NEXT DOOR
The Navajo Nation (Naabeehó Diné Biyaad) reservation, which occupies portions of northeastern Arizona, northwestern New Mexico, and southeastern Utah, borders the city; the Page School District reports that its current student population is made up of over 75 percent Navajo students. The library has developed outreach and programming for patrons from the reservation, many of whom don't have internet access, and brings children's story times to the reservation.
Winlock has made sure that Navajo neighbors are recognized as well as included. In October 2022 "we worked with the Page Unified School District's UNITY [United National Indian Tribal Youth Club] to host an Indigenous Day at a city park," she says; County Supervisor Lena Fowler and Navajo Council delegate Paul Begay were guest speakers. Plans are underway for a second event this fall. The previous summer, Winlock was granted funding to distribute food and gas cards for reservation patrons to attend library programs, trainings, and classes.
"That was so nice to get, just when we needed it, says Navajo Nation member Trella Henderson. She began using the library in elementary school, and is now the parent of six children aged three to 30, all of whom spend time at the library. "I started volunteering here for a few years," Henderson says. "After that, when my kids were old enough, they started to volunteer." Two of her children put in so many hours they earned a President's Volunteer Service Award.
A VALUED PARTNER
Busy as they are with their own initiatives, the staff also steps up for other community organizations. For several years, the library, the Glen Canyon Conservancy—a nonprofit partner for federal organizations on public lands—and the local Powell Museum have partnered on a lecture series covering topics as diverse as archaeology, wildlife history, and the Grand Canyon.
However, a flood caused the museum to close in 2019, and it hasn't yet reopened. Not only was there no place to hold the lectures, but there was no one was available to write grants to support the series. Before new options could be considered, the pandemic arrived. So in summer 2022, the library began hosting the series, supporting its grant-writing needs as well, while the museum is being renovated.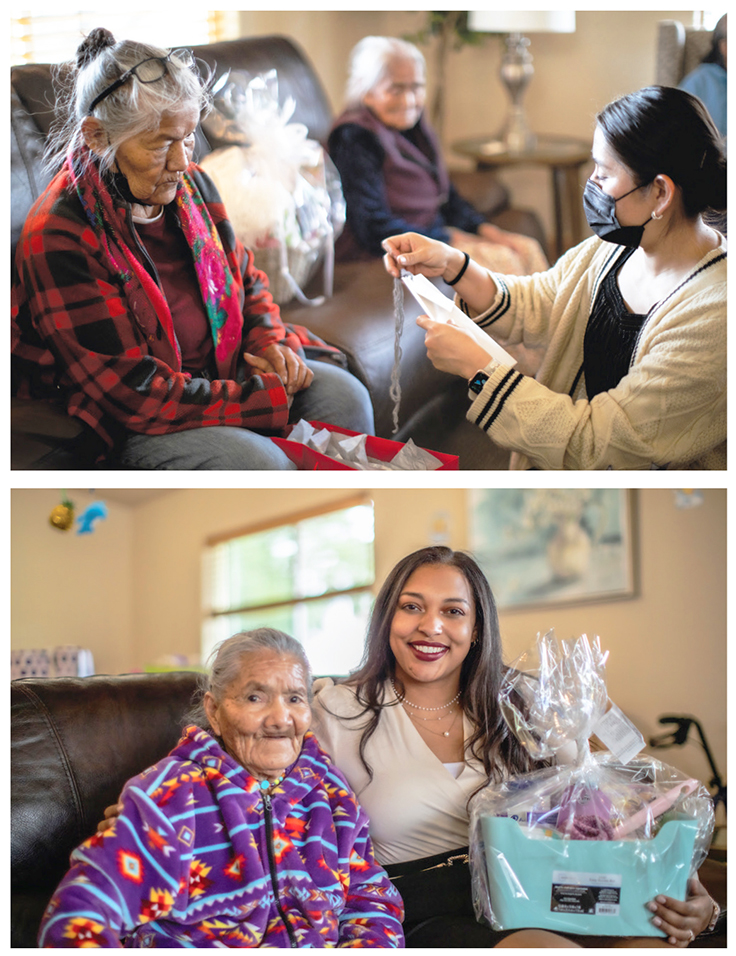 FOR THE ELDERS

Candace Tsingine (top) and Mikalah Lee (bottom) deliver "adopt a grandparent" gifts to an assisted living facility. Photos by Raymond M. Chee
Holding the series at the library has also helped the conservancy gain wider awareness and understanding, says Amanda Boston, the Conservancy's education and outreach manager. "I love our relationship with the library, because it opens us up to so many different venues," she says. Because the Conservancy partners with public lands, its mission is not always well understood locally, but the library is "an established and trusted entity," she notes. "Anytime we partner with them on something, it gives us the chance to nestle further into the community in a positive light. We piggyback a lot off the positive reputation that they have to bolster our own."
"ALWAYS A WAY TO DO IT"
The library is also attuned to the business community, providing a notary service and allowing local companies to do their printing and binding at the library. Thanks to an American Rescue Plan Act grant from the Institute of Museum and Library Services, a soundproof pod was installed in 2022. This gives local businesspeople and other community members a private place to conduct business, have a quiet conversation, or discuss sensitive issues. "It might be a touchy situation such as a legal child custody battle, and they have no place to meet," says Cormier. "Our business community is saying, 'There's something here for us too.'"
It's a two-way street, and in a close community like Page, in-kind help goes a long way. The library has long sponsored a Toys for Tots drive during the holidays, and "people would just come into the library, pick up their bag, and leave," says Cormier. In 2008, they began having a party for recipients at the library with crafts and a visit from Santa. But in 2017, she recalls, "Debbie and her crew said, 'We were thinking about doing something bigger for them." She envisioned a dinner where people could eat and decorate gingerbread houses before taking their bags.
The business community rallied, and now the event is a celebration rather than an admission of hard times. "One of our family-owned businesses in town opened to us on a day off and had the whole place decorated," Cormier says. "They wanted to know what the kids needed and what they could do to help. When we hear that from the community and the businesses, we know we're doing something right."
RESOURCE-RICH

(l.-r.) Time to relax and read in the library; utilizing tech services; and combing the stacks. Photos by Raymond M. Chee
Local religious institutions have stepped up when needed as well. When the library had to lay off all staff but Winlock during COVID, leaving her the sole employee for a while, one of her biggest concerns was running the meal program at a time when residents needed the help more than ever. (The library eventually rehired four of the six laid-off employees; the other two had already found other work.) She reached out to nearby churches, which provided volunteers to help keep the meal program going during that time.
As the library's extensive services demonstrate, Winlock spends a considerable amount of time applying for funding, but inevitably isn't approved for all of it. "When I don't get a grant and I really want something, I'll go to a business and say, 'I really, really want this, can you help?'" she explains. "They'll say, 'We can give this much money, or we can buy it—we can do this for you.' There's always a way to do it."
That sentiment applies to every aspect of how the Page Library is run—not only funding and resources, but keeping the wheels turning internally as well. "One good thing about us is we cross-train," says Winlock. "Everybody does everything, everybody learns everything, as much as possible. So any of us can step into any role as needed."
That means no matter who's available, they can answer whatever requests come in the door. That flexibility, enthusiasm and interest in what patrons want—and need—are what have made the Page Public Library the heartbeat of its city and county, demonstrating what a small library with focused priorities can do. "Our motto is we want to do what's good for our community," says Winlock. "We want to make sure the community's getting what they need."
See
---
ABOUT THE BEST SMALL LIBRARY IN AMERICA AWARD

LJ's annual award, relaunched with the support of sustaining sponsor Ingram Library Services, was created in 2005 to showcase the exemplary work of libraries serving populations under 25,000. The winning library will receive a cash prize of $5,000 from Ingram; its representatives will be recognized at the Association for Rural & Small Libraries (ARSL) conference in Wichita, KS, thanks to support from ARSL. Two honorable mention institutions will each receive $1,000 prizes.
---
Amy Rea is a freelance journalist living in Minnesota.