They're geographically dispersed, but library systems in Hillsboro, OR; Niles, IL; Worthington, OH; Northwestern University, Evanston, IL; Skokie, IL; St. Charles, IL; the University of Michigan, Ann Arbor, MI; and Baltimore County, MD, had one thing in common in 2021: Their staff members all voted to form unions. (Baltimore's vote to unionize was announced on December 30, 2021.) They, along with other library workers in academic and public settings who either started or completed their journey to unionization last year, join a little more than a quarter of the library workforce.
There are numerous reasons why library workers are increasing the ranks of union membership. Emily Drabinski, interim chief for the Mina Rees Library of the Graduate Center, City University of New York (CUNY), was a union member until promoted into management. She points to several factors in library staff increasingly seeking unionization, including the pandemic. "All of us know now that if we want to protect our health and safety, we need to advocate for that," she says. "We need to organize with each other to build and maintain and access healthy workplaces. [The pandemic] really brought it home for people."
Concerns about well-being are mirrored across the workforce and have motivated workers to strengthen their negotiating power—especially in a tight labor market. Union membership, union formation, and labor actions such as strikes all rose in 2021, as did public approval of unions—at 68 percent, the highest it has been since 1965, according to Gallup.
Of course, there are reasons to form unions outside of COVID-19. Carolyn Biglow is a medical librarian at the Carnegie Library System in Pittsburgh, which voted to unionize in 2019 and completed its first major contractual negotiation in December 2021. Biglow is on a union bargaining committee and gathered comments from other employees. "I spoke to a person that I was working with at one of the branches a couple of days ago and asked him what he thought about a tentative agreement we're going to vote on in January," she says. "He was so thrilled at having some type of representation, so that if he had a problem, he could go to somebody."
MAKING THE LIBRARY BETTER
Biglow sees union membership as vital for library workers to accomplish their missions. "I consider myself an advocate for libraries, and I tried to let people know that's where I am. I think library workers in this system will do a lot better with union representation and being able to have a say in how the library they love is being run, how it works for the patrons that come in."
Library support specialist Katherine Knox was involved in Hillsboro's work to unionize in 2021. "We needed support for managing complaints, both from leadership to staff as well as staff to leadership," she says. "We wanted to have a say with our schedule, as well as our workload. Up to now, there hasn't been any say for staff on both those aspects. Hiring practices—there's not currently a system in place for people to move up from a page to a library assistant to a librarian. We want to be able to set that up. And then policies, such as during times of COVID, we didn't have a say in when we were open, whether masks were being used, who got to work from home and who had to come in."
She also notes that the library workforce tried to unionize multiple times before, unsuccessfully, and without the support of management the staff was not able to get workers aligned. "But this time, we did connect. I think the pandemic in many ways motivated us to do it." Knox points out that the motivation wasn't rooted in anger or antagonism toward management. "It's just to have a say. And with any organization that's large, you need a mediator in order to do that, you need some system in place."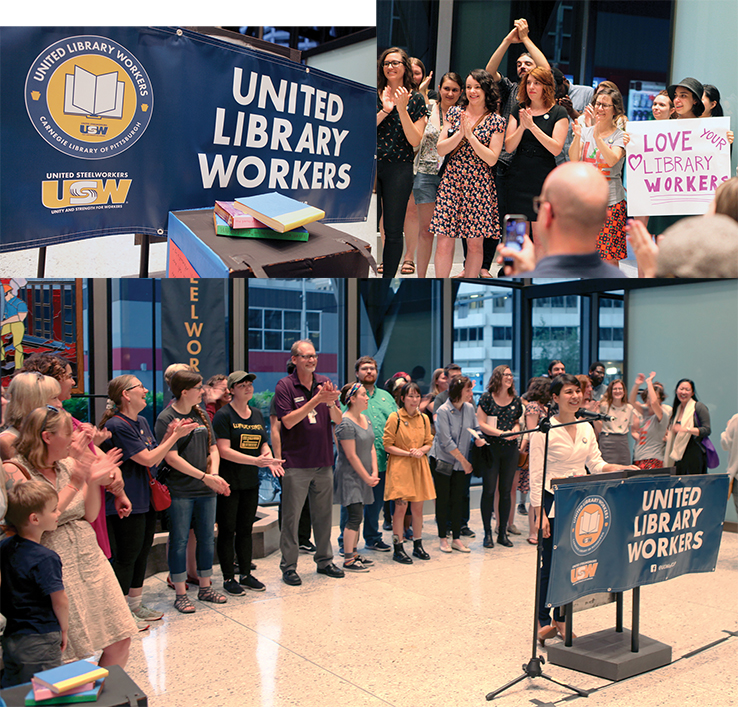 GET UP, ORGANIZE! The initial card drop and organizing announcement for Carnegie Library in 2019 (all photos)
UNIONIZATION RATES
The most recent data (2020) from the American Federation of Labor and Congress of Industrial Organizations (AFL-CIO) shows that approximately 26 percent of library workers are union members, a percentage that's remained flat since 2017. But besides not including 2021 gains, Aliqae Geraci, director of the Walter P. Reuther Library Archives of Labor and Urban Affairs at Wayne State University in Detroit, thinks those figures need closer analysis.
"The figures for union membership/representation cited there are derived from the Current Population Survey [CPS]," she says. "The CPS is a sample survey of 60,000 households, not a full census like we just experienced with the Decennial Census. It's not like every library worker household was surveyed. In addition, in the BLS [Bureau of Labor Statistics] table release we are looking at a larger aggregate occupational grouping that includes librarians but also educational workers—a significantly larger population."
She recommends looking at data compiled by Barry Hirsch from the Andrew Young School of Policy Studies at Georgia State University and David MacPherson from the Department of Economics at Trinity University, San Antonio, TX, because they disaggregate the occupations. Their data between 2018 and 2020 does show increases in library union membership in those years. "I will be very interested to see the 2021 and 2022 numbers, given the huge swings in employment—layoffs, retirements, etc.—in higher education and public libraries, accompanied by high-profile successful union drives like Northwestern University and Baltimore County Public Library," she adds.
POTENTIAL PITFALLS
Lynn Sargi, chief talent officer at Cleveland Public Library (CPL), notes that unions have historically had ebbs and flows in terms of popularity and membership. "Over the last several years the unions are in somewhat of a more complicated environment, just by the nature of members having rights that they didn't have three or four years ago about not supporting their unions," resulting from a 2018 Supreme Court decision that found public sector employees do not have to pay union dues to belong to a union, she says. Pointing out that many library workers are classified as public sector, she notes that those who don't pay dues may limit what the union can do on behalf of those employees, particularly when it comes to lobbying efforts.
She also notes that library workers, who are often members of national unions with a much broader mandate, may not find their particular priorities resonating at the national level. "I don't think unions are a monolith," she says. "We're represented by SEIU [Service Employees International Union]. It's a big national union, with different locals spread throughout the country." That may mean that what's important to library workers doesn't match the priorities up the hierarchy.
"Librarians may see an advantage to not having to negotiate an individual's salary, because the union representatives do that for the collective," she continues. "On the flip side, it can be frustrating for some union members who feel that they go above and beyond, but there's no way that can be recognized or rewarded with compensation, because compensation is determined by the contract that's negotiated one-size-fits-all."
Not all library workers in unions have found them to be helpful when most needed. An August 2021 post on LibRev(olution) documenting concerns New York Public Library workers had over COVID protocols took its union to task for siding with management and not acting to protect the workers.
A seniority-based union contract (not universal, but common) may also mean that the union is not always as helpful to new hires as it is to longtime employees. And in library systems that have only lately begun to prioritize representation and cultural expertise in hiring, such a contract can also mean that workers who are Black, Indigenous, and people of color (BIPOC) are negatively impacted.
For example, in 2020, library workers in Multnomah County, OR, protested both large numbers of proposed layoffs and their disproportionate effect on BIPOC employees. Director Vailey Oehlke pointed to a seniority-focused union contract as the reason for the greater impact on BIPOC workers, many of whom were hired as part of a 2017 diversity plan. Multnomah library staff faulted management's belated focus on diverse hiring, which led to lower rates of seniority among BIPOC employees, rather than blame the union. Nonetheless, the dispute points to the need for both sides of the negotiating table to reassess the impact of seniority-based contract provisions, especially those that may have been in place for many years.
MANAGEMENT AND UNIONS
Sargi frequently intersected with unions in her career in the public sector, although her library experience didn't begin until she was hired at CPL in 2019. She found that having unions on-site was valuable as the reality of the pandemic set in. "When COVID hit, we pretty quickly engaged union representatives and union leaders into a lot of the planning that had to take place as we shut down in early 2020," she says. "As we were beginning to figure out how to reopen, we had several different kinds of internal committees that were working on different elements of all of that."
Which is not to say that both sides will always come to an agreement. "There's a reality of working with unions that sometimes it's mutually respectful, we try to build around consensus. But sometimes management and unions are going to agree to disagree," says Sargi. "It can get a little quirky and sticky. And it varies issue by issue."
CUNY's Drabinski notes that the switch from union employee to management helped her see why unions can be good for management as well. "The union is a good thing that removes personalities from the negotiations with and around power," she says. "I see part of the job as a manager is to ensure that the contract is enforced."
"My experience with unions is that they're very good around educating their members about their rights," says Sargi. "It's therefore my obligation to make sure managers are as educated about that contract as members are, because managers have to know how to manage within the confines of the contract."
BEGINNING UNIONIZATION
For library workers interested in unionization, or those who have tried but not yet succeeded, Mariana Padias, assistant director of organizing at United Steelworkers (USW)—who worked with Pittsburgh's Carnegie Library system's workforce in its unionization efforts—says the critical first step is determining whether the library is in the public or private sector. Legal rights and restrictions can be different for those two entities.
"As far as getting started unionizing, it's mainly about bonding with your coworkers. You don't want to alienate people, you don't want people to feel if they're not interested that they're no longer bonded, because in the end it affects everybody," says Hillsboro's Knox. "You want to find the right union, you want to go to the meetings, don't make assumptions about how things work. And if you want to have a say, you've got to speak up at the meetings or be on the bargaining team, do the surveys, all those things. It's work."
Knox also notes that the pandemic may have had an unexpected positive impact on unionizing efforts at her system. "Zoom actually helped in that it was hard in the past to get everyone to meet at a restaurant or something. To get everybody on the same page at the same time was very difficult. Zoom helped us to connect" more easily.
Drabinski points to managing expectations for potential union members. "It's an ongoing process that probably never ends. For the people on the union side, or the people who are organizing the union, they need to set realistic expectations for people; otherwise it's 'Oh, the union didn't do X or Y or Z.' It's not an ATM. You don't pay your dues and extract a lower health insurance premium," she says. "We only get what we're organized to get. That's crucial. You have to have everybody in, and everybody has to be on board. If you want big stuff that you're going to have to walk out for, you're going to need to know who everybody is in the unit and where they stand on every single issue."
But also, she adds, celebrate the wins you do get. "Say, 'Look, we did this—it took a lot of w ork, but we worked together and we got this,' " she advises union organizers. "Build that solidarity, and try to develop the stamina to move on to the next chapter."
SUBTLE DISCOURAGEMENT
Those looking to unionize a library for the first time should be prepared to possibly face opposition. Padias says that in her career, she's seen management efforts to fight unions, including in libraries, through means that might be legal but are disheartening. While that was fortunately absent during the Carnegie staff's unionization process, it's something for other organizers to be aware of.
"We see it a little more subtly in the library world," she says, than the form anti-union messaging might take in other industries. In libraries, "it looks a lot like likening unions to something that's only for blue-collar workers, something that's completely inappropriate for white-collar workers or professional workers with specialist degrees, like library workers. And obviously, paying dues to a union is something that's going to come up because library workers on the whole make not that much money. Being able to scare people into not wanting a union because they don't want to lose money is something that I think an employer would be very likely to do."
Another tactic, she notes, is posing library workers' mission-driven focus as an either-or proposition—"Employers trying to capitalize on that in terms of, 'If you unionize, we won't be able to provide as good a service for the community,' going into fears about how what the library means to the community would change with unionization."
While the negotiating process can sometimes be adversarial, union and management representatives alike point to several major upsides to a unionized library workplace—and they're the same from both perspectives: a strong mechanism for communication from staff to leadership, and vice versa; an agreed-on set of priorities and limits; a workforce that is knowledgeable about that agreement on both sides of the desk; and mechanisms for making sure that being on the same page is consistent across all the variations a library can exhibit—from branch to branch, department to department, employee to employee. In an environment of rapid change and high-stakes decisions like the one presented by the ongoing pandemic, all of these bring value to both sides of the negotiating table.
---
If you're interested in pursuing a union for your library, here are some resources to get you started.
Mock Bargaining Guide.
A guide designed for students in collective bargaining classes, complete with resources about bargaining
and union negotiating.
Collective Bargaining, Labor Relations, and Labor Unions.
A comprehensive overview of labor unions and union-employer relationships.
Labor Unions and the Internet.
List of internet resources for labor unions.
Union Library Workers.
A blog by and for library workers in unions.
A Few Easy Steps to Unionizing Libraries.
The American Library Association Allied Professional Association (ALA-APA) provides a general overview of the steps needed for starting a union drive.

---
Amy Rea is a freelance journalist living in Minnesota.