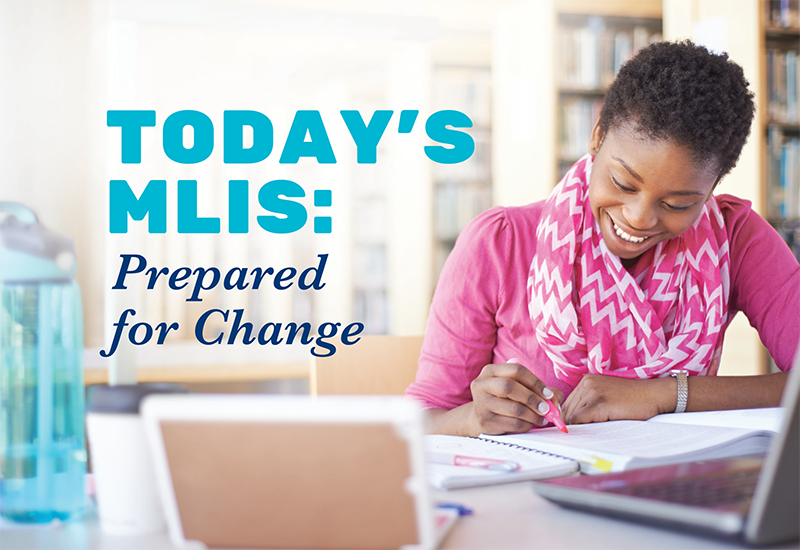 America's MLIS programs provide dynamic training for students entering the fast-changing library and information sciences job market. Beyond libraries, new career paths include corporate digital archivist, data scientist, digital asset manager, and even a marketing role at the NASA Jet Propulsion Laboratory. Top MLIS programs prepare students for the tech-driven future by offering wide-ranging elective coursework like cybersecurity, web conferencing, and social media platforms.
Adaptability is an essential attribute of the 21st Century librarian. Current students are encouraged to diversify their skill set on top of developing fundamental core competencies. Dedicated faculty also emphasize community-building to prepare librarians for their expanding role as progressive civic leaders. MLIS programs have adapted by creating flexible geographical access through online programs and multiple regional locations.
This year's featured MLIS programs trained numerous library leaders honored by Library Journal as Movers & Shakers. Each year, LJ 's editors select fifty up-and-coming, innovative librarians from around the world, who provide inspiration to and are role models for those coming up behind them. From librarians to publishers, vendors, coders, entrepreneurs, reviewers, and others who impact the library field—and those helping to serve their communities in new ways during the COVID-19 pandemic—Movers & Shakers celebrates these dedicated individuals who are moving libraries ahead in a variety of ways.
Here, we highlight some of the programs that helped launch these talented members of the library community.

San José State University School of Information
The need for expertise in digital work environments is expanding exponentially, and the San José State University School of Information is committed to meeting this challenge. A three-pronged approach sets the school's MLIS program apart: coursework in new and emerging technologies (e.g., social networking platforms, cybersecurity, and web conferencing); extensive electives vetted by leaders in the field; and job placement. SJSU iSchool grads carry their MLIS degrees into wide-ranging fields with a deep bench of career support.
SJSU's master's degree program has been available solely online since 2009 and serves about 1,800 students mostly asynchronously. MLIS candidates can create their own course of study with more than a dozen options. Among the choices are data services, public librarianship, and web programming, with technology tools and applications integrated into all courses (think PHP, CSS3, and JavaScript/JQuery).
"Our MLIS curriculum includes 27 units of electives, allowing students to diversify their skill set, which is what employers are looking for," says Linda Main, interim director. Hailing from around the world and representing a variety of backgrounds, SJSU iSchool students might be fresh college graduates or later-in-life career changers—and many are the first people in their families to earn a master's degree.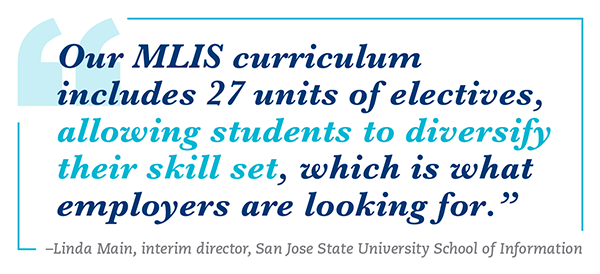 SJSU makes sure its online education facilitates interaction with professors. Office hours, welcome sessions, and faculty advisers open the channels of communication. Additionally, professional associations and groups are on offer, like student chapters of the American Library Association, the Society of American Archivists, and, as of 2020, a new branch of REFORMA, which promotes the inclusion of Spanish-language and Latino-oriented materials in library collections. Students get the benefits of advice and professional affiliations from these associations as well.
Students can also get involved in the Virtual Center for Archives and Records Administration as well as join the First-Generation Student group, to bond in a supportive setting. The iSchool's student chapters have won awards for their approach to serving online students via virtual meetups and webinars. Degree candidates also benefit from a one-year free membership in a professional organization and, given the current environment, participation in many virtual conferences.
"Our school has a dedicated career adviser, and students and alumni also have access to a wealth of resources at the SJSU Career Center," says Main. The Career Center preps soon-to-be graduates with the skills they need to secure dream jobs, whether they're situated in an actual library or in a nontraditional LIS location that takes advantage of today's diverse information landscapes. For example, a recent grad has landed at Instacart, the on-demand grocery delivery company, as a digital asset librarian, while two others have marketing roles at a county library and at the NASA Jet Propulsion Laboratory.
As the SJSU iSchool continues to educate professionals who contribute to global communities, the institution strives to give its students every advantage, including the flexibility to earn their MLIS degree from anywhere. And the school's efforts have paid off, as witnessed by the fact that SJSU has graduated several honorees in Library Journal's Movers & Shakers program.
Main attributes these honors to her students' ability to customize their studies, as well as access in-person and virtual internships and expanded learning via webcasts and podcasts. "We couldn't be prouder of our alumni, as they embody what it means to be a 21st-century information professional."
Learn more at: https://ischool.sjsu.edu/master-library-and-information-science

Emporia State University
The ability to muster resilience when faced with potential unknowns is critical to the training of today's librarians. "COVID-19 is a great example of this [needing resilience]," notes Wooseob Jeong, PhD, dean of the School of Library and Information Management (SLIM) at Emporia State University in Emporia, KS, founded in 1902 and the oldest library school west of the Mississippi.
In fact, ambiguity is baked right into Emporia's SLIM curriculum as part of the capstone course before graduation, where critical thinking is taught to help students prep for new and never-before-seen situations. Future SLIM students are even asked about ambiguity during the admissions process as a means to drive home this major theme.
With a program once delivered both virtually and in person, Emporia's teaching will transition to fully online this fall. SLIM skews slightly more traditional in its library science degree for its 380 graduates, nearly 80 percent of whom enroll in this MLIS program a few years after finishing college.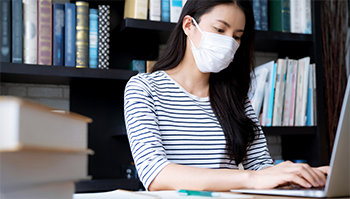 Choice is a hallmark of Emporia's SLIM degree. The school's half dozen MLIS concentrations feature coursework tracks including archive studies, health information, leadership and administration, and youth services. They are offered in nine regional locations, including two in Kansas, as well as in Boise, ID; Denver; Las Vegas; Portland, OR; and Sioux Falls, SD.
The SLIM advisory program matches a "director" with a group of 60 students, a cohort model that builds a strong community and strives to make faculty available to advise and guide students. Face-to-face weekend classes were used in the past to gather groups and facilitate bonding. Going forward, these community events, along with attendance at national conferences, will happen as often as possible. Emporia's Student Chapter of the American Library Association also works hard to offer a variety of activities to its members.
Job placement is a top priority, as listings are sent weekly to grads-to-be and cohort directors work to match their charges' practicum experience with available positions. Job-related webinars, which are available to both remote students and alumni, are also run by the directors. Success is more than apparent at Emporia's SLIM, with graduates taking on both library and archival work, professional roles in corporate settings such as Nike, Hallmark, and eBay, as well as continuing their studies to obtain doctoral degrees.
SLIM is proud of the personal touch its faculty and directors offer, as well as its affordability and great reach to underserved regions without access to an MLIS education. "Our hybrid cohorts have been in states without any library science programs, and we'll continue to focus on these areas with our fully online mode in the future," notes Jeong.
The fact that Emporia has graduated several Movers & Shakers serves to highlight the excellent work taking place at this Midwest institution. "Our community-based approach is a natural fit, and it allows our SLIM graduates to enter the real world ready to apply what they've learned," adds Jeong, who's pleased, though not surprised, that so many of his graduates have been honored by being named Movers & Shakers.
Learn more at: https://www.emporia.edu/school-library-and-information-management/

University of Wisconsin-Milwaukee (366)
"The MLIS program is more important than ever. While information and data are everywhere, making sense of it, using, organizing, curating, and archiving it are fundamental MLIS competencies," says Chad Zahrt, assistant dean of the University of Wisconsin-Milwaukee's School of Information Studies (SOIS).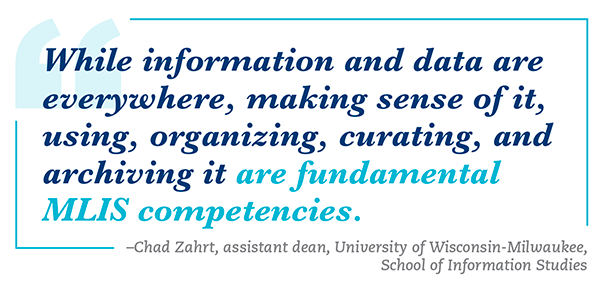 Since 1976, SOIS has taught service oriented MLIS students to apply principles of library and information science, to use current tools, and to recognize the value of research. Students can complete the MLIS program on campus, online, or a combination of the two. Thanks to the school's comprehensive program and renowned faculty, graduates are employed in both the public and private sectors throughout the United States and abroad.
"Our MLIS program creates opportunities for our students to build an academic program that leads to both traditional and nontraditional library and information science careers, by infusing core MLIS concepts with new and emerging technologies," says Zahrt. The SOIS MLIS program prepares library and information professionals to solve problems, be creative, and be future-ready. Frequent consultations with an advisory board ensure that the program's coursework is not only relevant, but progressive and future focused. Zahrt adds, "Through experiential learning like fieldwork placements, we create graduates that libraries and information centers want to and do hire."
The approximately 390 MLIS students are encouraged to interact and support each other through the SOIS student lounge. Hosted in the online course management system, this virtual space is where all students (both online and on-site) can meet to discuss projects.
SOIS's dedicated career adviser organizes year-round workshops and networking opportunities. The premier event is the annual fall "Professional Immersion Day" for incoming and current students. The program features panel discussions and "speed dating" roundtable sessions with working professionals in multiple fields. SOIS also holds "Enhance Your Chance" events to polish résumés and improve interview skills. Plus, students can find job announcements and internship opportunities in the weekly career newsletter.
Regarding graduating an honoree in this year's Movers & Shakers class, Zahrt says, "Emma Molls was always engaged in our community of learning, with her faculty and fellow students. We are in no way surprised that Emma was chosen as a Mover & Shaker."
Learn more at: http://ischool.uwm.edu/

University of Illinois Urbana-Champaign
Nestled in the twin cities is a well-regarded institution poised to take on today's technological changes, as well as the fiscal and social issues facing aspiring library and information professionals.
The University of Illinois Urbana-Champaign's School of Information Sciences ensures that its MS/LIS degree is designed to support students as they apply their profession's values and principles to serve their communities. "Our program lays enduring foundations and strives to equip graduates with confidence and adaptability," explains Maria Bonn, program director.
Founded in 1893, the iSchool at Illinois educates more than 600 students via three avenues: on campus, online, or a hybrid with online classes available to campus enrollees. The program's foundations lean traditional, notes Bonn, though the coursework is also informed by technology. "While students are not required to take technology-focused courses, there are a myriad of electives, which will allow them to gain these valuable skills," she adds.
Access to professors and advisers both in person and online creates a strong community, an iSchool priority. On-campus and virtual students join in orientation activities and student organizations to foster engagement and connection.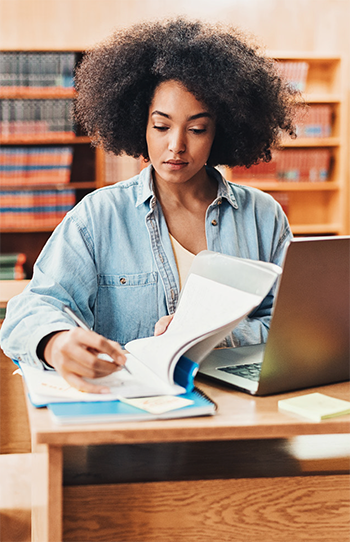 Thanks to the iSchool's consistently high ranking in U.S. News & World Report's library and information studies annual list and a seasoned career services team, MS/LIS grads pursue a range of careers, including academic, medical, and school librarianship, as well as archival, government, nonprofit, and corporate positions. A versatile iSchool degree also positions students for jobs in sectors like information technology and web development.
As a leader in MLIS education, the iSchool shapes the conversation around library science and graduates professionals who think critically. "The breadth and flexibility we offer allows students to tailor the program to their needs, interests, and aspirations," says Bonn.
The iSchool's successful program has graduated several individuals who have garnered the Movers & Shakers accolade, thanks to an environment that nurtures student potential. "I'm proud of our alumni for all they've achieved and our program for making it possible," she says.
Learn more at: https://ischool.illinois.edu/degrees-programs/ms-library-and-information-science

The Catholic University of America
The ability to be nimble is paramount if you're entering the field of library science today. The reason? Current MLIS candidates must be prepared for both traditional library jobs and niche positions, such as digital archivist, informationist, embedded librarian, and data scientist. Fortunately for this emerging cohort, the Catholic University of America's library and information science program in Washington, DC, is at the forefront of this trend.
"Our strong curriculum, combined with our location, offers students a broad range of internship and employment opportunities, ranging from nonprofits, think tanks, law firms, and federal libraries," explains Margaret J. Pooley, academic systems manager.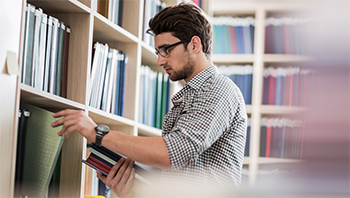 A well-rounded library science program awaits MLIS students here, whether they choose a fully online approach to learning or face-to-face classes on campus and in the hallowed halls of the Library of Congress. This school's courses of study are varied and include cultural heritage information management, school library and law librarianship, information architecture, and data science and community services.
With about 90 enrollees availing themselves of a dedicated faculty, students work to craft academic plans that align with their personal career goals. Research opportunities are common, as are presentations with faculty at local and national conferences. And activism is part and parcel of Catholic University life—many organization chapters are represented, such as SLA and ALA, allowing students to participate in workshops and lectures. And don't forget the fun factor, which includes trivia nights and field trips to the outstanding libraries and museums that dot our nation's capital.
In fact, it is Catholic University's location that makes it a standout among similar programs. Students have enviable access to myriad Washington institutions and the opportunity to select internships and practicum placements that are unavailable elsewhere. And this program's adjuncts also happen to be on-the-ground librarians at Smithsonian branches, the National Archives, and other esteemed academic centers.
Catholic University is proud to have educated Movers & Shakers, with Pooley noting that the diversity of its graduates may have played a role in this success. LIS students come from around the world and are explore their interests. "All of these individuals are brilliant and innovative and have a passion for the work they do—and they're excellent examples of the students we have in our program," she adds.
Learn more at: https://lis.catholic.edu/
SPONSORED CONTENT