Library gardens help address food insecurity, ease environmental impact, provide stress relief, and serve as pandemic-safe space for community connection
A garden can be an expression of optimism: We plant seeds, hoping they will flourish; learn humility when things go wrong; and get comfortable with continual experimentation as part of an ongoing conversation with the land, community, and planet. In that sense, gardens are like libraries—and library gardens offer far more than attractive outdoor space.
Some focus on ecology, others on food production or aesthetics. During the pandemic, libraries with outside spaces could provide socially distanced programming. Now, gardens are not only places where patrons can interact publicly but safely. No matter how busy they are also peaceful. It makes sense that, in response to the global trauma of the pandemic, a new wave of library gardens is sprouting up across the United States.
GREENING UP A resident tends her plot at the Jim Lucas Checotah PL's community garden. Photo courtesy of Jim Lucas
COMMUNITY SUSTENANCE
The Jim Lucas Checotah Public Library, OK, opened its garden in April to help support the library's health initiatives, addressing the county's high incidence of physical inactivity, diabetes, and hypertension. With a $4,000 grant from the Oklahoma Department of Libraries and the Institute of Museum and Library Services (IMLS), the library created a 24x60 foot garden with 16 plots for community members to use; they drew 20 applications. Those assigned a plot are responsible for its upkeep, including weeding, keeping it free of trash, and ensuring that plantings remain in their designated space, unless the gardener is collaborating with the steward of another plot. If abandoned, plots are reassigned. No pesticides, dogs (except service animals), drugs, alcohol, or tobacco are allowed in the garden. The library provides water, and gave each participant a tomato and a strawberry plant. The gardeners supply other plants and all tools.
Designed with the help of the McIntosh County Extension Agency, the Checotah garden has become an impromptu community forum. As gardeners tend their plots, passers-by stop, share ideas, and ask questions. Intergenerational teams work the land—a father and son, grandmothers and grandchildren. Pamphlets on how to grow and store vegetables are available. The library hosts virtual cooking classes and begins its story walk at the garden. It also planted a dozen fruit trees, which died during an unseasonal cold snap but will be replaced this summer.
The garden has captured a lot of attention in this community. "The ribbon-cutting we had on April 2 was the first event we'd had since the pandemic," says branch manager Kathe Smith. "Eighty-eight people came from a community of 3,500. It was exciting—even Melody Kellogg, the Oklahoma Department of Libraries director, came!"
GARDENING ON CAMPUS
The community also came together to create a garden at the University of San Francisco's (USF) Gleeson Library. The Gleeson Seed Library Demonstration Garden broke ground in 2020, months before the pandemic began. Once COVID-19 hit, "at first, we were freaked out and didn't want to go on campus, but we did socially distanced summer gardening. We had tomato plants, and anyone could pick them," says Novella Carpenter, program director for Urban Agriculture at USF. "People were worried about going to grocery stores, but they could come to pick kale, tomatoes, and basil from in front of the library."
Carpenter worked with Technical Services Librarian Debbie Benrubi and Reference Librarian Carol Spector to create a quarter-acre plot to support the seed library begun in 2017. "During COVID, the Seed Library was a symbol of hope," says Carpenter. Benrubi "created an online seed request form and sent easy to grow seeds, such as cilantro and basil, to students who were quarantining themselves. It's kind of like that book The Martian…students learned how to grow crops indoors."
Carpenter sees the garden, maintained by Urban Agriculture students, as a "laboratory for learning." It also raises awareness about food insecurity on campus. People are eager to get their hands in the dirt, Carpenter reports. "It's brought our USF family together—including groundskeepers, professors, and librarians—and of course students," she says. "I often have people say while we are working, 'Is this a class? How can I sign up?'"
"College students are overwhelmed with the weight of the world. Having a garden is such a positive way to make a change in the world," says Carpenter. For Benrubi and Spector, the Seed Library and garden manifest the mission to "provide the resources, services, and spaces to develop the whole person," in Benrubi's words. "Care of the whole person is a Jesuit educational concept—cura personalis—that we take very much to heart."
HEALTH FOR PATRONS AND STAFF
When the St. Paul's Hollywood branch of Charleston County Public Library (CCPL), SC, was built, food information and access was a priority. The new branch is part of "a triangle of services with the Town Hall [and] Parks and Rec," explains CCPL Executive Director Angela Craig. "In the middle is the grand lawn, where we can host a farmers market."
Though delayed by COVID, the new branch will host "a teaching garden where children, teens, and adults can learn about the different fruits, vegetables, and local pollinators," says Devon Andrews, CCPL associate director for community engagement. Produce from the garden will supplement the library's Free and Fresh Fridge initiative, modeled on the Southern Adirondack Library System's Farm-2-Library program (full disclosure: the latter is the author's workplace).
LEARN AND UNWIND The UGA Cooperative Extension's demonstration garden at the Gilmer County branch provides a place to relax. Photo by Alexander Thomerson
CCPL is partnering with the Lowcountry Leadership Charter School, Hollywood, SC, which has a Future Farmers of America chapter. Although the school was robbed of farm equipment twice in summer 2020, the library worked with the Chamber of Commerce, which provided money and volunteer labor to make the project happen. The Friends of the Library provided the rest of the funding. "We have six raised beds, a compost bin, and a prefab shed," says Andrews. "We've already harvested some beautiful kale, swiss chard, and beets."
The garden is initially maintained by library staff, but as COVID infection rates wane community members will be welcome to help tend and harvest. "We have a mini–garden club at the branch," explains Branch Manager Rebecca Wright. "Tomorrow I'm in charge of weeding and watering, and then other staff takes a turn. We have a local master gardener who gives us tips and tricks. It feels good to work in the garden. You get the feeling, 'We did this—you were just a little seed, and now you're a gigantic sunflower.'"
That joy is one reason Craig is happy to have library staff keep working on the garden even after patrons join them. "From a strategic standpoint, I'm interested to see how it helps with staff stress levels and mental health," she says. "People are given time at work to tend to the garden—it gives [them] a chance to get away from the desk and break up the workday." She adds, "We're doing things like rental assistance for patrons. Sometimes doing something nontraditional can help staff balance the emotional work."
RESTORATIVE PRACTICES
Amy Morris, supervisor of the Irene H. Ruiz Biblioteca de las Americas branch of the Kansas City Public Library (KCPL), MO, views the time she spends maintaining the library's garden as an outlet. But it's not just restorative for the humans involved; the garden is also helping to restore the site of a former automotive shop. Work began in spring 2014, under then–branch manager Julie Robinson, to complement a community garden and monarch butterfly watch station started across the street by the neighborhood's predominantly Latinx residents.
The branch already had a seed library, and the next logical step was to create a series of gardens to support and connect with local community members and their priorities. Morris now has four gardens on the perimeter of the building—a small herb garden, rain garden, butterfly garden, and native plant garden. (Native plants occur naturally in the place where they evolved, as opposed to being bred by humans or relocated from one geographic area to another.)
"We focus mostly on native [plants], perennials, and herbs here," says Morris. The rain garden helps mitigate flooding in the neighborhood caused by a combination of rain and sewage water. In addition, native plants balance the ecosystem, reduce flooding, and minimize the time library staff need to water the garden.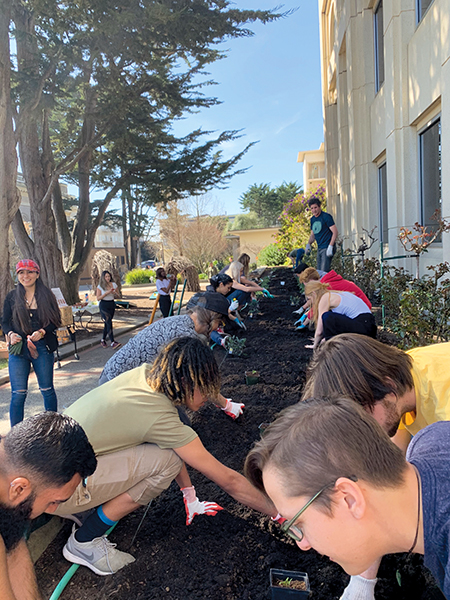 WAY TO GROW Community members pitch in to plant at the University of San Francisco's Gleeson Library. Photo by David M. Silver
The neighborhood has recently faced gentrification, which displaced some of the families that originated the gardens. Morris hopes, however, that the library garden can be a site where the changing community can come together.
Humans are not the only ones welcome at the library garden: Pollinators find food and shelter. All harvested seeds are added to the seed library, which had more than 3,000 checkouts in 2019. In addition, Morris is working with the Native Plant Academy and Lincoln University Extension to create a native plant tour at the library and a series of workshops that will culminate in graduation. A grant will provide funding for paid interns to work for 40 hours a week in the garden. "In the future, I hope we can expand and have an outdoor seating area where we can have more workshops," says Morris. "We could have music, art, and community events."
The Ruiz branch's garden serves as a model for KCPL's focus on being a leader in green practices, something that resonates with Kelly Bolter, Tippecanoe Branch manager of the Milwaukee Public Library, WI. When the Tippecanoe branch was remodeled in 2015, the library installed a rain garden to support the city's long-term goal of reducing stormwater runoff. It borders the library's parking lot, supported by a bioswale and permeable paving, paid for by the Fund for Lake Michigan. The library, located in the city's garden district, recently created a butterfly garden, and this spring broke ground on an herb garden.
"Our staff and patrons are passionate about cultivating green enhancements that allow our local ecosystems to thrive and, most importantly, serve as an educational tool to supplement outdoor programming and community engagement," says Bolter. The library has partnered with Alice's Garden Urban Farm, led by Venice Williams. And grant from the Dutton Foundation to support a Green Home series of programs will cover everything from rain barrels to vermicomposting and a vegetarian cookbook club.
BRING ON THE BUTTERFLIES
The greening of urban spaces requires ingenuity and determination. The Blue Island Public Library, IL, transformed the land between the sidewalk and road into a native plant pollinator garden in May, thanks to a grant from the Awesome Foundation. "The garden is designed to attract local Illinois pollinators, like the Monarch butterfly, to our space and create a safe, flourishing environment for our bug and bird friends," says Director Anna Wassenaar.
"In addition to being an eyesore and contributing to drainage issues, the asphalt was in poor condition and posed a trip hazard," explains Marketing Coordinator and Programming Librarian Amy Dittmeier. Neighbors used the library's seed garden to sprout seeds at home, returning on May 1, national "Start Seeing Monarchs Day." Seed donations from the Field Museum, design by University of Illinois Extension gardeners, and milkweed from Monarch Watch, as well as a partnership with Brookfield Zoo's Communities and Nature Program, made the initiative possible. "The garden contributes to a sense of civic pride and collaborative community improvement," says Dittmeier.
Staff and Friends of the Library weed, mulch, and plant. A citizen science program will monitor the type and number of species attracted. The lifecycle of the Monarch butterfly culminates every winter in the Mexican highlands, which contributes to the popularity of the project in the Blue Island community, home to a large population of Mexican Americans, according to Dittmeier.
SOWING KNOWLEDGE
Since July 2010, visitors to the Middle Country Public Library, NY, have been delighted by its 5,000 square foot Nature Explorium, an interactive educational space nestled in a garden of native plants. An extension of the children's library, the Explorium has stations throughout the garden. One of the most popular is Splash It, which mimics the water cycle. A showerhead sprays water into a tub, which in turn releases water into lower tubs. "Kids can work on the concepts of sinking and floating by playing with boats and rocks," explains Assistant Director for Youth Services Tracy LaStella. The water circulates through the installation, passing through a UV filter. "It allows them to see how water travels and how things float down through the levels."
The Nature Explorium has eight such distinct areas, each focusing on a different skill, such as Dig It, where kids can frolic in the mud; Build It, to explore blocks and woodcutting; and Create It, where paintings are brushed with water. In Grow It, seeds are planted. Durable musical instruments help kids make a joyful noise in Play It, which doubles as a public performance space. Kids with energy beeline to Climb It and later collapse in Read It, a quiet area.
The space is used for "a mix of some programming, some large events, plenty of time of drop-in time and play, and a place where people can hang out at their leisure," says LaStella. The pandemic put a crimp in 2020 plans, but this year the library's teens, aka the Green Team, are staying involved by growing flowers to attract bees and butterflies.
The Explorium, which came with a hefty price tag—$300,000—has become a destination for families. "People often thank us for the space," says Director Sophia Serlis­ McPhillips. "We're located in the middle of Long Island—we don't have a quaint downtown or a village green. We don't have a pretty space for people to hang out, so it fills a void."
DIG: DISCOVER, INSPIRE, GROW
Providing a respite is something Alexander Thomerson, Gilmer County branch manager of the Sequoyah Regional Library System, GA, is familiar with. Since 2014, the library has partnered with the UGA Cooperative Extension Master Gardener program on a demonstration garden, begun to teach the community about gardening and to beautify the library. It also gives people a chance to enjoy outdoor programs and relax. "We call it the DIG garden—discover, inspire, and grow," he says.
The garden, says Thomerson, ties closely with the library's mission to create learning opportunities. Garden story times have recently returned, and the Gilmer County High School construction class built new compost bins. People use the tables to meet for lunch, and local gardeners can drop off soil samples to be analyzed by the Extension office at the library for $9. The garden is loved, and cared for, by the community.
As anyone who has spent time with a shovel in public can attest, seeing gardeners at work sparks curiosity and conversation. Gardens provide an entry point for people to get involved, whether by planting seeds, raking mulch, digging in the dirt, or admiring a pollinator. It's a chance for community members to share their expertise, learn new things, unleash their creativity, and connect to one another.
Gardening is a model of resilience and can be done on any budget. Size and location don't matter—life can flourish anywhere, given time, attention, and care. When libraries incorporate gardens, they play an active role in creative placemaking, claiming beauty as a fundamental right, and acknowledging humans' reliance on the earth. Gardening is about hope and nurturing—essential elements of a community, and a library.
---
Erica Freudenberger is outreach consultant, Southern Adirondack Library System, Saratoga Springs, NY, and a 2016 LJ Mover & Shaker.