Week ending January 4, 2019
Campbell, Joseph. Correspondence: 1927–1987. New World Library. (Collected Works of Joseph Campbell). Nov. 2018. 464p. ed. by Evans Lansing Smith & Dennis Patrick Slattery. illus. notes. index. ISBN 9781608683253. $24.95. LIT/MYTHOLOGY
Gathering correspondence written by, to, and about mythologist Campbell (1904–87) over the course of his prolific career, this collection, edited by Smith ( Thomas Pynchon and the Postmodern Mythology of the Underworld) and Slattery ( Our Daily Breach: Exploring Your Personal Myth Through Herman Melville's Moby-Dick ), is organized by correspondent and era, with most periods centered on the production of one of Campbell's major works (e.g., "Masks of God" series; The Mythic Image). Subjects range from the complexity of the publication process and the author's political views to his cordial relationships with prominent professionals spanning the arts to biology. With a few notable exceptions, such as a brief exchange with scholar Roger Sherman Loomis, there's surprisingly little here providing insight into the development of Campbell's theses or the evolution of his ideas over time.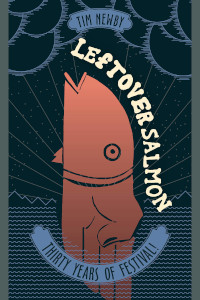 VERDICT Limited contextualization and, in some cases, the absence of Campbell's responses, obscure any deeper meaning of these writings, narrowing the accessibility of this otherwise worthy and well-organized volume to the most dedicated Campbell enthusiasts.—Sara Shreve, Newton, KS
Newby, Tim. Leftover Salmon: Thirty Years of Festival! Rowman & Littlefield. Feb. 2019. 408p. photos. notes. bibliog. index. ISBN 9781538113295. $32; ebk. ISBN 9781538113301. MUSIC
After interviewing dozens of Leftover Salmon's members, family, and friends, as well as other musicians, music writer Newby expertly and lovingly details the 30-year history of the group, which mixes bluegrass and rock with traces of Cajun, country, and jazz in a jubilant Americana gumbo, and sheds some light on the Grateful Dead–inspired jam band scene. Arranging the book chronologically, the author begins with the formation of the outfit in Boulder, CO, by core members Drew Emmitt (mandolin, guitar, vocals), Mark Vann (banjo), and Vince Herman (guitar, vocals) in 1989. Newby charts the group's gradual rise from local heroes to national prominence with Euphoria (1997) and describes the musical impact of personnel changes. He ends by dealing with the death of Vann in 2002 and the band's breakup in 2004, its reunion three years later, recent albums and tours, and tributes by other musicians who tout the group's importance. The author locates Leftover Salmon within the improvisational, fan-centered, tour-based, musical mashup of the Nineties jam band craze.
VERDICT This affectionate work will be manna for jam band fans and interest general readers.—David P. Szatmary, formerly with Univ. of Washington, Seattle
Senechal, Diana. Mind over Memes: Passive Listening, Toxic Talk, and Other Modern Language Follies. Rowman & Littlefield. Oct. 2018. 192p. notes. illus. bibliog. ISBN 9781538115169. $34; ebk. ISBN 9781538115176. PSYCH/ED
Educator Senechal ( Republic of Noise: The Loss of Solitude in Schools and Culture) begins by thanking her mentor in cantillation—the ritual chanting of Hebrew Bible readings during synagogue services. She then gratefully acknowledges her students in philosophy, language, and literature and gives complexity its due. Both optimist and critic, the author deplores our current national leadership and points to language burdened with terms carelessly applied, such as change, creativity, the team, instead endorsing uncertainty that is stimulating, challenging, and uplifting. Senechal warns that popular TED Talks demean science with poor work seductively presented. In a final section that takes on listening, even imperfectly, she inspires readers to live "without panacea" and respond to complexity with a full mind. Overall, the text is well illustrated, thoughtful, and clear, with examples that distinguish between mind-set and theory.
VERDICT An alluring choice for readers with an academic bent. For larger collections.—E. James Lieberman, George Washington Univ. Sch. of Medicine, Washington, DC
Williams, Keith E. & Laura Seiverling. Broccoli Boot Camp: Basic Training for Parents of Selective Eaters. Woodbine House. Dec. 2018. 198p. bibliog. index. ISBN 9781606132890. pap. $22.95. CHILD REARING
Selective eating is a struggle in many families, and according to licensed psychologists Williams ( Treating Eating Problems of Children with Autism Spectrum Disorders ) and Seiverling, 75 percent of the children referred to their meal programs are on the autism spectrum. Food preferences, assert the authors, are developed over repeated tastings in small amounts, while liking or disliking foods occurs later in life. Studies show that when an adult sampled unfamiliar fruit juices zero, five, ten, or 20 times, the preference for the beverage increased with the number of sips. Yet parents may not offer a food enough times to reach the threshold at which intake increases. Williams and Seiverling also address interactions around meal time, offering suggestions for coping with crying, whining, complaining, throwing food, and other challenges. They further provide modifications for children who are under- or overweight and offer ideas for when to use positive reinforcement and when to ignore the behavior. Appendixes feature behavioral contracts, weekly meal schedule sheets, and more.
VERDICT This comprehensive resource will appeal to parents of selective eaters, while those experiencing less severe struggles may prefer Melanie Potock's Adventures in Veggieland: Help Your Kids Learn To Love Vegetables with 100 Easy Activities and Recipes .—Julia M. Reffner, North Chesterfield, VA