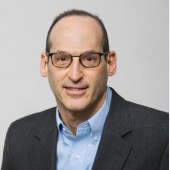 A library leader's big picture vision is fueled by information from diverse sources. Leaders may find themselves inundated by a steady flow of reports and studies, some of which may be noteworthy while others are of questionable value. Leaders need a clear path of action to make the distinction.
As a leader, you open your mailbox to a subject line that hooks your attention. "College Freshmen Report More Happiness Than Seniors" leads to a higher education newsletter story about a new study of college students, factors that lead to happiness, and how it differs among those at different stages of their education. Perhaps your first inclination is to quickly tweet it based on a short summary. Without diving more deeply into the report you imagine some new library service designed to deliver more happiness to students who stand to benefit. Later, on further inspection, you find this amazing new study was sponsored by a for-profit firm that sells mental health services to higher education institutions. It turns out few students were actually included in the study and it's far from clear how those happiness levels were measured. There is a possibility this was a rigorous, evidence-based research study. Then it again, it might simply be lightweight fluff that has no purpose other than to get eyeballs on the vendor's name or more click-throughs to the vendor site. Making a quick judgment about this report could be harmless. Then again, spreading dubious information could result in some followers and staff calling your judgment into question.


TOO MANY STUDIES
New studies come at us from every communication channel. When we check our email, read our newsletters, or follow social media, news of some fresh survey or report is now a routine, near daily experience. Occasionally my columns are inspired by new higher education studies and reports, and more frequently I point to them as sources that support my observations and opinions. Have I been burned in the past by making points based on a questionable study? Absolutely. That's why I now remind myself to slow down and take a closer look at any study before referencing it or sharing with others. When I do, I give it my stamp of approval. If the report is mostly poorly compiled research with questionable findings, I perform a disservice to colleagues by spreading it. The advice sounds simple: Just take time to delve into the study. Question the source, how the research was conducted, and the findings and recommendations. That's exactly what we want our students to do. It's crucial for leaders to be smart consumers of higher education surveys and research studies.


WHAT TO LOOK FOR
If academic library leaders follow the advice that librarians dispense to students, it will greatly improve their ability to differentiate worthwhile studies from worthless ones. In the article "How to be a Smart Consumer of Social Science Research" Eva Vivalt shares strategies leaders can adapt to better determine a study's legitimacy. Vivalt's recommendations, while geared to scholarly research, can apply as well to the type of surveys to which leaders are routinely exposed.
Avoid over relying or putting too much faith in any one study. The questionable report most easy to fall for is the one that strongly reinforces our confirmation biases. Those who believe or want to prove that students prefer digital over print text will more readily take interest in and boost a study with results that support their views—and quickly dismiss those that challenge it.
Pay attention to the sample size or population from whom the data was gathered. Small numbers of participants or a small sample may allow the study author to make a point, but the ability to replicate the results with a different study group is questionable.
Is it possible to get information about the study population? Who are they? How were they recruited? For a good of example of what to look for, examine any Project Information Literacy (PIL) study. Every PIL report provides considerable detail about the study population, such as how participants were recruited and their demographic details.
Who is sending you information about this new report? Some higher education and library news sources are more reliable and authoritative than others. If this source routinely reports dubious studies, particularly those coming from for-profit vendors, evaluate them more rigorously or ignore them altogether. In haste we might not notice that "sponsored" flag attached to a headline.
Who conducted this study? I was once tempted to share a study until I realized it was sponsored by a company that sells a product intended to deliver the results promoted by a survey it conducted. That red flag should eliminate any study from serious consideration.
CONSIDER YOUR OWN CREDIBILITY
Sharing new studies, reports, and surveys is as easy as clicking on a symbol or button on a screen. It can help a leader build a reputation as a trend spotter who knows what's happening and is alert to the latest developments in their field. But what's done in haste or with little forethought may come back to haunt a leader if the information shared lacks credibility, or worse, is laughably dubious. Library leaders are librarians, first and foremost. What does it say about a library leader's information evaluation skills if they appear to pay little or no attention to where information is coming from or the disseminating or authoring source? It may call their judgement into question or cause damage to their own credibility. Sharing reports and surveys on social media is a commonplace behavior. Everyone does it. Right? While that may make my concerns appear unwarranted, library leaders should take this seriously. Like trust, a reputation is easily tarnished or damaged beyond repair when leaders are careless with it. Library leaders should keep this in mind and consider if that latest study is really worth sharing. What's at stake is worth taking just a few extra moments to preserve.