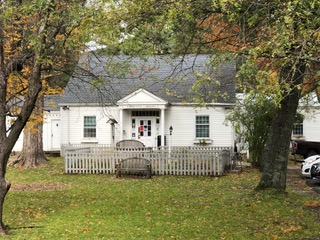 In the days leading up to the November 6 midterm elections, libraries and their boards and supporters nationwide were working on getting out their yes votes—but not the Woodstock Public Library (WPL), NY.WPL's allies focused on getting residents to vote no on a ballot question that would have eliminated its library district.

Oregon's Douglas County libraries made news in spring 2017, after a measure on the November 2016 ballot failed and the 11-branch system closed its libraries. Since then, a small but loyal number of volunteers and Friends organizations have stepped in to bring their libraries back as DIY operations, one at a time.
As more academic librarians seek to engage with open education resources (OER) and textbook affordability initiatives, there are naturally concerns about the impact on the campus bookstore. Start by considering how to build a better relationship.
Today, access to born-digital federal government information is relatively easy. Most of it is even available for free. But there are few legal guarantees to ensure that the information published today will be available tomorrow. Now, the GPO Reform Act of 2018 about to be introduced in Congress, pitched as a modernization of the Government Publishing Office (GPO) and the Federal Depository Library Program (FDLP), will actually endanger long-term free public access to government information.
The good news is that more academic librarians are leading textbook affordability and open educational resources initiatives at their institutions. What if we could do even more good work with statewide efforts? Fortunately, there are some good models to lead the way.
As collections transition to digital and print finds its way into remote storage sites, how does our profession respond to research that favors print over digital for reading comprehension, learning, and meeting student preferences?
Salesmanship is rarely considered the work of academic librarians. Librarians responsible for outreach and building connections with students and faculty might benefit from embracing the idea they have something worth offering and then selling it.
In a May 2 statement, the Association of Research Libraries (ARL) announced that Louisiana State University (LSU) filed a lawsuit against academic publishing company Elsevier for breach of contract on February 27. According to the complaint, Elsevier cut off the LSU School of Veterinary Medicine's (SVM) access to content that was legally licensed by LSU Libraries. For many reasons, especially Elsevier's often contentious relationship with libraries over the decades, this will be one of the more interesting cases to watch unfold.
Academic librarians are pleased with the progress they've made in leading their campuses to recognize the value of Open Educational Resources (OER). Now publishers are responding to OER with new learning platforms. It may be time for a new strategy.