The data for new public library buildings and renovations featured in LJ's Year in Architecture 2023.

The data for new academic library buildings and renovations featured in LJ's Year in Architecture 2023.
Colors that pop, sophisticated meeting spaces, residential design elements, and more in this year's top library design trends.
A vibrancy of colors can be seen among the new builds and renovations. Pastels merge with saturated primary colors; lush organic hues and shapes fill reading nooks; and bold colors mark service areas and desks, key spaces to congregate, or alcoves to retreat into.

Gone are the rows upon rows of tall, fixed shelving in large, open areas. Custom-designed, small-scale shelving offers variety, sightlines, flexibility, and enhanced wayfinding, refining and evolving the concept of flexible, modular zones.

Trends in meeting and reading rooms suggest attention to shifts in remote and hybrid work environments. Built-in shelves, long wooden tables with integrated lighting, and classic wooden chairs make a comeback with contemporary twists.

Projects continue to integrate exterior spaces, offering patrons not only outdoor seating but also creative use of the grounds, plus an integration of experience built into the wayfinding, aesthetic, and interior layout within open areas.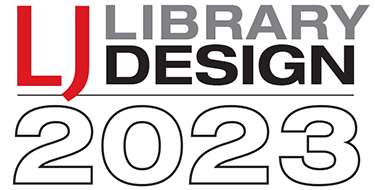 The architects featured in the Year in Architecture 2023
A palpable sense of celebration and cultural sensitivity is evident through color, choice of fabric, and the architectural program. These renovations and builds are anything but utilitarian, incorporating thoughtful details like imagery, materiality, and type into their spaces.