Engage your community in fun and innovative ways by deepening your social media skills.

Course Description
Guest speaker sessions via Zoom:
Wednesday, Feb. 15 from 3:00 to 5:00 pm ET (recordings available)
Keeping up with social media trends can be overwhelming, but you're not alone! This crash course will help you understand the foundations of social media engagement and marketing, demystify newer platforms like TikTok, and bolster your confidence using social media tools in your outreach practices. You will leave with tangible ideas for how you can use social media in your library or classroom to increase engagement across your communities.
The live sessions run on Wednesday, February 15, 2023 from approximately 3:00-5:00 pm ET (recorded for on-demand viewing). Don't miss this opportunity!

Learning Outcomes
When you sign up early, you'll have immediate access to our Early Access On Demand Resources—a series of webinars from Library Journal and School Library Journal contributors along with rich, supporting materials in the form of readings, activities, and videos—to explore at your own pace.
When you attend this interactive online course, you'll gain the tools to:
Understand major social media platforms, including each one's strengths and limitations

Create strategy for which platforms you choose to use and how you want to use them

Evaluate which platforms will best help you accomplish your goals

Create a holistic social media marketing and engagement plan

Develop social media content in a manageable and sustainable way

Use simple tips and tricks for creating TikTok content
Who should take this course
Any librarian or educator with new or emerging social media marketing skills and wants to learn new ways to engage users in library content.
Live sessions are also available on demand
Can't make a live session? All guest speaker sessions are recorded and available on demand following the initial broadcast. Asynchronous workshops allow you to complete assignments and receive feedback from experts.
Certificate of completion provided
2 professional development credit hours
For support with online courses, please contact libraryjournal@edmaker.co
Accessibility
All guest speaker sessions feature live captioning and are made available on demand after the initial broadcast. Please email libraryjournal@edmaker.co upon registration if you require any special accommodations and we will make our best efforts to facilitate them.
Group Rates
Have a team attend and increase your impact!
Discounted registration fees are available for groups of 3 or more. When you register your team for our online courses, they will be placed in the same small workshop group, where discussions and project-based assignments receive feedback from an experienced librarian.
Send us a request for a quote.
If your group prefers to work separately, just let us know.
Course Curriculum Advisor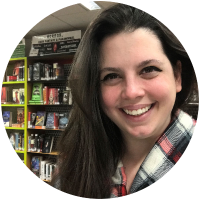 Kelsey Bogan, High School Librarian & Adjunct MLIS Lecturer
Kelsey is a high school Librarian, adjunct MSLIS Professor, and a professional Speaker/Presenter who enjoys helping librarians learn to leverage the power of social media for their library's advocacy, collection development, outreach, and community-building efforts. Kelsey is an outspoken advocate for reform in the library profession, especially as relates to outdated collection organization and development traditions. She is particularly proud to have created the viral library organization concept "Dynamic Shelving," and of her ongoing work to redevelop her library towards greater inclusivity, accessibility, and equity. Connect with Kelsey on Twitter & TikTok @KelseyBogan, or on her blog www.dontyoushushme.com!
By registering for this event you confirm that you have read and agree to our Code of Conduct.
For support with online courses, please contact libraryjournal@edmaker.co.

Wednesday, February 15, 2023
Session 1 | 3:00-3:40 pm ET
Strategizing for Social Media: How to Plan and Create Engaging Content
Each social media platform has its own unique challenges and opportunities. This session will help you engage your community in your library by teaching you how to create a compelling and actionable strategy for social media marketing. You'll learn how to evaluate each platform to inform a relevant strategy and how to determine which kind of content works best on each platform. You'll leave knowing how to integrate the most common platforms into a holistic social media plan for your library.
Speaker:
| | |
| --- | --- |
| | Cassandra D'Alessio, President and Founder, Next Page Brand Strategies, Inc. |
Session 2 | 3:40-3:50 pm ET
Informational Session about LJ/SLJ Professional Development
Interested in what's next or how to go even deeper? This session will provide more information about our spring courses, including our 1-Day Online Course and Asynchronous Workshop, Marketing and Outreach Strategies to Engage Your Community, which will expand what you learned here. Take this opportunity to ask questions about our full roster of courses, gain transparency into our process, and give your feedback about what you'd like us to do next.
Break | 3:50-4:00 pm ET
Session 3 | 4:00-4:40 pm ET
TikTok for Librarians: How to Reach Your Community without Burning Out
TikTok is still trending, but many librarians are overwhelmed. This session will show you accessible ways to integrate TikTok into your social media strategy without it becoming just 'one more thing' you have to learn. You'll leave with straightforward tips and tricks for understanding of how the platform works and efficiently building fun content that engages your audience.
Speaker:
| | |
| --- | --- |
| | Kelsey Bogan, High School Librarian & Adjunct MLIS Lecturer |
Session 4 | 4:40-5:00 pm ET
Apply Your Learning: Live, Interactive Working Session
This live, moderated discussion will give you an immediate opportunity to process and apply the skills you've learned in the previous sessions. You will have the opportunity to join on camera and audio to discuss ideas, ask questions, and hear from other participants in class.
Facilitator:
| | |
| --- | --- |
| | Kelsey Bogan, High School Librarian & Adjunct MLIS Lecturer |