Learn how to engage with your community more effectively and build services that make patrons feel valued, welcomed, and heard.

Course Overview
Guest speaker sessions via Zoom:
Thursday, Mar. 23, from 12:00 to 4:00 pm ET (recordings available)
Workshop:
Asynchronous, facilitator-led workshop over 3 weeks
Unite your marketing and outreach functions to better identify your patrons' needs, develop programs and services that fill those needs, and create communications strategies that ensure your community is aware of your offerings.
You'll learn how to assess who you're not reaching with communications and services, and establish a strategy to connect with them through traditional and alternative channels, including innovative outreach and mobile programs, partnerships, PR, and more. You will learn to develop effective feedback mechanisms with clear metrics to ensure your library's outreach and engagement efforts are data-driven. For libraries with limited budgets and staff, we'll brainstorm low-cost, creative ways to boost engagement with limited resources. Don't miss this opportunity to increase your community engagement!
The transformational speaker program has given thousands of librarians the tools and vision for meaningful change. The live sessions run on Thursday, Mar. 23 from 12:00 to 4:00 pm ET (recorded for on-demand viewing) with an ongoing facilitator-led workshop over 3 weeks. Don't miss this opportunity!
Learning Outcomes
When you sign up early, you'll have immediate access to our Early Access On Demand Resources—a series of webinars from Library Journal and School Library Journal contributors along with rich, supporting materials in the form of readings, activities, and videos—to explore at your own pace.
After you attend this interactive online course and workshop, you'll be able to:
Understand and apply the fundamentals of marketing and outreach best practices

Understand and apply tangible social media marketing and outreach skills

Tell your library's story in a compelling way to enhance your outreach

Implement methods for data collection and analysis to support marketing and outreach initiatives

Apply strategic communication techniques to help facilitate your marketing efforts

Understand the differences and overlaps between marketing, outreach, and engagement

Have strategies for how to center relationships and community collaboration


Who should take this course
Any librarian who wants to improve their library services and participation through new approaches to outreach and marketing efforts.
Live sessions are also available on demand
Can't make a live session? All guest speaker sessions are recorded and available on demand following the initial broadcast. Asynchronous workshops allow you to complete assignments and receive feedback from experts.
Certificate of completion provided
10 professional development credit hours
For support with online courses, please contact libraryjournal@edmaker.co
Accessibility
All guest speaker sessions feature live captioning and are made available on demand after the initial broadcast. Please email libraryjournal@edmaker.co upon registration if you require any special accommodations and we will make our best efforts to facilitate them.
Course Curriculum Advisor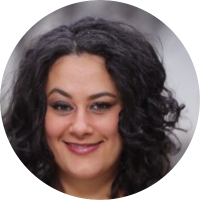 Andrea Fanta, Head of MarCom at Nashville Public Library
Andrea is a former print journalist who transitioned to library communications in 2014. She is a fierce champion of library values and loves her job. She has the privilege of leading a MarCom team at Nashville Public Library in Nashville, Tennessee (the 2016 LJ Library of the Year!). Andrea's team in 2022 won LJ's Library Marketer of the Year. She has a bachelor's in political science and journalism; a graduate certificate in Hispanic studies; and a master's in international studies. She speaks English, French, and Spanish. She is a proud, proud Nashvillian.
Group Rates
Have a team attend and increase your impact!
Discounted registration fees are available for groups of 3 or more. When you register your team for our online courses, they will be placed in the same small workshop group, where discussions and project-based assignments receive feedback from an experienced librarian.
Send us a request for a quote.
If your group prefers to work separately, just let us know.

Thursday, March 23, 2023
Session 1 | 12:00-12:40 pm ET
Marketing and Outreach: Creating Engagement & Awareness
Learn the fundamentals of marketing and public relations, and how they intersect with outreach in a library context. You will learn best practices that you can implement at your library in order to reach more customers and increase your library's presence in the community you serve.
Speaker:
| | |
| --- | --- |
| | Cordelia Anderson, (she,her) CEO of Cordelia Anderson Consulting and author of Library Marketing and Communications: Strategies to Increase Relevance and Results |
Session 2 | 12:40-1:10 pm ET
Uniting Marketing and Outreach: Internal Communications and Buy-In
What are the differences between marketing and outreach, and what are the ways both efforts can coincide to enhance your library's community impact and engagement? This session will answer those questions and provide tools to establish clear internal communication and alignment between all involved staff. Learn strategies to streamline efforts by increasing staff and colleague buy-in and creating a culture of collaboration.
Speaker:
| | |
| --- | --- |
| | Nicholas Brown, (he,him) Chief Operating Officer for Communication and Outreach at Prince George's County Memorial Library System |
Workshop Q&A | 1:10-1:20 pm ET
A welcome to the 3-week asynchronous workshop portion of class and an overview of what to expect from the online classroom for this course.
Session 3 | 1:20-2:00 pm ET
Start with Research: Using Data to Enhance Marketing and Outreach
Take the temperature of your community and figure out what matters to them by gathering and analyzing useful data. Learn how to make better use of the data you already have access to as well as opportunities to gather new data and make connections with non-library users. This session will help you identify metrics that can help you shape marketing and outreach plans, and then demonstrate how to use that data to enhance your outreach, programs, and partnerships.
Speaker:
| | |
| --- | --- |
| | Stephen Grubb, Public Information Officer, Marketing, Publicity & Communications, Libraries Division at Broward County Library (FL) |
Session 4 | 2:00-2:30 pm ET
How to Build a Strategic Marketing and Outreach Plan
A strategic plan is foundational to a successful marketing and outreach campaign. Learn how to establish an actionable and sustainable strategic marketing plan that aligns with your library's goals, values, community, and constraints. This session will ensure you can move forward in your marketing and outreach plan with confidence.
Speaker:
| | |
| --- | --- |
| | Andrea Fanta, Head of MarCom at Nashville Public Library |
Session 5 | 2:30-3:00 pm ET
The Power of Storytelling and Empathy-Centered Communication
Storytelling and empathetic communication are powerful, often underestimated tools in marketing and outreach. Centering empathy for your patron's needs and experiences in your communication strategies will enhance the efficacy of your reach and will help you better understand who you're serving. Applying storytelling best practices alongside empathy-centered communication will ensure you're drawing in your audience meaningfully and sustaining their engagement. You'll leave this session with clear communication strategies that simultaneously support your community and your services.
Speaker:
| | |
| --- | --- |
| | Deborah Hakes, Director of Communications, Georgia Public Library Service |
Break | 3:00-3:10 pm ET
Session 6 | 3:10-3:50 pm ET
Engaging Your Community: Strategies for Innovative Social Media and Content Marketing
Prompt your community to engage with your library online. Learn the foundations of digital and social media marketing and outreach. This session will provide you with relevant, tangible strategies that you can use at your library regardless of library type, size, or budget.
Speaker:
| | |
| --- | --- |
| | Dana Haugh, (she, her) MLS, Web Services Librarian & Coordinator of Marketing and Communications at Yale University |
Session 7 | 3:50-4:30 pm ET
Centering Community: How to Move from Outreach to Engagement
Outreach is a great starting point to help raise community awareness about your programs and services. However, increasing community involvement, impact, and trust requires steps beyond outreach. This session will teach you how to engage in community-centered outreach and how to continue your journey into consultation, collaboration, and shared leadership within your community.
Speaker:
| | |
| --- | --- |
| | Fatima Perkins, Director of Community Outreach & Advocacy |
For support with online courses, please contact libraryjournal@edmaker.co