The Crown returns. The 2018 VIDA Count is out. The longlist for the Aspen Words Literary Prize is announced. The winner of The Cundill History Prize is announced. Vogue picks the Best Novels of 2019. The EarlyWord GalleyChat Roundup for November is posted.
Wrecking Ball (Diary of a Wimpy Kid Book 14) by Jeff Kinney leads 15 new books onto the bestseller lists. Lucy Ellmann, Ducks, Newburyport, wins the Goldsmiths Prize. Bryan Washington, Lot: Stories, wins the Ernest J. Gaines Award. Time's new 100 NEXT list includes authors. Spike Lee will direct Prince Of Cats, based on Ron Wimberly's graphic novel. A name to know: Deepti Kapoor.
More lists counting the best of the decade and of the year arrive. Barnes & Noble launches a new award for book of the year. A Warning by Anonymous is breaking in-house presale records. The Turkish police have rearrested Ahmet Altan.
More lists come out naming the best of the decade, even as end-of-the-year accountings start to accumulate. The Dublin Literary Award Longlist is announced. Judd Apatow's It's Garry Shandling's Book gets the buzz. Disney+ launches today.
Oprah's new book club pic is Olive, Again by Elizabeth Strout. WaPo has an early look at A Warning, the anonymous insider book about the Trump administration. Steven King and John Green's works come to big screens today, and a new Star Wars saga begins.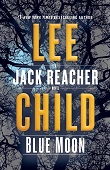 Blue Moon by Lee Child leads nine new books onto the bestseller lists. There are reading vigils in Italy as fans await the release of Elena Ferrante's next novel (U.S. readers will have to wait until next summer). Ahmet Altan has been released from prison. Trailers are out for Wendy, based on Peter Pan, the Color Out of Space, based on the H.P. Lovecraft short story, and the upcoming Star Wars series, The Mandalorian.
Ernest Gaines (The Autobiography of Miss Jane Pittman) has died. The Andrew Carnegie Medals shortlist is out. The opening round of the Goodreads Choice Awards is open. Not without controversy, Richard Ford is set to receive the Hadada prize. The Belletrist November book club pick is Wild Game: My Mother, Her Lover, and Me by Adrienne Brodeur. The BBC's "Novels That Shaped Our World" is off and running with a list of 100 books.
More November book lists arrive and a good handful of awards are in the news. In the Dream House: A Memoir by Carmen Maria Machado, The Great Pretender by Susannah Cahalan, Nothing to See Here by Kevin Wilson, and Get a Life, Chloe Brown by Talia Hibbert keep building buzz. Fantastic Beasts 3 is getting started soon. James Patterson's forthcoming The House of Kennedy is getting adapted. The Justice Department issues a warning letter to the anonymous author.