The Room Where It Happened by John Bolton tops bestseller lists. The NY State Supreme Court lifts the block on Mary Trump's Too Much and Never Enough. The August Indie Next list is out. Migrations by Charlotte McConaghy tops the list. Pennie Clark Ianniciello picks The Wedding Thief by Mary Simses as her July title. Lots of booklists arrive and Fox News reporter and author Ed Henry gets cut by Harper.
A judge has temporarily blocked publication of Mary Trump's Too Much and Never Enough: How My Family Created the World's Most Dangerous Man. Appeals are in the works. July book club titles arrive, along with best of the month lists and picks for the remainder of the reading year. The NYT reports on "What It's Like to Be Black in Publishing." The publishing world suffers losses as Carl Reiner and Rudolfo Anaya have died.
Candice Carty-Williams and Bernardine Evaristo make history by winning the top British Book awards prizes. Booklists for July, summer, the year thus far, and much more arrive. The two new Normal People forty-years later shorts are here. Netflix's Baby-Sitters Club gets glowing praise and HBO pays big and wins adaptation rights to The Vanishing Half by Brit Bennett.
In this extraordinary time, with people shuttered in their homes instead of traveling, books can serve as windows into regions and cultures we can't visit physically. That's exactly what a new wave of cookbooks accomplishes, as publishers are looking to create works that are more than just collections of recipes.
The Locus Awards are announced. The Dilemma by B.A. Paris leads holds this week. Mexican Gothic by Silvia Moreno-Garcia sits atop both the LibraryReads and Indie Next lists. Why Did I Get a B? by Shannon Reed is People's "Book of the Week." Jason Reynolds and Ibram X. Kendi pick summer reads for Amazon. Antiracist book focus is starting to turn to poetry, both in the U.S. and the UK. Vox has an in-depth report on the romance genre, racism, and the RWA.
Hulu is adapting Sally Rooney's Conversations with Friends and Normal People will have two more short episodes, set forty years in the future. Poetry and audiobooks are both in the news and the NYT offers "How We Got Here: Writers on Race and Racism in America."
Antiracist titles continue to fill the bestseller lists. White Fragility: Why It's So Hard for White People To Talk About Racism by Robin DiAngelo tops the charts. In new title bestsellers, 28 Summers by Elin Hilderbrand tops a handful of books. Amazon and Tor.com pick their best books of the year thus far, and there are new summer reading lists out as well. A major book on Korean art is released. The Good Lord Bird is delayed to add context and Gone With The Wind returns with context.
Black-owned bookstores cope with the spike in orders, customer demands, and the tragic reason sales are up. The winners of the Bisexual Book Awards are announced, as are the longlists for the Polari Prize and the Polari First Book Prize for LGBTQ+ literature. As part of the changes to Macmillan's decision team, John Sargent, the CEO, is stepping back from day-to-day responsibilities. George R. R. Martin says that he hopes to have The Winds of Winter finished by next year. The Trump family is trying to stop the publication of Mary Trump's Too Much and Never Enough: How My Family Created the World's Most Dangerous Man.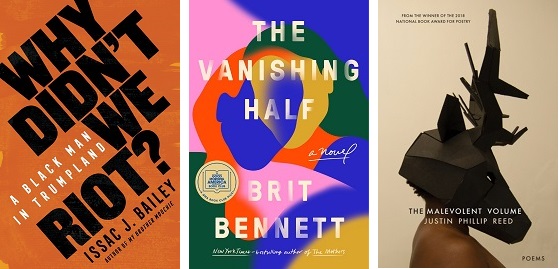 #BlackLivesMatter—and Black voices matter, too. Here is a necessarily selective list of nonfiction, fiction, and poetry from Black authors appearing in 2020.