Check out Pulitzer Prize winner Thomas E. Ricks's study of how our first four presidents were shaped by their classical education, plus biographies on Henry Adams and Prince Philip.
World War II & Its Aftermath
Bolger, Daniel P. The Panzer Killers: The Untold Story of a Fighting General and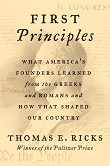 His Spearhead Tank Division's Charge into the Third Reich. Dutton Caliber. Nov. 2020. 432p. ISBN 9780593183717. $29. Downloadable. HISTORY
DeRose, Chris. The Fighting Bunch: The Battle of Athens and How World War II Veterans Won the Only Successful Armed Rebellion Since the Revolution. St. Martin's. Nov. 2020. 352p. ISBN 9781250266194. $28.99. HISTORY
Holland, James. Sicily '43. Atlantic Monthly. Nov. 2020. 592p. ISBN 9780802157188. $30. HISTORY
Scarborough, Joe. Saving Freedom: Truman, the Cold War, and the Fight for the Future of Europe. Harper. Nov. 2020. 272p. ISBN 9780062950499. $29.99. lrg. prnt. HISTORY
From retired American tank general Bolger (Our Year of War), The Panzer Killers explains how the resourceful Maj. Gen. Maurice Rose and his 3rd Armored Division managed to terrorize Hitler's vaunted panzer crews. The New York Times best-selling DeRose (Founding Rivals) tells the story of The Fighting Bunch, World War II veterans who returned to find their Tennessee county in the claws of a corrupt politician and stormed the jail where ballot boxes that might push him out of office were being hidden (50,000-copy first printing). Author of the LJ-starred Normandy '44, Holland turns back to Sicily '43, where the largest amphibious invasion ever took place, as 160,000 American, British, and Canadian troops came ashore or were parachuted onto Sicily, with Allied air superiority making the difference and Holland offering the German and Italian perspectives as well. Morning Joe host Scarborough, a former member of the House of Representatives, examines President Harry Truman's first year in office, when he was intent on Saving Freedom as Europe climbed out of the rubble and the Cold War loomed (200,000-copy first printing).
Biography
Brown, David S. The Last American Aristocrat: The Brilliant Life and Improbable Education of Henry Adams. Scribner. Nov. 2020. 464p. ISBN 9781982128234. $30. BIOGRAPHY
Seward, Ingrid. Prince Philip: A Biography. Atria. Oct. 2020. 288p. ISBN 9781982129750. $28. BIOGRAPHY
A biographer of F. Scott Fitzgerald and Richard Hofstadter, Brown here chronicles Henry Adams, The Last American Aristocrat, a Gilded Age intellectual who exemplifies the man of letters and whose The Education of Henry Adams is a classic (60,000-copy first printing). Editor in chief of Majesty magazine, Seward has been covering the royal family for three decades, so she's prepped to portray Prince Philip as father, philanthropist, philanderer, statesman, and, of course, Queen Elizabeth II's husband.
Big-Picture History
Baszile, Natalie. We Are Each Other's Harvest: Celebrating African American Farmers, Land, and Legacy. Amistad. Nov. 2020. 224p. ISBN 9780062932563. $29.99. HISTORY
Cervantes, Fernando. The Conquistadores: The Untold History of Spanish Discovery and Empire. Viking. Nov. 2020. 496p. ISBN 9781101981269. $35. Downloadable. HISTORY
Cohen, Richard. The History Makers: 2500 Year of Who We Are. Random. Nov. 2020. 736p. ISBN 9781400068760. HISTORY
Ricks, Thomas E. First Principles: What America's Founders Learned from the Greeks and Romans and How That Shaped Our Country. Harper. Nov. 2020. 416p. ISBN 9780062997456. $29.99. HISTORY
Wilson, Ben. Metropolis: A History of the City, Humankind's Greatest Invention. Doubleday. Nov. 2020. ISBN 9780385543460. $32.50. Downloadable. HISTORY
In We Are Each Other's Harvest, novelist Baszile ( Queen Sugar, adapted for television and seen on OWN) collects essays, poems, first-person stories, and commentary from historians and James Beard award winners alike to assay the history, struggles, and current resurgence of African American farmers (50,000-copy first printing). A specialist in early modern European history at the University of Bristol, Mexican historian Cervantes is also a descendant of a conquistador, and in The Conquistadores he takes a new approach to the Spanish conquest of the New World that neither celebrates its adventurism nor condemns it as intentionally cruel. As distinguished British publisher Cohen observes in The History Makers, which revisits those who write about history all the way back to Caesar and the Bible, the predilections of one person can often shape how we view the past (originally scheduled for June 2020). After the 2016 election, Pulitzer Prize–winning journalist and Pulitzer Prize finalist and No. 1 New York Times best-selling author Ricks (Fiasco) sought to understand what the Founding Fathers really had in mind by returning to their main reading material—the classics, from Xenophon to Aristotle to Cicero—and intuiting their First Principles. In Metropolis, Wilson, a Somerset Maugham Award–winning and Sunday Times best-selling British historian, argues that when in comes to shaping humanity, nothing has compared to cities, their very density facilitating science, art, trade, and all manner of innovation.