From archaeology and politics in the Middle East to Churchill's daughters.
Lawler, Andrew. Under Jerusalem: The Buried History of the World's Most Contested City. Doubleday. Nov. 2021. 464p. ISBN 9780385546850. $32.50. HISTORY
In the 1860s, when a French adventurer in Jerusalem dug up what he proclaimed to be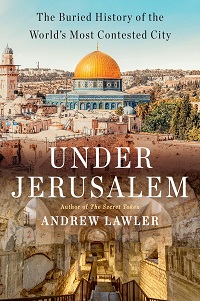 the tomb of an Old Testament queen, the race was on among European countries to lay claim to the fabled city and dig up its past. Both Jews and Muslins reacted angrily to the possible desecration, and what lies beneath the city's streets remains contested to this day. Expanding on a 2019 National Geographic cover story, Lawler ( The Secret Token) reveals Jerusalem's underground byways and shows us how archaeology and politics powerfully interact in the Middle East.
Mazower, Mark. The Greek Revolution: 1821 and the Making of Modern Europe. Penguin Pr. Nov. 2021. 560p. ISBN 9781591847335. $35. Downloadable. HISTORY
A Columbia University history professor specializing in Greece, the Balkans, and 20th-century Europe, Mazower presents a chronicle of the Greek War of Independence to coincide with its 200th anniversary. The war featured a ragged bunch of Greek patriots going up against the mighty Ottoman Empire with a little help from European and American sympathizers (think Lord Byron). To clarify what this revolution meant for Europe and the world, Mazower seeks to explode myths about the war while addressing the larger issues he pinpoints, e.g., Christianity vs. Islam, the emergence of the nation-state, and ethnic cleansing on both sides.
Ostler, Catherine. The Duchess Countess: The Woman Who Scandalized Eighteenth Century London. Atria. Nov. 2021. 384p. ISBN 9781982179731. $30. HISTORY
Named maid of honor to Augusta, Princess of Wales, in 1743, Elizabeth Chudleigh both shocked and titillated the public with her daring lifestyle, sporting diamonds and once appearing at a masquerade ball in a wafer-thin dress. Even a charge of bigamy couldn't break her. Though she served as the model for William Thackery's social-climbing Becky Sharp, Ostler aims for a more nuanced picture. With a 50,000-copy first printing.
Playdon, Zoë. The Hidden Case of Ewan Forbes. Scribner. Nov. 2021. 320p. ISBN 9781982139469. 27. CD. HISTORY
Born in 1912 Scotland to a family that held a baronetcy, Ewan Forbes was assigned female at birth but with his mother's support was treated with synthetic testosterone and raised as a boy. He lived quietly as a husband and doctor until 1965, when his older brother's death left him in line for the baronetcy. The inheritance was contested, but in 1968 Scotland's supreme civil court sided with Forbes. Unfortunately, the hearing had no influence on the state of trans rights; it was private, and the case remained unknown until 1996. Playdon, Emeritus Professor of Medical Humanities at the University of London and a former co-chair of the Gay and Lesbian Association of Doctors and Dentists, tells the full story. With a 75,000-copy first printing.
Trethewey, Rachel. The Churchill Sisters: The Extraordinary Lives of Winston and Clementine's Daughters. St. Martin's. Nov. 2021. 320p. ISBN 9781250272393. $29.99. HISTORY
Diana, Sarah, and Mary–they were the Churchill sisters, each with a distinctive relationship with her father and all with a front-row seat at key events in history. (A fourth sister, Marigold, died young.) British journalist Trethewey tells their story, focusing on intimate family relationships. With a 60,000-copy first printing.