Take on the ballerina mindset, find your unicorn space, practice fierce love, and accept the power of fun.
Click here for additional new Prepub Alert columns
Daley-Ward, Yrsa. The How: Notes on the Great Work of Meeting Yourself. Penguin. ISBN 9780143135609. pap. $17. SELF-HELP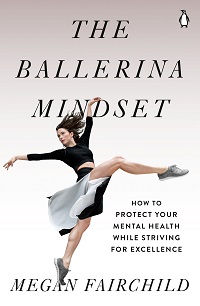 Fairchild, Megan. The Ballerina Mindset: How to Protect Your Mental Health While Striving for Excellence. Penguin Life. Dec. 2021. 176p. ISBN 9780143136040. pap. $17. Downloadable. SELF-HELP
Fideler, David. Breakfast with Seneca: A Stoic Guide to the Art of Living. Norton. Dec. 2021. 256p. ISBN 9780393531664. $26.95. PHILOSOPHY
Lewis, Dr. Jacqui. Fierce Love: A Bold Path to a Better Life and a Better World. Harmony: Crown. Nov. 2021. 304p. ISBN 9780593233863. $27. lrg. prnt. Downloadable. SELF-HELP
Price, Catherine. The Power of Fun: How to Feel Alive Again. Dial. Dec. 2021. 368p. ISBN 9780593241400. $27. Downloadable. SELF-HELP
Powers, Kirsten. Saving Grace: Speak Your Truth, Stay Centered, and Learn to Coexist with People Who Drive You Nuts. Convergent: Crown. Dec. 2021. 224p. ISBN 9780593238233. $27. Downloadable. SOCIAL SCIENCE
Rodsky, Eve. Find Your Unicorn Space: Reclaim Your Creative Life in a Too-Busy World. Putnam. Dec. 2021. 304p. ISBN 9780593328019. $27. Downloadable. SELF-HELP
Warzel, Charlie & Anne Helen Petersen. Out of Office: The Big Problem and Bigger Promise of Working from Home. Knopf. Dec. 2021. 272p. ISBN 9780593320099. $27. lrg. prnt. Downloadable. SELF-HELP
Of Jamaican and Nigerian heritage and a resident of both London and Brooklyn, PEN Ackerley Prize—winning poet Daley-Ward explains how we can become our own best and truest selves in The How. A principal dancer at the New York City Ballet who starred on Broadway in On the Town, plus a podcast host, MBA student, and mother of three, Fairchild explains The Ballerina Mindset that lets her do it all with apparent ease. In parlous times. Stoic philosophy is suddenly trending, and Fideler's Breakfast with Seneca provides an accessible overview. The first woman and first Black minister at the progressive Collegiate Church in Manhattan, which dates from 1628, Lewis shows how we can cope with today's divisive culture by discussing her own reckoning with racism, her interracial marriage, nine daily spiritual practices that have sustained her, and the importance of Fierce Love. In The Power of Fun, award-winning science journalist Price argues that treating fun as an important part of your life—and she doesn't mean binge-watch your favorite TV shows—will make you happier and more productive. In Saving Grace, Powers leans on her experiences as a CNN senior political analyst and USA TODAY columnist to explain how we can maintain mental well-being without deserting our own convictions during conflict-ridden times. Author of the New York Times best seller and Reese's Book Club pick Fair Play, Rodsky urges women to rethink their priorities and claim essential healing time for themselves in Find Your Unicorn Space. Having left their New York desk jobs and moved to Montana, leading culture journalists Warzel and Petersen see today's pandemic-driven work-at-home situation as a cobbled-together compromise and explain how we can create true Out of Office work schedules benefiting both workers and employers.