The focus of this user-friendly tool on women's voices provides an important perspective for research, while the emphasis on female authored works makes it stand out from the crowd. An important addition to academic libraries.
Gale Women's Studies Archive: Voice and Vision
Free trial available
CONTENT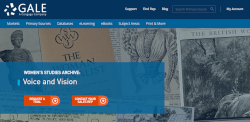 Part of Gale Primary Sources, the Women's Studies Archive: Voice and Vision places women's stories at the forefront, tracing the evolution of the feminist movement in the 19th and 20th centuries through primary source materials. Voice and Vision builds on the foundation established by the archive's first module, Issues and Identities, which focused on women's issues from past to present across the globe. This newest addition delves deeper into women's experience via those "mediums through which women have created a voice for themselves"—works produced by women rather than aimed at or concerning women. Going beyond suffrage to explore women's involvement in political and social movements, as well as women's lived experiences, such as domestic service, education, health, hygiene, divorce, and reform, the collection makes primary source research possible in a frequently overlooked part of the historical record. Voice and Vision also addresses the need for increased representation, providing access to primary source material from women of diverse ethnic backgrounds, including African American and Indian women, as well as voices representing religious minorities, such as Jews, Muslims, and Quakers.
Standouts in the collection include the personal writings of education and union activists, members of the suffragist, socialist, and temperance movements, and works from radical and reform journals authored by women. The module currently comprises 15 collections, including the Papers of Elizabeth Gurley Flynn, who cofounded the American Civil Liberties Union and was an official of the Communist Party from 1937 to 1964; the National Network of Hispanic Women Archives; Comisión Femenil Mexicana Nacional Archives; and the Papers of Mary E. Gawthorpe, a British suffragist. Contributing libraries include the British Library, Swarthmore College, New York University, the UK's National Archives, the American Antiquarian Society, and University of California Santa Barbara.
USABILITY
The search and browsing features are useful and intuitive. The homepage boasts a "basic search" bar as well as a link to "advanced search," where users have options such as "search by entire document," "keyword," "document title," "publication title," "place of publication," "subject," "author/creator," and "Gale document number" (users can enter up to 10 keywords in a single query). Users can filter by "document type" (manuscripts, monographs, newspapers and periodicals, and photographs), "illustrated works" (paintings, photographs, diagrams, etc.), "archive," "collection title," "subcollection title," "language," and "source library." Users can also limit materials by "publication date" and search by publication or browse a list of all publications.
The "topic finder" lets researchers identify additional subjects and keywords related to their search and establish new connections within results. This feature relies on titles, subjects, and the first 100 words from top results to produce an interactive graphic based on term frequency in relevant texts. The resulting graph can be displayed as tiles or a wheel. A search for "hygiene," for instance, produces top tier results such as "multiple classified advertisements," "London," "societies," and "school."
Users can dive into each topic, exploring tiles or the spokes of a wheel as results update automatically beside the graphic. After users conduct a basic or advanced search, results are categorized by "all content," "monographs," and "newspapers & periodicals." Users can narrow results by "content type" or "filter by archives," "publication date," or "author," or search within "materials." They can also engage with "topic finder" and "term frequency" tools within the search.
Results include basic record details (title, authors, publisher, archive, collection, publication year, and pages); selecting an item defaults to the document image view, where users can also view the item as Plain Text OCR or search within the document. While viewing results, users can begin a new search via the sticky search bar at the top of the page. They can access an item's citation information and sharing, download, and print options, as well as the item's permalink.
There is also the option to also take advantage of the "publication search" page, which lists all 55 publications found here, from the Anti-Suffrage Review to the ­Women's Tribune. After clicking on a title, users will find a brief publication record, a drop-down list to browse issues by year, and a "search within publication" option. Users can also access a "browse by date" feature. When selecting a title, users can view the document as an image or plain text (OCR), narrow to article or page view, navigate to the previous and/or next issue in the publication, search within the document (including options to search within this article, this issue, and this publication, and to allow variations), navigate within the publication using the table of contents, and view full citation.
PRICING
Women's Studies Archive: Voice and Vision is available for onetime purchase by academic and public libraries, but not for purchase by individuals. Academic library pricing is based on a ­number of factors including institution size, library ­materials budget, Carnegie Classification and Humanities program levels. Pricing for smaller academic libraries starts at $6,900 with a small annual hosting fee. Subscriptions are available on request.
Institutions holding two or more Gale Primary Source collections receive complimentary access to the Gale Primary Sources cross-search platform, which allows users to discover connections between other archival collections published by Gale. Potential customers should contact their Gale representative for the most current pricing and for consortial purchase information.
VERDICT
This user-friendly tool for primary-source research is a strong addition for academic libraries supporting research in areas such as women's history and gender studies, as well as programs that engage in social and historical research. The focus on women's voices provides an important perspective for research, while the emphasis on female authored works makes it stand out from the crowd.
---
Gricel Dominguez is a librarian at Florida International University Library, Miami.