Sf/fantasy veterans Laurell K. Hamilton, Richard Kadrey, and J.R. Ward are joined by up-and-coming Linden A. Lewis.
Hamilton, Laurell K. Sucker Punch. Berkley. Aug. 2020. 496p. ISBN 9781984804433. $28; ebk. ISBN 9781984804457. Downloadable. FANTASY/PARANORMAL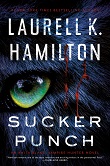 Kadrey, Richard. Ballistic Kiss. Harper Voyager. Aug. 2020. 400p. ISBN 9780062672575. $28.99; ebk. ISBN 9780062672636. URBAN FANTASY
Lewis, Linden A. The First Sister. Gallery: S. & S. Aug. 2020. 352p. ISBN 9781982126995. $26; ebk. ISBN 9781982127015. SF/SPACE OPERA
Ward, J.R. The Jackal. Gallery: S. & S. Aug. 2020. 416p. ISBN 9781501195068. $28; ebk. ISBN 9781501195082. CD. ROMANCE/PARANORMAL
In Sucker Punch, the next in Hamilton's "Anita Blake, Vampire Hunter" series, a fellow U.S. marshal asks Blake to investigate when a young wereleopard is condemned to death for a murder he may not have committed. In Kadrey's Ballistic Kiss, Sandman slim is back on the job, called in to quell ghosts that have begun rampaging through the Los Angeles Little Cairo neighborhood (75,000-copy first printing). In queer writer Lewis's First Sister, the title character is compelled to travel through space with soldiers of Earth and Mars, who possess her completely, and must finally spy on her new captain, even as top-notch Venusian soldier Lito val Lucius flinches when ordered to kill a former partner (100,000-copy first printing). Set in an underground prison not surprisingly crowded with murderers and thieves, Ward's The Jackal launches a new "Black Dagger Brotherhood" spin-off series.