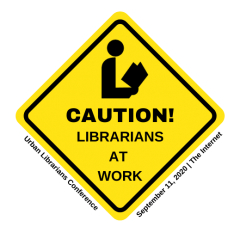 When Urban Librarians Unite (ULU) chose "Librarians at Work" as its 2020 conference theme last year, no one could have anticipated what a loaded concept that would be by September. The phrase "at work" holds many more connotations than it did a year ago, including whether library staff should be asked to be physically present in branches, if they should be performing curbside service—sometimes in potentially hazardous weather situations—and who gets to work from home.
"The theme couldn't be more timely, but we had a new challenge: how to transform an established grassroots, volunteer-run conference into the safest and most reasonable option for our attendees and speakers," ULU stated on its website. The decision in July to take its eighth annual conference virtual proved to be a good one; people were enthusiastic, and by the September 11 date had some experience with virtual gatherings—and it allowed ULU, a New York City–based library workers' advocacy nonprofit, to expand its offerings to attendees and speakers who might not have been able to travel to the customary site at Brooklyn Public Library's (BPL) Grand Army Plaza. More than 400 people registered for the event, sponsored by the New York Library Association's Leadership and Management Section, TLC Library Solutions, Penguin Random House Library Marketing, and the three New York City library systems: New York Public Library, Queens Public Library, and BPL.
The conference consisted of a keynote and four sets of breakout sessions running concurrently, taking a deep dive into topics that included working conditions, trauma in the workplace, mid-career development, badass library workers, diversity in the library workforce, rights and protections for staff, and philosophies of work and management.
"Moving the conference online was pretty nerve-wracking, especially since we were completely live with no prerecorded video. I think that the pre-planning and number of volunteers really helped," ULU Board Chair and conference organizer Lauren Comito told LJ. "Not recording the sessions allowed us to keep the small personal feel we had in person in a virtual event. There is something about an experience that happens just once, where you have to make choices about what you want to participate in and be present in that space, that is really valuable."
"THE EXPANSION OF WHAT WE DO"
The conference opened with a moving keynote from Chera Kowalski, assistant to the chief of staff at the Free Library of Philadelphia (FLP), an advocate for substance use harm reduction efforts in libraries, and for dismantling historical and institutional power structures to help create equity among library professionals and the public. When she had accepted the offer from ULU to speak, she said, she had been confident in her approach to talking about library work. But the global pandemic and the heightened awareness of violence against black lives have both given her pause.
Libraries have been built from structures of white supremacy, public funding determined by politics and capitalism, she noted. So much of library work is political, she added, and the boundaries of what is required are increasingly blurred. After many years serving as adult/teen librarian at the FLP's McPherson Square Branch, volunteering to receive overdose reversal training through Prevention Point Philadelphia—and saving six lives by administering Narcan—Kowalski took a position off of the front lines. She hopes, she said, that library workers everywhere could take the time to consider what they need as well, because employers won't necessarily acknowledge staff burnout "until it's front page news."
Library staff are being placed in unsafe situations, and are expected to serve communities in unsafe conditions. "How much of this work do we want to do?" she asked—a quandary increasingly common in the field. The issue, she said, had no easy answers, but she encouraged everyone to reflect on the amount of responsibility they increasingly shoulder, and how they can support each other.
EXPLORING THEMES
Four sets of concurrent breakout sessions covered subjects from management strategies to frontline concerns, self-help to patron care, diversity to privacy; they were not recorded out of concerns for the privacy of participants. To keep the feeling familiar, breakout rooms were named after the Main Library's rooms where sessions would have been held in person.
Sessions such as "Accessibility vs. Inclusion: Sure There's a Ramp Behind the Dumpster," with Shawn Lemieux, Jill Rothstein, Chancey Fleet, and Nefertiti Matos; "Where Are the Technical Services Librarians of Color?" led by Treshani Perera, Eugenia Beh, and Anastasia Chiu; and "Destigmatizing Notorious Branches," with Thomas Maxheimer, Kacper Jarecki, Maryanne Olson, Amber Loveless, Shanta Gee, and Simone Wellington took a discerning look at the working lives of librarians through the lens of inclusion.
"Congratulations, You're a Librarian (in Quarantine)! Now What…", led by Alessandra Affinito, Kevin Kelley, Grace Yamada, and Lyndsie Guy; and "Staying Connected through Programming During COVID-19," with Katherine Florencio, Sarah Gluck, and Christine Zarett examined some pandemic best practices. "Cautious Librarians as Trauma Stewards: Being Careful and Caring for Self and Others," with Kerwin Pilgrim, Tim Berrigan, Jenny Chisnell, Iman Powe-Maynard, Alicia Pritchard, and Adeeba Rana; and "Trauma-Informed Care in Youth Services," featuring Susen Shi, Genee Bright, Fairlie McCollough, and Diara Rosario; and "Happy Librarians Talk Management and Morale," led by Michele Cayea, and Ellen Frank Bayer looked at different facets of care management and safety.
Taking a look at creative partnerships, Jessica Hochman, Teresa Tartaglione, Marie Southwell, Christina Gavin, Rachel Green, and Donna Gray explored school/library partnerships in "Campus Libraries: One Library, Many Communities" and Ohzhe Morris and Tor Loney spoke on "Don't Quit Your Night Job: How a Professional Rapper Is Using His Skills To Mentor Kids and Teens."
GETTING THROUGH THE WORST
In "Strategy Before Tragedy: Library Worker Safety in Unsafe Times," Sacramento Public Library Director Rivkah Sass, Deputy Director of Infrastructure Jarrid Keller, and Safety and Security Manager Karen Leland discussed their compassionate approach to crisis in the library, much of which evolved from the murder of North Natomas branch supervisor Amber Clark in December 2018—lessons that libraries can put to the test in any number of difficult situations, including the current pandemic.
The three spoke on the importance of communication at all levels within the library, from administration to shelvers; transparency, especially making sure there are opportunities to share feelings of loss and grief; defined roles among managers; and action and support for employees—providing counseling, extra administrative leave if needed, even bringing police chaplains to the library, who proved to be sensitive and helpful. You can have the best preparation in the world, noted Keller, but when something happens, it's about being able to act in the moment and use all your support systems.
Concerned about her employees, Sass convened an all-staff meeting several days later and encouraged everyone to talk—not only about Clark, but workers who had been at the library when two staff members were killed in 1993 said that they had never gotten the opportunity to talk about what happened then. The meeting "helped significantly," said Keller. "We were all in an unimaginable amount of pain."
They focused extra effort and energy on staff who were in the building that night, making sure that one of their team was there every day when the branch opened and every evening when it closed. They told employees to take whatever time they needed, and staff from other branches volunteered to rotate in. The library purchased active shooter insurance, which provided extra money for counselors. Sass was the face of the library for press coverage, making sure to head off any stories that wanted to center libraries being unsafe. Instead, she said, there was "an outpouring of incredible love" and a desire to help from the public. Most important, said Leland, was to validate everyone's fears and communicate that even administrators don't have all the answers.
Grief is a long process, Keller added. "Truly, you become a family through all this, more than you would have imagined." After staff had a chance to process their emotions, the library began the work of looking at its safety and security concerns, asking workers at every branch to brainstorm what it is they felt needed to change. Leadership and the Sacramento police department conducted crime prevention through environmental design walk-throughs throughout the system. Similarly, this year Sass asked each location to contribute COVID protocols specific to the branches, which vary widely from urban to rural. What she wanted—in 2018 and in 2020—was "to make sure that people remain whole."
THE IMPACTS OF SURVEILLANCE
Taking on topics of increasing concern to library workers, the session "Privacy, Labor Advocacy, and the Library," led by librarians Callan Bignolli and TJ Lamanna (who did not wish to be identified by their libraries) discussed the precautions librarians need to take as a matter of course when organizing around labor, law enforcement, or racial issues, as well as the impacts mass surveillance is having on marginalized groups, organizers, and protesters everywhere. "We know there's a lot of retribution in the world right now," Lamanna said by way of introduction.
Surveillance, said Bignoli, can be framed as "fundamentally an imbalance of power," and is increasingly becoming normalized. Automation assumes that people will continue to develop technology skills—leaving behind those who can't. Similarly, behavioral surplus—the "hoovering of your data" into packages that can be monetized—can undermine your work as an organizer, or that of your colleagues. Many library employees have cameras in their branches, and often administrators watch them more than is appropriate—taking note of patron interactions or lateness—and workers don't know what information is being collected until it's used against them.
Even advances portrayed as progressive, such as public-private library partnerships or artificial intelligence, stand to compromise workers' rights; corporate sponsorship of library services mean that staff may not be able to collect or program as they like, and the increasing use of algorithmic biases such as facial recognition has a disproportionate impact on the most marginalized people.
Library workers should make sure people know they're serving the public, added Lamanna, not the interests of sponsors. "When you're advocating for library workers' rights," he said, "you're advocating for your users at the same time."
The two offered a number of examples of big tech banking on austerity, such as the uncertainty of library budgets in the current environment. Watch out for catastrophes, and how they can put workers at the mercy of people who say they can solve their problems, said Lamanna. Bignoli pointed to three useful books: Shoshana Zuboff 's The Age of Surveillance Capitalism: The Fight for a Human Future at the New Frontier of Power , Virginia Eubanks's Automating Inequality: How High-Tech Tools Profile, Police, and Punish the Poor, and Simone Brown's Dark Matters: On the Surveillance of Blackness. And Lamanna offered several inspiring quotes, including one from political philosophers Michael Hardt and Antonio Negri that could, perhaps, serve as ULU's theme for 2021: "Disobedience to authority is one of the most natural and healthy acts."