Six essential titles for those who love history.
Blume, Lesley M.M. Fallout: The Hiroshima Cover-up and the Reporter Who Revealed It to the World. S. & S. Aug. 2020. 288p. ISBN 9781982128517. $27. HISTORY
Kassabova, Kapka. To the Lake: A Balkan Journey of War and Peace. Graywolf. Aug.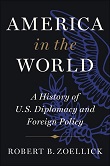 2020. 416p. ISBN 9781644450260. pap. $16. LITERARY/ESSAYS
King, David. Six Days in August: The Story of Stockholm Syndrome. Norton. Aug. 2020. 288p. ISBN 9780393635089. $26.95; ebk. ISBN 9780393635096. HISTORY
Mikhail, Alan. God's Shadow: Sultan Selim, His Ottoman Empire, and the Making of the Modern World. Liveright: Norton. Aug. 2020. 512p. ISBN 9781631492396. $39.95; ebk. ISBN 9781631492402. HISTORY
Ricca, Brad. Olive the Lionheart: Lost Love, Imperial Spies, and One Woman's Journey to the Heart of Africa. St. Martin's. Aug. 2020. 400p. ISBN 9781250207012. $29.99; ebk. ISBN 9781250207029. CD. BIOGRAPHY
Zoellick, Robert B. America in the World: A History of U.S. Diplomacy and Foreign Policy. Twelve. Aug. 2020. 560p. ISBN 9781538761304. $35; ebk. ISBN 9781538712368. lib. ebk. ISBN 9781538712351. Downloadable. HISTORY/DIPLOMACY
A Los Angeles–based author whose recent Everybody Behaves Badly was a New York Times best seller, Blume acknowledges the 75th anniversary of the Hiroshima bombing in Fallout as she chronicles the U.S. government's coverup of the catastrophic consequences of the bombing and John Hershey's groundbreaking coverage of what really happened in The New Yorker. Following Border, a National Book Critics Circle finalist, Kassabova takes us To the Lake—that is, the southern Balkans region dominated by Lakes Ohrid and Prespa, joined by underground rivers—to explore the area's enduring cultural cross-currents and reflect on how geography and politics interact. In Six Days in August, New York Times best-selling author King investigates the six-day hostage crisis in August 1973 that inspired the term Stockholm Syndrome. In God's Shadow, already an eye-catcher, Yale history chair Mikhail limns the ascendance of the Ottoman Empire through the life of Sultan Selim (1470–1520). Ricca, whose Mrs. Sherlock Holmes was an Edgar Award nominee for Best Fact Crime, portrays another intriguing woman in Olive the Lionheart: Scottish aristocrat Olive MacLeod, who bounded down to Africa in the early 1900s when her naturalist fiancé went missing, carrying secrets of her own. Finally, having served as deputy secretary, undersecretary, and counselor of the State Department and held positions from ambassador to deputy chief of staff through six presidencies, Zoellick is well positioned to write America in the World, offering a history lesson on U.S. diplomacy from the Founding Fathers to today.