Among key contemporary issues, this September's big books rethink political liberty, meritocracy, microagressions, and Clarence Thomas.
Acemoglu, Daron & James Robinson. Balance of Power: States, Societies, and the Narrow Corridor to Liberty. Penguin Pr. Sept. 2019. 464p. ISBN 9780735224384. $30; ebk. ISBN 9780735224391. Downloadable. POLITICS
Authors of the internationally best-selling Why Nations Fail, award-winning MIT economics professor Acemoglu and Robinson, University Professor at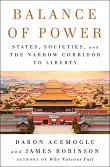 the Harris School of Public Policy, University of Chicago, here argue that the West has a chimerical idea about political liberty. It's not something that is achieved by a country's wending its way through Enlightenment to a perfect state of being but a constant struggle between power and people. Let's keep it up.
Boyers, Robert. The Tyranny of Virtue: Identity Politics and the Culture of Complaint. Scribner. Sept. 2019. 240p. ISBN 9781982127183. $27. EDUCATION
Long a liberal intellectual (he's editor of Salmagundi and an English professor at Skidmore College), Boyers presents a series of linked essays that examine current hot-button issues, e.g., identity, privilege, and diversity, that impact education today and finally society at large. Here he argues that the focus on micro-aggressions and safe spaces has stilled the debate that once characterized the liberal approach to ideas. Bound to stir controversy, which is the point.
Capó Crucet, Jennine. My Time Among the Whites: Lessons from My Unfinished Education. Picador. Sept. 2019. 256p. ISBN 9781250299437. pap. $17; ebk. ISBN 9781250299444. SOCIAL SCIENCE
Born in Miami of Cuban-refugee parents, the multi-prize-winning Capó Crucet (e.g., the Iowa Short Fiction Prize, the International Latino Book Award) describes what it's like not to feel welcome in America, not to feel that the American Dream is hers to grab, and what she has had to do to adapt to her native country.
Gordis, Daniel. We Stand Divided: Competing Visions of Jewishness and the Rift Between American Jews and Israel. Ecco. Sept. 2019. 256p. ISBN 9780062873699. $26.99; ebk. ISBN 9780062873712. HISTORY/ISRAEL & PALESTINE
National Jewish Book Award winner for Israel, Gordis examines the division between American and Israeli Jews, arguing that since the founding of Israel, the two communities have had different concerns, different goals, and a very different sense of what democracy and religious identity mean. He proposes a way to heal a breach widening by the day. With a 75,000-copy first printing.
Markovits, Daniel. The Meritocracy Trap: How America's Foundational Myth Feeds Inequality, Dismantles the Middle Class, and Devours the Elite. Penguin Pr. Sept. 2019. 480p. ISBN 9780735221994. $30; ebk. ISBN 9780735222007. POLITICS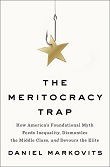 Who's to counter the idea that achievement alone should determine social and economic reward? The Guido Calabresi Professor of Law at Yale Law School, that's who. Markovits argues that in today's America, the concept of meritocracy merely perpetuates wealth across generations. Middle-class students inevitably lose out to elites benefiting from all the educational extras that money can buy, and elites themselves are saddled with high-pressure expectations that are just killing them. What's the solution?
Pearl, Mike. The Day It Finally Happens: The Good News About the Bad News—and the Bad News About the Good News. Scribner. Sept. 2019. 288p. ISBN 9781501194139. $27. SOCIAL SCIENCE/POPULAR CULTURE
What's humanity going to do when the seas boil over, the Internet crashes, antibiotics run out, and nuclear armageddon arrives? Webby Award–winning Vice columnist Pearl covers the future—a big area, that—and has ideas to share. With 60,000-copy first printing.
Richter, Paul. The Ambassadors: American Diplomats on the Front Lines. S. & S. Sept. 2019. 384p. ISBN 9781501172410. $30. POLITICAL SCIENCE
Ambassadorship: it's not just quiet diplomacy anymore, particularly in the Middle East; ambassadors are now activists putting themselves on the line. Ryan Crocker helped build a new Afghan government post-Taliban, Ryan Robert Ford sought to jump-start the economy in central Iraq, and J. Christopher Stevens lost his life in Libya. From a veteran foreign policy reporter; with a 40,000-copy first printing.
Robin, Corey. The Enigma of Clarence Thomas. Metropolitan: Holt. Sept. 2019. 288p. ISBN 9781627793834. $30; ebk. ISBN 9781627793841. BIOGRAPHY
Robin (The Reactionary Mind), who teaches political science at the CUNY Graduate Center, presents a surprising picture of Supreme Court Justice Clarence Thomas. He was a black nationalist in college whose conservatism stems from a conviction that white people are inevitably racist and that government action cannot correct this fault; African Americans can only work to make sure whites don't get in their way.