Publication dates are always being rescheduled, but with the COVID-19 crisis, the publication of more titles than usual have been pushed back. Here's a list of 2020 titles that will now land in February 2021.
Ali, Ayaan Hirsi. Prey: Immigration, Islam, and the Erosion of Women's Rights. Harper. Feb. 2021. 288p. ISBN 9780062857873. $27.99. SOCIAL SCIENCE
Courting controversy as she did with New York Times best sellers like Infidel, Nomad, and Heretic, Ali, the well-known Somali-born Dutch American women's rights activist, argues that Muslim immigrants must not be allowed to bring the harmful and regressive gender attitudes of Islamic extremism to the West. Originally scheduled for Feb. 2020; with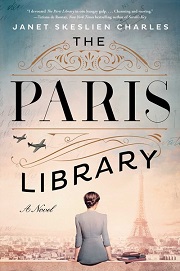 a 75,000-copy first printing.
Charles, Janet Skeslien. The Paris Library. Atria. Feb. 2021. 368p. ISBN 9781982134198. $28. CD. HISTORCIAL FICTION
Charles's latest chronicles the bravery of employees at the American Library in Paris after the Nazis marched in, which a lonely Montana teen in the 1980s learns about from her intriguing elderly neighbor. "Plan for extra copies, as this tale has all the hallmarks of a book club pick" (LJ 3/20). Originally scheduled for Jun 2020.
Drayden, Nicky. Escaping Exodus: Symbiosis. Harper Voyager. Feb. 2021. Oct. 2020. 368p. ISBN 9780062867759. $16.99. SF/SPACE OPERA
Continuing where Escaping Exodus left off, Compton Crook Award–winning Drayden shows us the Zenzee, giant creatures who carry what's left of humanity through space. The Zenzee have been driven nearly to extinction through cruel use, but new ruler Doka Kaleigh institutes a fairer way of life—and invokes the wrath of his fellow humans. Originally scheduled for Oct. 2020; with a 50,000-copy first printing.
Gates, Bill. How To Avoid a Climate Disaster: The Solutions We Have and the Breakthroughs We Need. Doubleday. Feb. 2021. Jun. 2020. 240p. ISBN 9780385546133. $26.95. lrg. prnt. SCIENCE/CLIMATE CHANGE
Microsoft cofounder and active philanthropist Gates argues that climate change will have the biggest impact on those who have done the least to cause it, and he's spent a decade studying its consequences and considering how best to address them. Originally scheduled for Jun 2020.
Jaouad, Suleika. Between Two Kingdoms. Random. Feb. 2021. 288p. ISBN 9780399588587. $28. MEMOIR
Having thrown herself into a dream job in Paris post-graduation, Jaouad was brought low by terrible fatigue and finally diagnosed with leukemia just before turning 23. She returned home to New York and entered three and a half years of chemotherapy, a clinical trial, and a bone marrow transplant—as recounted in a column for the New York Times. To learn to live again after her release, she launched on a 100-day, 15,000-mile cross-country road trip with snuggly rescue mutt Oscar. Originally scheduled for May 2020.
Karlawish, Jason. The Disease of the Century: How Alzheimer's Became a Crisis and What We Can Do About It. St. Martin's. Feb. 2021. 320p. ISBN 9781250218735. $27.99. HEALTH/ALZHEIMER'S
A professor of medicine, medical ethics and health policy, and neurology at the University of Pennsylvania and codirector of the Penn Memory Center, Karlawish contextualizes "the disease of the century"—that is, Alzheimer's—by explaining not just why the number of afflicted has grown but how we can prevent it, treat it, and live with it. Originally scheduled for Nov. 2020; with a 50,000-copy first printing.
Pogue, David. How To Prepare for Climate Change. S. & S. Feb. 2021. 352p. ISBN 9781982134518. $22. SCIENCE/CLIMATE CHANGE
Pogue, the Emmy Award–winning technology and science correspondent for CBS Sunday Morning and host of 17 science specials on PBS NOVA, offers a comprehensive guide (in handy paperback format) to surviving an here-now crisis. Originally scheduled for Aug. 2020.
Russo, Kate. Super Host. Putnam. Feb. 2021. 368p. ISBN 9780593187708. $27; ebk. ISBN 9780593187715. lrg. prnt. LITERARY
In painter/playwright Russo's debut, washed-up 55-year-old artist Bennett Driscoll, a former Turner Prize nominee whose wife, gallery, and audience have abandoned home, learns a lot from the visitors to whom he rents out his West London home as he lives in his backyard studio. "Russo makes the act of creating art come alive, while effectively limning her characters in this incisive study of contemporary life" (LJ 5/20). Originally scheduled for Jun. 2020.
 Swan, Shanna, & Stacey Colino. Count Down: How Our Modern World Is Threatening Sperm Counts, Altering Male and Female Reproductive Development, and Imperiling the Future of the Human Race. Scribner. Feb. 2021. 320p. ISBN 9781982113667. $28. SCIENCE
Award-winning Mt. Sinai epidemiologist joins with health/environmental journalist Colino to detail a report recently completed by Swan and her colleagues regarding plummeting male sperm counts, finally concluding that reduced fertility and changes in sexual development result from chemicals in the environment. Originally scheduled for Sept. 2020; with a 75,000-copy first printing.
Teichner, Martha. When Harry Met Minnie: A True Story of Love and Friendship. Celadon: Macmillan. Feb. 2021. 256p. ISBN 9781250212535. $26.99. MEMOIR
Award-winning journalist Teichner recounts agreeing to take on the bull terrier belonging to Carol, a friend's friend who is dying of cancer, and how she bonded with Carol just as her bull terrier, Minnie, and Carol's Harry entered a tail-waggingly happy relationship of their own. Originally scheduled for Sept. 2020.