Books on James A. Baker III, John Maynard Keynes, and John McCain will keep biography fans busy in May.
Baker, Peter & Susan Glasser. The Man Who Ran Washington: The Life and Times of James A. Baker III. Doubleday. May 2020. 720p. ISBN 9780385540551. $35; ebk. ISBN 9780385540568.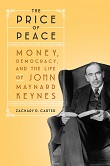 CD/downloadable. BIOGRAPHY
Carter, Zachary D. The Price of Peace: Money, Democracy, and the Life of John Maynard Keynes. Random. May 2020. 608p. ISBN 9780525509035. $35; ebk. ISBN 9780525509042. Downloadable. BIOGRAPHY
Salter, Mark. The Luckiest Man: Life with John McCain. S. & S. May 2020. 480p. ISBN 978198212093. $30; ebk. ISBN 9781982120955. CD. BIOGRAPHY
Offered exclusive access by James A. Baker himself, Peter Baker, Chief White House correspondent at the New York Times, and Glasser, the Washington columnist at The New Yorker, profile The Man Who Ran Washington as White House chief of staff, secretary of state, and all-round Republican powerhouse. From a senior reporter at HuffPost whose beat includes Congress, the White House, and economic policy, Carter's The Price of Peace examines John Maynard Keynes not only as visionary economist but moral philosopher, political theorist, and committed anti-authoritarian thinker with multitudinous interesting friends (e.g., Virginia Woolf) featured here and a commitment to art as one way to challenge social ills. Salter, who served on the staff of the late Sen. John McCain for 18 years and wrote all of McCain's seven books with him, ranges across the high points of McCain's life in The Luckiest Man while offering deep-seated remembrance (200,000-copy first printing).