This month's batch of current-interest titles don't just consider where we are now but look to the future, recommending political action (Eitan Hersh's Politics Is for Power), considering how tomorrow's economies may resemble today's outlier models (Richard Davies's Extreme Economies), explaining how we can feed nine billion people by mid-century (Caleb Harper's The Future of Food), and showing how fast technology is evolving (Peter H. Diamandis & Steven Kotler 's The Future Is Faster Than You Think).
Barr, John & Dan Murphy. Start by Believing: Larry Nassar's Crimes, the Institutions That Enabled Him, and the Brave Women Who Stopped a Monster. Hachette. Jan. 2020. 320p. ISBN 9780316532150. $28; ebk. ISBN 9780316532136. lib. ebk. ISBN 9780316532143. Downloadable. SPORTS/SEXUAL HARASSMENT
Part of the ESPN team that won a Peabody for its coverage of osteopathic physician Larry Nassar's serial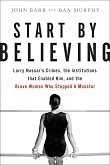 abuse of girls and young women as the USA Gymnastics national team doctor, Barr and Murphy investigate not just Nassar but those around him both at his university and in youth athletics who enabled his heinous behavior for the sake of winning. And they celebrate the women who finally spoke up. With a 75,000-copy first printing.
Davies, Richard. Extreme Economies: What Life at the World's Margins Can Teach Us About Our Own Future. Farrar. Jan. 2020. 432p. ISBN 9781250170484. $28; ebk. ISBN 9781250170507. BUSINESS & ECONOMICS
How will economies work in the future? According to Davies, former economics editor of the Economist, we need to look at current outlier practices like a day-care center for the elderly modeled after a casino, residents of the world's poorest cities buying clean water in plastic bags, inmates purchasing drugs with prepaid cards, and more to understand tomorrow's best practices today.
Diamandis, Peter H. & Steven Kotler. The Future Is Faster Than You Think: How Converging Technologies Are Disrupting Business, Industries, and Our Lives. S. & S. Jan. 2020. 256p. ISBN 9781982109660. $28; ebk. ISBN 9781982109684. CD. BUSINESS & ECONOMICS
Having contemplated global issues like poverty and hunger in Abundance and the starburst of
entrepreneurs facilitated by technology in Bold, these New York Times best-selling authors now look at technology itself—from AI, robotics, and virtual reality to blockchain and global gigabit networks—is rapidly changing our world. With a 100,000-copy first printing.
Gordon, Ed. Conversations in Black: On Power, Politics, and Leadership. Hachette. Jan. 2020. 240p. ISBN 9780316532860. $25; ebk. ISBN 9780316533058. lib. ebk. ISBN 9780316535656. Downloadable. SOCIAL SCIENCE/DISCRIMINATION & RACE RELATIONS
Journalist and TV/radio personality Gordon draws on conversations with Maxine Waters, Joy Ann Reid, Ben Crump, and others to consider how black America is faring today. Issues range from gains and losses in black inclusion, dealing with white nationalism, and navigating the Far Right's takeover of free speech to surviving current immigration tactics and considering blackness in today's pop culture. With a 50,000-copy first printing.
Harper, Caleb. The Future of Food: How Digital Technology Is Changing the Way We Feed the World. Atria. Jan. 2020. 352p. ISBN 9781501158841. $28.99; ebk. ISBN 9781501158865. LIFE SCIENCES
Burdened with problems from climate change to pollution to shrinking water supplies, the world's food system is collapsing, even as we face the need to feed nine billion people by mid-century. Harper, who directs the Open Agriculture Initiative at MIT's Media Lab, was inspired by a visit to post-Fukushima Japan to start growing lettuce in Dixie cups, which led to a whole digital technology regarding consumables that aims to revolutionize our world. He's already sharing his ideas with school children and scientists worldwide. With a 150,000-copy first printing.
Hennessey, Susan & Benjamin Wittes. Unmaking the Presidency: Donald Trump's War on the World's Most Powerful Office. Farrar. Jan. 2020. 432p. ISBN 9780374175368. $28; ebk. ISBN 9780374718411. POLITICAL SCIENCE
Executive editor and editor in chief, respectively, of Lawfare, and both senior fellows at the Brookings Institution, the authors chronicle how Trump has changed our expectations of what the presidency means and our sense of the office itself. Are there historical antecedents for Trump? Has he built on the faux pas of past presidents, or is he unique in the historiography of the presidency? Think about it.
Hersh, Eitan. Politics Is for Power: How To Move Beyond Political Hobbyism, Take Action, and Make Real Change. Scribner. Jan. 2020. 288p. ISBN 9781982116781. $27; ebk. ISBN 9781982116804. POLITICAL SCIENCE
Associate professor of political science at Tufts, Hersh provides a guide to getting politically involved in a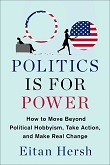 meaningful way—something we are seeing more of these days, from Karine Jean-Pierre's Moving Forward: A Story of Hope, Hard Work, and the Promise of America to Leah Greenberg and Ezra Levin's We Are Indivisible: A Blueprint for Democracy After Trump, both actionable plans coming this fall. Here, Hersh critiques the well intentioned who might sign the occasional petition or attend the occasional rally, arguing that we need to take the time to build effective political organizations for our towns, states, and country. With a 60,000-copy first printing.
Lichtman, Allan. Repeal the Second Amendment: The Case for a Safer America. St. Martin's. Jan. 2020. 288p. ISBN 9781250244406. $25.99; ebk. ISBN 9781250244413. POLITICAL SCIENCE
Distinguished Professor of History at American University in Washington, DC, and a finalist for the National Book Critics Circle Award in nonfiction and the Los Angeles Times Book Prize in History, Lichtman relies on history, legal theory, and up-to-the-minute data to argue for a repeal of the Second Amendment as the only means of effecting gun control in the United States. Watch those feathers fly.