Click here for additional new Prepub Alert columns
Binet, Laurent. Civilizations. Farrar. Sept. 2021. 320p. tr. from French by Sam Taylor. ISBN 9780374600815. $27. LITERARY
Author of the internationally best-selling HHhH, a Prix Goncourt winner for first novel and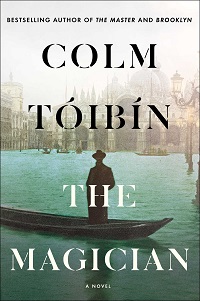 a National Book Critics Circle finalist, Binet writes fiction that defines the concept "absorbing novel of ideas." (See Binet's LJ-starred second novel, The Seventh Function of Language, for another example.) Here he offers alternative history, with Christopher Columbus and his crew captured by the Incas. Three decades later, the Inca emperor heads to Europe in Columbus's ships and discovers a continent rent by religious and political conflict, with the population ready to rebel. Will the Incas (with their Aztec allies) end up as Europe's rulers? And what does that say about colonization and the human need to preside over others? Allez, Binet!
Boyle, T.C. Talk to Me. Ecco. Sept. 2021. 272p. ISBN 9780063052857. $27.99. LITERARY
When Aimee Villard sees animal behaviorist Guy Schermerhorn on television, conversing in sign language with a chimp named Sam, she immediately applies to become his assistant. (Conveniently, he teaches at the university she attends.) This meeting of both mind and body soon expands to become a love triangle with Sam, which raises some important questions. Could humans actively converse with other species? Do animals have souls? What does it mean to be human? Just the kind of questions you would expect from the prolific, award-winning Boyle; with a 50,000-copy first printing.
Itami, Emily. Fault Lines. Custom House: Morrow. Sept. 2021. 224p. ISBN 9780063099807. $27.99. lrg. prnt. LITERARY
Mizuki should be happy with her industrious husband, two cute children, and enviable Tokyo apartment, but sometimes she's so disenchanted that she'd rather be dead. Then she meets charming restauranteur Kiyoshi, which opens her to a whole new view of life. Now she gets to choose which life she really wants. A debut with lots of in-house love; a 100,000-copy first printing.
Kasulke, Calvin. Several People Are Typing. Doubleday. Sept. 2021. 256p. ISBN 9780385547222. $23. LITERARY
A mid-level employee at a New York–based public relations firm, Gerald has a problem: he's been uploaded into his company's internal Slack channels and can't get out. (Where's his body?) His coworkers think he's faking it to take advantage of the company's relaxed work-at-home policy, but a desperate Gerald begs close colleague Pradeep for help while finding that Slack's AI assistant, Slackbot, is also eager to befriend him. But why? A timely debut, especially for those working from home during the pandemic—and after.
Lish, Atticus. The War for Gloria. Knopf. Sept. 2021. 464p. ISBN 9781524732325. $28. lrg. prnt. LITERARY
When 15-year-old Corey Goltz's mother, Gloria, is diagnosed with amyotrophic lateral sclerosis, his estranged and monstrous father reappears, and Corey is determined to fight for his mother's life as he uncovers what his father has done to their family and the violence that lies beneath. Set in early 2000s small-town Massachusetts; from the Pen/Faulkner Award winner of Preparation for the Next Life.
Nealon, Louise. Snowflake. Harper. Sept. 2021. 256p. ISBN 9780063073937. $26.99. LITERARY
Raised on an Irish dairy farm by a mother who denies knowing who her father is and sometimes takes to her bed with strange dreams,18-year-old Debbie has started commuting to Dublin for classes at Trinity College. She finds college life in the big city both daunting and hopeful, but just as the future starts looking bright, a family tragedy and Debbie's own recurring dreams upset everything. Winner of the Seán Ó Faoláin International Short Story Competition, debuter Nealon joins the likes of Eimear McBride and Sally Rooney (previewed below) as notable young Irish authors; with a 30,000-copy first printing.
Ozeki, Ruth. The Book of Form and Emptiness. Viking. Sept. 2021. 512p. ISBN 9780399563645. $30. LITERARY
In this original and lusciously book-loving new novel, Booker Prize finalist Ozeki introduces 14-year-old Benny, who starts hearing voices after his musician father dies. Emanating from a sneaker or a sad-sack leaf of lettuce, these voices can be friendly or ominous, and they are getting louder and starting to follow him everywhere. So he goes to the library, where the surrounding objects show some respect and speak quietly. There he befriends a street artist and drifting philosopher-poet and finds his very own Book, which tells him the story of his life.
Powers, Richard. Bewilderment. Farrar. Sept. 2021. 304p. ISBN 9780393881141. $27.95. LITERARY
After the death of his wife, astrobiologist Theo Byrne struggles to raise seesawing nine-year-old son Robin, who thoughtfully paints picture of endangered species but recently clobbered a friend in the face and may be expelled from school. Theo wants to avoid putting Robin on psychoactive drugs, instead pursuing an experimental neurofeedback treatment involving use of the recorded patterns of his mother's brain. Pulitzer Prize winner Powers again considers our place in this imperiled world, addressing how we help our children.
Ritter, Josh. The Great Glorious Goddamn of It All. Hanover Square: Harlequin. Sept. 2021. 304p. ISBN 9781335522535. $27.99. LITERARY
On his deathbed, Weldon Applegate recalls working as lumberjack in the timber town of Cordelia, ID, where his family is legendary. Amid avalanches, bootlegging, and bloody violence, Weldon fights to keep his father's inherited timber claim from a greedy competitor—all to the accompaniment of the saloon tunes one might expect singer/songwriter Ritter to conjure. Billed as literary, this paean to the last days of the lumberjacks is great for historical fiction readers of all stripes; with a 75,000-copy first printing.
Rooney, Sally. Beautiful World, Where Are You. Farrar. Sept. 2021. 240p. ISBN 9780374602604. $28. CD. LITERARY
Even as novelist Alice asks warehouse employee Felix to travel with her to Rome, her best friend, Eileen, seeks to survive a bad breakup by renewing her flirtation with childhood friend Simon. Four young people verging on the next, chancier stage of their lives—here's territory that the Costa Novel Award–winning author of Normal People should do brilliantly, which explains the 500,000-copy first printing.
Snicket, Lemony. Poison for Breakfast. Liveright: Norton. Aug. 2021. 176p. ISBN 9781324090625. $17.95. YA FICTION
BISACed as YA but billed as a feast (so to speak) for all ages, this stand-alone romp begins with the protagonist (the author himself?) receiving a note that says, "You had poison for breakfast." Trying to solve the mystery of who wants to kill him, he winds his way through life's pleasures and complications and important issues like how to cook eggs. Pubbing August 31.
Stefánsson, Jón Kalman. Summer Light, and Then Comes the Night. HarperVia. Sept. 2021. 320p. ISBN 9780063136472. $26.99. LITERARY
In this international best seller, winner of the Icelandic Literature Prize, the inevitable human dance between what we want and what we can have unfolds during the endless summer days and glittering winter nights of a village numbering 400 residents. No wonder Stefánsson has been called an "Icelandic Dickens" (Irish Examiner); with a 25,000-copy first printing.
Swamy, Shruti. The Archer. Algonquin. Sept. 2021. 304p. ISBN 9781616209902. $25.95. LITERARY
In 1960s Bombay, motherless Vidya is focused on serving the needs of her family, but her world opens like a flower when she spots some students learning Kathak, a gorgeous if rigorous form of dance to which she commits herself. Her practice of Kathak guides her through college, romance, and the many challenge of adulthood. A debut novel from the author of A House Is a Body: Stories, which was short-listed for the PEN/Robert W. Bingham Prize and the Los Angeles Times Art Seidenbaum Award for First Fiction; with a 50,000-copy first printing and an eight-city virtual tour.
Tóibín, Colm. The Magician. Scribner. Sept. 2021. 320p. ISBN 9781476785080. $28. CD. LITERARY
If it takes a great author to write about a great author, we're all set with Costa Novel Award–winning, Booker Prize short-listed Tóibín's reimagining of Nobel Prize winner Thomas Mann. Tóibín moves from Mann's conflicted childhood and marriage into a Jewish family to his fateful encounter with a beautiful boy on a Venice beach and flight to America with the rise of Nazism. With a 175,000-copy first printing and a 10-city virtual or in-person tour.
Whittal, Zoe. The Spectacular. Ballantine. Sept. 2021. 384p. ISBN 9781524799410. $28. LITERARY
The Scotiabank Giller Prize short-listed and Lambda Award–winning Whittal ( The Best Kind of People) enfolds three generations of hard-headed, independent women in a 1997-set narrative centered on 22-year-old Missy, the only female member of her touring band. Missy sings nightly about her long-gone mother, Carola, who is taken aback when she spots her grown daughter on the cover of a music magazine. Meanwhile, Missy's 83-year-old grandmother, Ruth, ends up welcoming Missy into her home after a mishap—not that things go smoothly.
Williams, Joy. Harrow. Knopf. Sept. 2021. 224p. ISBN 9780525657569. $26. LITERARY
With her mother missing and her boarding school for gifted teens shuttered, teenage Khristen wanders an environmentally wrecked world until she ends up at a resort of sorts on the edge of a dead lake. There she meets the elderly residents—a "baggy seditious lot, in the worst of health" but bravely deteremined to wreak vengeance on those who have despoiled Earth's beauty. From Pulitzer Prize finalist Williams.
Click here for additional new Prepub Alert columns