Early fall chills for a variety of readers.
Click here for additional new Prepub Alert columns
Benn, James R. Road of Bones. Soho Crime. (Billy Boyle World War II Mystery). Sept. 2021. NAp. ISBN 9781641292009. $27.95. MYSTERY
Camilleri, Andrea. Riccardino. Penguin. (An Inspector Montalbano Mystery). Sept. 2021.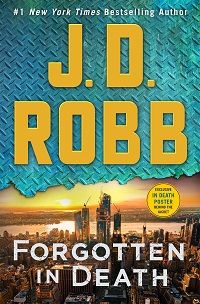 272p. tr. from Italian by Stephen Sartarelli. ISBN 9780143136798. pap. $17. MYSTERY
Hambly, Barbara. Scandal in Babylon. Severn House. Sept. 2021. 240p. ISBN 9780727890382. $28.99. MYSTERY
Kope, Spencer. Echoes of the Dead: A Special Tracking Unit Novel. (Special Tracking Unit, Bk. 4). Minotaur: St. Martin's. Sept. 2021. Sept. 2021. 304p. ISBN 9781250179401. $28.99. MYSTERY
Mayor, Archer. Marked Man: A Joe Gunther Novel. (Joe Gunther, Bk. 32). Minotaur: St. Martin's. Sept. 2021. 304p. ISBN 9781250224163. $28.99. MYSTERY
Neville, Stuart. The House of Ashes. Soho Crime. Sept. 2021. 304p. ISBN 9781616957414. $27.95. MYSTERY
Perry, Anne. A Darker Reality: An Elena Standish Novel. Ballantine. Sept. 2021. 320p. ISBN 9780593159361. $28. MYSTERY
Robb, J.D. Forgotten in Death: An Eve Dallas Novel. St. Martin's. (In Death, 53). Sept. 2021. 384p. ISBN 9781250272812. $28.99. CD. MYSTERY
Stewart, Amy. Miss Kopp Investigates. Houghton Harcourt. Sept. 2021. 304p. ISBN 9780358093091. $26; pap. Mariner. ISBN 9780358093114. $15.99. MYSTERY
In Road of Bones, next in Barry/Macavity nominee Benn's World War II–set series, American Billy Boyle and the Soviet agent with whom he's partnered are aided by a group of tough young Soviet women pilots when investigating the murder of two intelligence agents, one American and one Soviet. In this wrap-up to Camilleri's best-selling "Inspector Montalbano" series, a man named Riccardino dials the wrong number, reaching the inspector, then later ends up murdered. From Hambly, it's the Scandal in Babylon! Movie star Kitty Flint is accused of murder in 1924 Hollywood, and assistant Emma Blackstone is determined to clear her name. From Barry Award finalist Kope, Echoes of the Dead brings back Magnus "Steps" Craig as part of the FBI's elite three-man Special Tracking Unit, using his "shine"—that is, his ability to intuit people's essence from what they have touched—to help track four missing men in the Sierra Nevada (35,000-copy first printing). Head of the Vermont Bureau of Investigation, Mayor's longtime hero Joe Gunther discovers that deceased philanthropist/millionaire Nathan Lyon was actually a Marked Man, rolling in dough from the Mafia, and didn't die a natural death; now family members are starting to meet his fate (35,000-copy first printing). In The House of Ashes, from Los Angeles Times Book Prize winner and multi-short-listed Neville, Sara Keane feels isolated after her husband moves them from England to his native Northern Ireland in the wake of her breakdown, then learns that the house they're living in has a bad and bloody history. In Perry's A Darker Reality, MI6-linked American photographer Elena Standish has returned from pre–World War II Europe to Washington, DC, for her parents' anniversary celebration, but when British spy Lila Worth is killed as she arrives at the event, Elena checks out Lila's caseload and begins suspecting her grandfather of nefarious secrets. In a futuristic New York, Robb's famous homicide detective Eve Dallas wants to make sure that two women—a murdered street dweller who sold paper flowers and chatted up the police and a beautifully dressed corpse that's decades old—are not Forgotten in Death (750,000-copy first printing). In Stewart's Miss Kopp Investigates, the Kopp sisters are back in America at the close of World War I, with Fleurette working what her family sees as the rather disreputable job of posing as "the other woman" in divorce cases when she stumbles upon a serious crime (25,000-copy hardcover and 3,000-copy paperback first printing).
Click here for additional new Prepub Alert columns