Anderson, T.J., III. Devonte Travels the Sorry Route. Omnidawn. Apr. 2019. 88p. ISBN 9781632430670. pap. $17.95. POETRY
Wandering through time—and through fractured lines spilling down the page in tightly packed, gem-brilliant language—protean, wide-open Devonte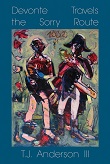 travels the "sorry route" of the eponymous Brian Counihan painting on the book's cover, showing a tricorn-hatted soldier and an African man in chains. Devonte is many things—he's "the kind of brother/ who'd give you the spirit/ off his back," "a foot soldier./ Hep to the old one two/ brogan banged pavement," "a hoofer,/ the wolf calling cadence," someone found in "a parlor (a paradox)/ a paramour a pompadour" and "poised to hear/ his heart's jazz," and " a crack Casanova,// [who] …regards the flame in his hand// primes his throat,// walks the accusatory road." The result is a visceral encapsulation of the black experience throughout history—and how that experience reverberates through all history—and an extraordinary character to meet. VERDICT Winner of Omnidawn's Open Book Poetry Prize, this book will take a moment for the uninitiated, but Anderson really does have a flame in his hand. A strong addition to poetry collections.
Davis, Geffrey. Night Angler. BOA. Apr. 2019. 112p. ISBN 9781942683780. pap. $17; ebk. ISBN 9781942683797. POETRY
Contemporary poetry has its say about family, often ragingly, sometimes with finicky sentimentality, but this James Laughlin Award winner offers a more nuanced and thus gutsier take. Family simultaneously means love and hurt, joy and worry, and in the first few poems here we encounter both "rogue tenderness" and "rankled tenderness" as an apt summation of that fact. "You see the risk/ in proximity, in life stretched by loving," says the speaker, who in one poem envisions burying his father in increasingly deeper holes yet ends by saying "I imagine he needs real rest." Davis is especially good at capturing the anguished luminescence that comes with having children; of a botched first nail clipping, he says "I discovered a sudden/ window for my waiting,// for cleaving prayers." Water and particularly fishing imagery flow throughout, particularly effective in "Self-Portrait with Headwaters," which opens, "My father failed to let our family eat and yet, for years, remained beautiful and resilient to me," then quickly acknowledges, "I fear and feign what's spring-fed about hunger" and further "Like Carbon Glacier, sometimes what sustains us look more dingy than dangerous up close." VERDICT A strong second work after Revising the Storm that will resonate with any reader interested in the ties that lovingly bind.
Dickman, Michael. Days & Days: Poems. Knopf. Mar. 2019. 136p. ISBN 9780525655473. $27; ebk. ISBN 9780525655480. POETRY
In these mordantly witty snapshot observations of life in 21st-century America, James Laughlin Award winner Dickman (Flies, Green Migraine) takes us mostly to suburban backyards, where butterflies "stay above the day in a scrum," kind dogs "hunt balls to death," flowers seem crafted by Lorca or Duchamp, and denizens are in danger of "exhal[ing] Windex between a windowsill and a hummingbird." But an undercurrent of anxiety runs throughout. The speaker mechanically envisions, "Every ten feet opposite the new boulevard inside my tree-lined mind an/ automatic sprinkler," and though he concludes that it will be a beautiful day, it's with an air of desperation; elsewhere, he says, "Alive all the time// I think I'm going to be sick" and exhorts himself "If you're so terrified of everything why don't you stay inside?" Maybe a flash of pink isn't a rose but a Bic lighter, yet in the concluding 80-page poem, "Lakes Rivers Streams," nature seems to swirl back relentlessly to claim its place, and the whole world overflows with absurdist nonconnections. Well, that's modern life. VERDICT Powerful, unsettling reading, especially for poetry pros.
Dower, Kim. Sunbathing on Tyrone Power's Grave. Red Hen. Apr. 2019. 104p. ISBN 9781597096218. pap. $16.95. POETRY
In her trademark deceptively offhand language, Dower (Last Train to the Missing Planet) shows how dark moments are enfolded in the everyday—and, in her spirited way, how we keep going. The opening poem addresses death ("I did not mean to write about death,/ but rather how when something dies/ we remember who we love"), and death resurfaces throughout, along with sorrow ("row until your arms/ feel as heavy as your heart") and a certain wistfulness ("you don't want to commit/ to writing that which you'll spend a lifetime/ pretending never happened"). Even a gentler, homier middle section, "Naming the Puppy," includes the poem "Love Hurts." But in the background there's a sense of life's nuttiness—kitchen appliances make music, a woman on the bank line looks like she "knows what to put between two crackers"—and a parallel grappling with it all. Of a crib left by the roadside perhaps as a robber's ploy to attract the unwary, the speaker says she would still stop, as "this/ is something I could have done, not for myself/ but for a stranger, something that would matter,/ like the moon matters to the night traveler." Says the title poem, among several effective pieces evoking the past, "Maybe after my father's third, final heart attack/ there was a moment he remembered only the good things." VERDICT Mellow, thoughtful work for a range of readers.
Knox, Caroline. Hear Trains. Wave. May. 2019. 80p. ISBN 9781940696805. $25. POETRY
The multi-award-winning Knox, best recommended for her works Quaker Guns and To Drink Boiled Snow, may here carefully observe a pomander of orange and clove, a low-salt ocean current, or a newly renovated ranch house. But her real subject is language, and she uses her gently carried erudition to show how we weave our way through the world. The clove's scientific name is as tongue-twisty as the bud itself, the Atlantic Meridional Overturning Circulation (AMOC) recalls a global warming–transfigured world run amok, and that ranch house brings forth observations about castellation and crenellation before moving on to the pleasures of collecting useless facts. Elsewhere, speaking in the amphitheater at Ephesus brings forth the idea of code switching (a linguistic sleight-of-hand) and the "fakelore" dominating America's sense of history, while other poems build effectively on a comma splice and a richly imagined genealogy (for "who") to show what words can do. VERDICT There's keen intelligence and a light wit that will entertain serious poetry readers.
Kusnetz, Ilyse. Angel Bones. Alice James. May 2019. 100p. ISBN 9781948579001. pap. $15.95. POETRY
In a limpid posthumous collection written while she was dying from cancer, T.S. Eliot Prize winner Kusnetz is at once regretful, angry, hyperattentive to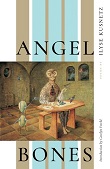 the world she's losing, and wise in reminding us that "sorrow lives like a seed/ inside beauty." She opens by musing, "Maybe the universe wants to spare me the apocalypse,/ maybe it wants me to counsel the dead," and she also reminds the living that their turn is next. But even as she mourns the world's wrongs she now cannot right and "the weight of life/ that's come to nothing, arrived nowhere," she maintains an observant eye on the deceptive calm of the sea, the bird's nest outside her window, as "the world, half a world away, burned." Just as readily, she deftly renders her disorientation after chemotherapy: "I am/ what was I/ talking about/ something with leaves." Yes, she is decaying like the tulips that once glowed like Provence but now recall "spidery Mrs. Haversham's/ jilted wedding dress." But in the end, she wants to hold strongly to love, its very rough-skinned physicality, and in the title poem—her penultimate here—she remains defiant: "even angels in cages are magnificent. …My wings still work." VERDICT A beautifully rendered meditation on living while dying; not just for poetry fans.
McCarthy, John. Scared Violent Like Horses. Milkweek. Mar. 2019. 104p. ISBN 9781571315076. pap. $16. POETRY
"I was a lost boy with a quiet ache" begins this Jake Adam York Prize–winning second collection (after Ghost Country), and the last poem opens that way, too. In between are unsettling scenes of a mournful coming of age amid rural poverty and lives that are worn out, rung out, lived out, and not going anywhere; of an abusive father and a fading mother who "moves through the house// like a dial tone"; of a world ringed by "broken lightbulbs and brown leaves and dirty snow," "a parking lot full of rust-blue school buses," and "weed-thick and gravel-loose ditches." When a childhood prank involving a sacred statue goes seriously wrong, the boy says, "my fingers became piano keys and the sad music I made/ couldn't put her body back together," while clumsy new love leads him to conclude "We were too young to be alone. Here were our bodies anyway." In the end, though, he's tough enough to conclude he's got "all the permission I need to make it through another night leaving." VERDICT In unshowy, plaintive, quietly delivered language that should not be mistaken for affectless—and that can be stabbed through with surprisingly piercing metaphor—McCarthy vivifies a place and hard way of life too little visited.
Robin, Valencia. Ridiculous Light: Poems. Persea. Apr. 2019. 64p. ISBN 9780892554966. pap. $15.95. POETRY
There are sure signs of pain in this meditative, acutely felt collection, winner of the Lexi Rudnitsky First Book Prize in Poetry: a father who "isn't a father but an absence," a mother "in all her armor" who had "no idea how she could be the bad guy," how "just hearing the word [Mississippi]/ is still scary," what it's like to be "flying across the Atlantic over the bones of God know how many Africans." Yet the collection as a whole is infused with such hard-earned radiance, such affirmative hunger for—and arrival at—the title's "ridiculous light" that one wants to embrace poet/artist Robin. There's a celebration throughout of key moments: "I was there the day black stopped/ being the worst thing you could call somebody," she says of hearing James Brown's affirmative "Say it loud! I'm black and I'm proud" in 1968; "we marched up and down the street/ singing ourselves into brand new people." Elsewhere, she highlights the connection she makes with a Brazilian at her rooming house near Paris, the "specter and marrow" flooding through her, and "the right man opening/ a jar and handing it back to you, smiling." VERDICT A vibrant first collection that wants us to take nothing for granted.
Rollins, Alison C. Library of Small Catastrophes. Copper Canyon. Apr.2019. 94p. ISBN 9781556595394. pap. $16. POETRY
As a librarian, Rollins has a keen archival sense of how recording and understanding the past helps us negotiate the present ("I am writing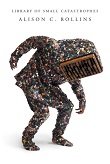 now/ a history of snow, of everything/ that has been and will be thought") and of how our use of language controls outcomes ("the classification of the terror determines whether looting or/ foraging/ has taken place." In fact, there's a lot we can't control ("This belly not permitted// to raise a question"); tracks are laid down and lessons given not just by history and bald fact but class, gender, and skin color ("a brown woman can still get killed for saying no"). Yet in this debut collection, Rollins is not darkly resigned but throws herself into the fray with a sort of infectious relish. At one point, she says "this is how i was taught/ that at my very core, i am/ ungrateful// maybe this is how I end up/ throwing good things away." Elsewhere, visiting her hometown's inner-city schools, she hears children shouting, "the library lady is here!" and adds "a sheep in wolf's clothing is at the fork" of that ever-diverging road in a wood. VERDICT Much-welcomed newcomer Rollins offers sharp insights that librarians and their readers will appreciate.
Scenters-Zapico, Natalie. Lima :: Limón. Copper Canyon. May 2019. 80p. ISBN 9781556595318. pap. $16. POETRY
This blistering second collection from PEN America/Joyce Osterweil Award winner Scenters-Zapico (The Verging Cities) takes its title from a poem by Conchita Piquer declaring "from the lemon to the lime,/ you will end up single"—a tragic fate for a woman. Yet what an awful fate to be linked to a macho, who will beat you and call you ungrateful and your body nauseating, expect your worship and possibly kill you. "Anger is the emotion of men, by adding sugar, lime & salt, you can turn/ anger into sadness like a good woman should," explains one poem, and here we see that men everywhere let their hands crawl like spiders up your skirt or "won't let women// speak," depending on the desert to shroud their deaths or leaving then with the puta [whore]/ "written in blood across their broken bodies." Maybe there's a little fight in the speaker—"I am a woman who know how to turn her beauty on & off"—but mostly, she says, "I've stopped asking:/ why?" You'll always be a puta. VERDICT A powerful message, powerfully delivered, that never dulls but remains high-octane, angry and engaged throughout; good work for most collections.
Shaughnessy, Brenda. The Octopus Museum. Knopf. Mar. 2019. 96p. ISBN 9780525655657. $25; ebk. ISBN 978052565566. POETRY
In a heightened conversational tone, utterly accessible yet with an urgent punch-punch of ideas so swift and rich as to make multiple readings a

necessary pleasure, this new collection from James Laughlin winner and multi-award-nominated Shaughnessy (Our Andromeda) investigates identity, human hunger for what we maybe can't have, and how we see and feel the world differently, perhaps more authoritatively, when we have children. "What she wants is impossible in our world" says one poem of that linchpin daughter, as the poet reminds us how we live with so many assumptions and use language to hide from the actual rough rub of life ("of course the school had to make it sound fun for kids to be left/ all day"). A key poem limns life "before" children while also registering, more largely, the violence humans have always visited upon others, particularly women and children. Then there are the shells we've grown in denial as adaptable COOPS (Cephalo-Octopodal Oceanostomy Pods) take over in one of the book's marine-themed moment. It's phantasmagorical if all too real, for as the poet notes, "An artist takes utilitarian materials and diverts that use to mystery." VERDICT Highly recommended reading from one of our most durable poets.
Shiferraw, Mahtem. Your Body Is War. Univ. of Nebraska. Mar. 2019. (African Poetry). 90p. ISBN 9781496214133. pap. $17.95. POETRY
From Ethiopia and Eritrea, poet/artist Shiferraw (Fuschia) now divides her time between Los Angeles and Addis Ababa and writes acutely of the immigrant experience, the oppression of women, and the body as battleground in all human conflict. With its very title, "Swallowing Suns," the opening poem expresses the burn-through-your-body-and-soul anguish of "find[ing] yourself in the land of strangers,/ the land of immigrants, where people like you/ forget where they came from,// because they must, because assimilation is a sin/ rewarded here," and throughout she wrestles with identity, with the need to bend and twist oneself out of proportion simply to survive. It's a lesson those who haven't had to assimilate feel in their bones as they read. Elsewhere, Shiferraw communicates the burden of being "taught/ to be afraid of men" and of having a protector/suppressor father who finally cramps the family into "a half-built madhouse/ in the middle of nowhere." Throughout, images of strong wood and fluttering ash abound, representing the polar opposites of durable spirit and forcible destruction that have shaped her life and the lives of others like her. VERDICT This is fierce, dark, angry poetry that's also sheerly beautiful craft. There's a reason this book made Okayafrica's 2016 Year-End Book List.
Skaja, Emily. Brute. Graywolf. Apr. 2019. 72p. ISBN 9781555978358. pap. $16; ebk. ISBN 9781555978839. POETRY
In her debut collection, a Walt Whitman Award winner, Skaja offers a headlong, visceral, bone-crunchingly desperate account of trying to leave an abusive relationship. Here we are introduced immedaitely to the title's "brute," a word that appears frequently throughout as an adjective as well as a noun. The speaker moves by section from "My History As"—the naked basics of "liv[ing] with a man who said// You

fucked up your own life, who said/ I could never love someone so heavy"—and the quashed "Girl Saints" childhood that taught her to devalue herself to "Circle," as she keeps chewing the ragged bone of this relationship ("I'm inventing a way/ to speak to you,/ To explain// the way it felt—") and finally "Bright Landscape"—a hoping-against-hope setting where "We're almost a whole shadow now from far away." But she seesaws throughout, sometimes triumphant ("you missed my victory scene. I wore blue lace/ & wolf spit")—more often struggling ("A relationship doesn't end with one person running"). VERDICT Tame readers might be overwhelmed, but this emotionally no-holds-barred collection is a grabber.
Young, Stephanie. Pet Sounds. Nightboat. Apr. 2019. 96p. ISBN 9781937658946. pap. $15.95. POETRY
In edgily insouciant, entertainingly in-you-face language, the Oakland-based Young (Telling the Future Off) explores how we manage our way through everyday life, work, and love (or whatever) in a rocky new world. Shifting interpersonal relationships vie for attention with economic repression as the speaker says, "I suck you off at a public park/ against a backdrop of container ships// you drip from head to foot with debt, I'm covered with/ food stamps, worker's comp." As she walks her way through aimless jobs and job hunting, being alternately catcalled a slut and a prude, credit card hassles, animals rights issues, musical critique, and slowly crystallizing human bonds, the speaker bucks cultural demands and finds, "I had lost the path/ when I lost the straight and narrow waist// when halfway through I found I had vanished/ I had been lost to view." Graciously, she doesn't trick us with an I-figured-it-out ending; she's a work-in-progress through and through, though the last line does say of one conundrum, "I'm learning to tell the difference." VERDICT The occasional obvious step, but this is engaged and engaging reading for all readers, especially the sociopolitically thoughtful.
Zhadan, Serhiy. What We Live For, What We Die For: Selected Poems. Yale Univ. (Margellos World Republic of Letters). Apr. 2019. 160p. tr. from Ukrainian by Virlana Tkacz & Wanda Phipps. ISBN 978030022336. pap. $18. POETRY
Winner of multiple awards, including the Angelus Central European Literature Award for his excellent Mesopotamia, and an activist invested in Ukraine's self-determination from many angles (he writes fiction and poetry while also engaging in various multimedia and music projects), Zhadan offers a representative collection that works by portrait or scenario, as his writing often does. Here we meet (among others) a politicized tattoo artist killed at a road block, a lost musician whose old guitar has strings that cut painfully, devout young men imprisoned and tortured ("But there is no painkiller for what hurts them—/ pills for that don't exist"), a woman staring down death as if it were a rhinoceros ("dark folds,/ heavy breathing"), a suicide in a cheap hotel owned by Russians, and an author in a old-age home "writing into the void." The result, as Bob Holman says in the foreword, is "a Canterbury Tales of Ukrainian common people," describing in straightforward, cut-to-the-heart language a life of repression, loss, violence, and despair in the post-Soviet bloodlands. VERDICT Not just for the politically engaged, this collection creates a startling sense of community that can be successfully visited by many readers.