Big-name authors from W. Bruce Cameron to Elin Hilderbrand to Danielle Steel keeps the pop fiction popping in October.
Beckerman, Hannah. If Only I Could Tell You. Morrow. Oct. 2019. 368p. ISBN 9780062952189. $26.99; pap. Morrow Paperbacks. ISBN 9780062890542. $15.99; ebk. ISBN 9780062890559. lrg. prnt. WOMEN'S
British book critic/journalist Beckerman gets her first U.S. publication with the story of estranged sisters Jess and Lily and their distraught mother, Audrey, nearing death and wishing she could bring them—and their daughters—back together. "A very grownup novel, …focus[ing] firmly on platonic familial bonds; … resolutely heartbreaking," says a strong Guardian review. With a 150,000-copy paperback and 25,000-copy hardcover first printing.
Brackston, Paula. Secrets of the Chocolate House. St. Martin's. Oct. 2019. 320p. ISBN 9781250072443. $27.99; ebk. ISBN 9781466884113.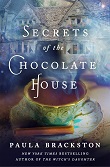 HISTORICAL
In The Little Shop of Found Things, antiques shop owner Xanthe found her way magically to the 1600s by merely touching a silver chatelaine. Now she's back in modern-day Marlborough, but the songs emanating from a copper chocolate pot tell her that the beloved Samuel, whom she left behind as the Enlightenment was dawning, is in grave danger. Travel time!
Cameron, W. Bruce. A Dog's Promise. Forge. Oct. 2019. 384p. ISBN 9781250163516. $26.99; ebk. ISBN 9781250163509. CD. FAMILY LIFE
Remember Bailey, that wanna-hug-him dog whose journey started in A Dog's Purpose (the international hit film) and continued in A Dog's Journey (out as a big new film in May)? Now he's joined by Lola, another special dog who helps him fulfill his promise. From the No. 1 New York Times best-selling author; a national tour plus adopt-a-shelter-dog events.
Dicks, Matthew. Twenty-One Truths About Love. St. Martin's. Oct. 2019. 352p. ISBN 9781250103482. $26.99; ebk. ISBN 9781250103499. FAMILY LIFE
A Moth StorySLAM champion whose Memoirs of an Imaginary Friend was an international best seller, Dicks tells the story of Daniel Mayrock, trying to make a go of the bookstore he just opened while worrying about what he and wife Jill can actually afford. Then Jill gets pregnant. Daniel is so obsessive that he constantly makes lists, the format in which his story is told. With a national tour.
Hilderbrand, Elin. What Happens in Paradise. Little, Brown. Oct. 2019. 272p. ISBN 9780316435574. $28; ebk. ISBN 9780316435567. lib. ebk. ISBN 9780316452915. CD/downloadable. WOMEN'S
In Winter in Paradise, Irene Steel learned that the man she loved, who had just been killed in a plane crash, had been leading a double life on the sunny island of St. John. Here, she's on St. John with her two grown sons, trying to learn about the man they all thought they knew and find ways to answer the question, What happens next? Winter debuted at No. 5 on the New York Times best sellers lists; with a 200,000-copy first printing.
Mallery, Susan. Meant To Be Yours. HQN. Oct. 2019. 352p. ISBN 9781335146373. $27.99; pap. 384p. ISBN 9781335041494. pap. $8.99. ebk. ISBN 9781488054235. ROMANCE
Wedding coordinator Renee Grothen doesn't want marriage for herself, ao she's happy when big-league thriller writer Jasper Dembenski suggests some no-strings-attached fun. Jasper is suffering from writer's block and the feeling that his military experience left him unfit for romantic duty, but soon he sees that this flirtation might lead to something more. With an 800,000-copy paperback and 10,000-copy hardcover first printing; continuing the new series set in n Happily Inc, a California town famed for its wedding tourism.
Macomber, Debbie. A Mrs. Miracle Christmas. Ballantine. Oct. 2019. 288p. ISBN 9780399181399. $20; ebk. ISBN 9780399181405. WOMEN'S
Here's a final Christmas title I've discovered to add to last week's last. As the holidays approach, Laurel McCullough despairs that she and husband Zach will never have the child they've wanted, and she further learns that her beloved grandmother Helen will need a caregiver. Enter Mrs. Miracle, who revives Helen's spirits, and signs hint at the arrival of a special baby. Mrs. Miracle has been doing good at Christmastime since 1996.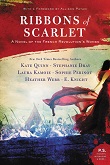 Quinn, Kate & Others. Ribbons of Scarlet: A Novel of the French Revolution's Women. Morrow. Oct. 2019. 560p. ISBN 9780062952196. $26.99; pap. Morrow Paperbacks. ISBN 9780062916075. $16.99; ebk. ISBN 9780062916082. lrg. prnt. HISTORICAL FICTION
This novel featuring the women who played a part in the French Revolution, from idealistic aristocratic Sophie de Grouchy and vengeful fruit-seller Louise Audu to devout Princess Elisabeth and famed toughie Charlotte Corday, is written by a passel of New York Times best-selling and/or award-winning authors of historical women's fiction, including Quinn, Stephanie Dray, Laura Kamoie, Heather Webb, Sophie Perinot, and E. Knight. With a 100,000-copy paperback and 25,000-copy hardcover first printing.
Steel, Danielle. Child's Play. Delacorte. Oct. 2019. 288p. ISBN 9780399179501. $28.99; ebk. ISBN 9780399179518. WOMEN'S
Does Steel have yet another novel out in the fall? You bet! Can I tell you anything about the plot? Nope! From one of our most popular authors, who has sold over 650 million copies of her novels.