Self-help from a woman who has helped the world.
Click here for additional new Prepub Alert columns
Goodall, Jane & Doug Abrams. The Book of Hope: A Survival Guide for Trying Times. Celadon: Macmillan. Oct. 2021. 320p. ISBN 9781250784094. $28. CD. SELF-HELP
At a time of pandemic, political divisiveness, and panic over climate change, is it possible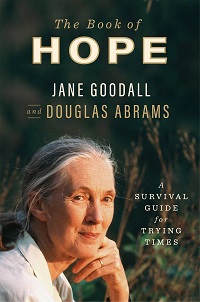 to have hope? World-renowned naturalist Goodall joins with internationally best-selling author Abrams ( The Book of Joy) to argue in the affirmative. Drawing on her work and her life, Goodall enunciates "Four Reasons for Hope": the Amazing Human Intellect, the Resilience of Nature, the Power of Young People, and the Indomitable Human Spirit. Her own story of hope begins in the early years as she lived through World War II, then continues with her years in Gombe studying chimpanzees and the realization that she had to go out into the world as an advocate for environmental justice. With a 300,000-copy first printing.
Click here for additional new Prepub Alert columns