A new book from Sandra M. Gilbert and Susan Gubar, activism from Mansoor Adayfi and Rafia Zakaria, a biography of Elizabeth Barrett Browning, and more.
Click here for additional new Prepub Alert columns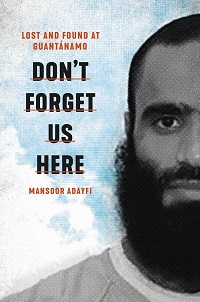 Adayfi, Mansoor. Don't Forget Us Here: Lost and Found at Guantánamo. Hachette. Aug. 2021. 336p. ISBN 9780306923869. $28. MEMOIR
Having left Yemen at age 18 for a cultural mission in Afghanistan, Adayfi was kidnapped, sold to the United States, and held without charges for 14 years at Guantánamo Bay. There he became known as Smiley Troublemaker, asserting himself by leading prison riots and hunger strikes. Now an activist, he won the Richard J. Margolis Award for nonfiction writers of social justice journalism and is currently adapting this memoir for the Sundance Institute.
Davis, Nick. Competing with Idiots: Herman and Joe Mankiewicz, a Dual Portrait. Knopf. Aug. 2021. 416p. ISBN 9781400041831. $32.50. BIOGRAPHY/ARTS
Grandson of distinguished screenwriter Herman Mankiewicz (Monkey Business, Citizen Kane with Orson Welles), director/writer/producer Davis offers a dual biography of Mankiewicz and his brother Joe, the Academy Award–winning writer/director (All About Eve). Lots of illustrations.
Gilbert, Sandra M. & Susan Gubar. Still Mad: American Women Writers and the Feminist Imagination. Norton. Aug. 2021. 416p. ISBN 9780393651713. $27.95. SOCIAL SCIENCE/FEMINISM
Having broken ground in 1979 with the iconic The Madwoman in the Attic, award-winning authors Gilbert and Gubar return to the same fertile territory. Here they track the progress women have made in the intervening decades as they examine authors from Sylvia Plath to Gloria Anzaldúa and thinkers like Susan Sontag, Audre Lorde, and Andrea Dworkin.
Johnson, Lizzie. Paradise: One Town's Struggle To Survive an American Wildfire. Crown. Aug. 2021. 432p. ISBN 9780593136386. $28. SOCIAL SCIENCE/DISASTER
San Francisco Chronicle staffer Johnson has covered 15 of California's most devastating wildfires and 30 communities affected by them. Here she plumbs the Camp Fire, America's deadliest in a century, to show its impact on the town of Paradise. (At least 85 residents died.) She tells some chapters from the fire's perspective and concludes "This is the future of our warming planet."
Lapine, James. Putting It Together: How Stephen Sondheim and I Created "Sunday in the Park with George." Farrar. Aug. 2021. 416p. ISBN 9780374200091. $40. PERFORMING ARTS/BROADWAY MUSICALS
The winner of three Tony Awards, five Drama Desk Awards, and a Pulitzer Prize in Drama, Lapine chronicles his work with Stephen Sondheim to create the immortal Sunday in the Park with George. With a 20,000-copy first printing.
McDermott, Alice. What About the Baby?: Some Thoughts on the Art of Fiction. Farrar. Aug. 2021. 256p. ISBN 9780374130626. $27. LANGUAGE ARTS/WRITING
This volume collects National Book Award winner McDermott's essays and lectures to trace her life as a writer, as summed up by this thought: "Look: Artistic inspiration, religious faith, does not come to most of us with the beating of wings or the leaping of flames or the cinematic, middle-of-the-night aha moment that cuts to an acceptance speech in Stockholm. … It is the work of a lifetime." With a 35,000-copy first printing.
Sampson, Fiona. Two-Way Mirror: The Life of Elizabeth Barrett Browning. Norton. Aug. 2021. 320p. ISBN 9781324002956. $27.95. LITERARY BIOGRAPHY
A T.S. Eliot Prize short-listed poet and professor of poetry at the UK's University of Roehampton, Sampson offers a new take on Elizabeth Barrett Browning. She was not dominated by her father and husband, argues Sampson, but conquered illness, took control of her private income, eloped with Browning, and hugely influenced poets who came after her.
Zakaria, Rafia. Against White Feminism: Notes on Disruption. Norton. Aug. 2021. 224p. ISBN 9781324006619. $23.95. SOCIAL SCIENCE/FEMINISM
Writing from an American Muslim woman's perspective, Zakaria ( The Wife Upstairs) argues that white feminists have relied too heavily on cultural assumptions to create a movement that serves their own interests and individual empowerment. She proposes a more inclusive and transnational approach to the feminist mission.