Atwood, Margaret. Burning Questions: Essays and Occasional Pieces, 2004–2021. Doubleday. Mar. 2022. 528p. ISBN 9780385547482. $30. LITERARY COLLECTIONS
Why do people tell stories? What's true, what's just, and what makes the perfect granola?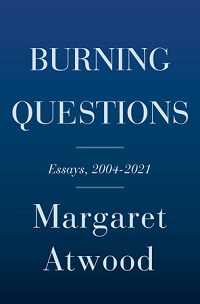 Can we conquer climate change before it conquers us? How much can we give of ourselves before we've given too much? Should we give advice to young people or step back until asked? And what is it about authoritarianism that seems so intimately linked to zombies? These are exactly the sort of sharp, smart, punch-it-to-us questions we expect Atwood to ask in her fiction, and they are exactly the sharp, smart, punch-it-to-us questions she asks in this essay collection, which features pieces selected from published works that bring us right up to the pandemic.