From newcomers Te-Ping Chen and Dantiel W. Moniz to veterans Joyce Carol Oates and Ben Okri.
Chen, Te-Ping. Land of Big Numbers: Stories. Mariner: Houghton Harcourt. Feb. 2021. 256p. ISBN 9780358272557. pap. $15.99. SHORT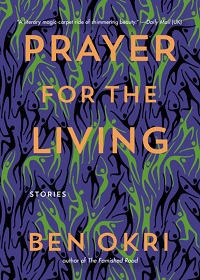 STORIES
Kwon, R.O. & Garth Greenwell, eds. Kink: Stories. S. & S. Feb. 2021. 256p. ISBN 9781982110215. pap. $17. SHORT STORIES
Moniz, Dantiel W. Milk Blood Heat. Grove. Feb. 2021. 208p. ISBN 9780802158154. $25. SHORT STORIES
Oates, Joyce Carol. The (Other) You: Stories. Ecco. Feb. 2021. 304p. ISBN 9780063035201. $26.99. SHORT STORIES
Okri, Ben. Prayer for the Living: Stories. Akashic. Feb. 2021. 216p. ISBN 9781617758638. $22.95. SHORT STORIES
From Chen, a Wall Street Journal correspondent formerly based in Beijing, Land of Big Numbers depicts the Chinese both in and out of China, longing for broader horizons in stories sometimes touched by the surreal. In Kink, John Leonard/Los Angeles Times Book Prize finalist Kwon (The Incendiaries) and British Book Award–winning Greenwell (What Belongs to You) collate stories of outré sex by authors like Alexander Chee, Roxane Gay, and Carmen Maria Machado (50,000-copy first printing). Already a multi-award winner, Moniz debuts with Milk Blood Heat, which examines race, womanhood, human connection, and our inherent darkness in stories that have Florida settings. The protean, mega-award-winning Oates limns characters boldly considering how their lives might have turned out differently in The (Other) You. In Prayer for the Living, Nigerian-born, British-based Booker Prize winner Okri ranges worldwide in stories that test the boundaries of reality.