From Lee Child/Andrew Child to Viet Thanh Nguyen, essential fiction for October.
Alam, Rumaan. Leave the World Behind. Ecco. Oct. 2020. 320p. ISBN 9780062667632. $27.99. lrg. prnt. LITERARY
Author of the popular novels Rich and Pretty and That Kind of Mother, Alam returns with an edgy work about a couple who leave New York City for some down time with their children at a rented house on Long Island. Then a man and a woman claiming to be the house's owners appear at the door, moaning that they have fled a major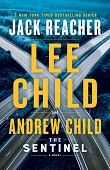 blackout in the city. But there's no TV or internet to prove that claim. With a 100,000-copy first printing.
Child, Lee & Andrew Child. The Sentinel: A Jack Reacher Novel. Delacorte. Oct. 2020. 368p. ISBN 9781984818461. $28.99. CD/downloadable. THRILLER
As well you know, Lee Child announced in January that he will relinquish his celebrated Jack Reacher series to brother Andrew Grant (e.g., RUN, False Positive), who will go by the pen name Andrew Child. They'll write the next few titles together before Andrew leaps wholly into the fray. Grab it, of course.
Doctorow, Cory. Attack Surface. Tor. Oct. 2020. 384p. ISBN 9781250757531. $26.99. SF
Hoisting aloft his many Locus, Campbell, and Prometheus awards, Doctorow returns with the story of brilliant Masha Maximow, who works for a transnational cybersecurity firm, creating the means for repressive regimes to spy on its dissidents. Sometimes (for fun) she helps the dissidents, too, but the damage she does has suddenly come close to home, and she's got a choice to make. With a 125,000-copy first printing.
Flagg, Fannie. The Wonder Boy of Whistle Stop. Random. Oct. 2020. 320p. ISBN 9780593133842. $28. CD/downloadable. WOMEN'S
Loved those Fried Green Tomatoes at the Whistle Stop Café? Then you'll want to go along for the ride when Bud Threadgoode travels back to Whistle Stop and the homey little café run by his devout mother, Ruth, and her wild-hare sister, Idgie. With the trains no longer running through, the town is mostly boarded up, but Bud makes some new friends and learns more about a host of beloved Whistle Stop characters.
Maguire, Gregory. A Wild Winter Swan. Morrow. Oct. 2020. 256p. ISBN 9780062980786. $27.99. LITERARY/FAIRY TALES
Oz, Wonderland, and the swirling worlds of Dickensian London and E.T.A. Hoffman's The Nutcracker—what will the celebrated Maguire transfigure next? Hans Christian Andersen's "The Wild Swans," here retold as the story of an Italian American girl named Laura, compelled to live with her starchy grandparents on Manhattan's Upper East Side in the 1960s. She fears she'll be sent to boarding school after some (justifiably) rebellious behavior at her current school. Then, during the Christmas season, a handsome boy with one swan wing appears on her roof. With a 100,000-copy first printing.
Nguyen, Viet Thanh. The Committed. Grove. Oct. 2020. 400p. ISBN 9780802157065. $27. LITERARY
In this bated-breath follow-up to the Pulitzer Prize–winning The Sympathizer, Nguyen's eponymous protagonist lands in France after his unfortunate reeducation by a former best friend. He loves Paris and soon finds his groove with a bunch of left-wing intellectuals and politicians, but his predominant means of support—dealing drugs—has its drawbacks. And what's he going to do about his two closest friends, who have polar-opposite worldviews.
Walter, Jess. The Cold Millions. Harper. Oct. 2020. 352p. ISBN 9780062868084. $28.99. LITERARY/HISTORICAL
In early 1900s America, the Dolan brothers hop freight trains and grab shady day jobs, with 16-year-old Rye wanting a regular job and home and flamboyant older brother Gig working hard for union rights. Through vaudeville singer Ursula the Great, whose stage companion is a live cougar, they meet a dangerous mining magnate even as Rye is drawn to 19-year-old activist Elizabeth Gurley Flynn. From the author of the No. 1 New York Times best-selling Beautiful Ruins.