Help your readers navigate the scariest season with a few recent under-the-radar titles that are sure to be crowd pleasers.
Help your readers navigate the scariest season with a few recent under-the-radar titles that are sure to be crowd pleasers.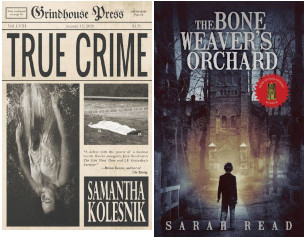 Two of the hottest genres, horror and true crime, collide in The Remaking by Clay McLeod Chapman (Quirk. Sept. 2020. ISBN 9781683692119), a Möbius strip of a novel that intertwines four related stories of murder and witchcraft across time and space. Beginning with an actual crime from 1931 involving the murder of two suspected witches, the narrative shifts to the 1970s and the cult classic film about those murders, then moves to the details of a '90s movie remake, and finally centers on a 2016 podcast. The effect? Both the characters and readers become trapped inside the web of menace and curses. This disorienting and immersive story anchors itself in history but stretches its terrifying tentacles into the present, producing intense chills. Read-alike: For another unconventional, character-centered, unsettling tale framed by a cursed film try the cult classic Experimental Film by Gemma Files.
True Crime by Samantha Kolesnik (Grindhouse Pr. Jan. 2020. ISBN 9781941918562) centers on a fictional crime spree, but one so realistically portrayed that the graphic horror is palpable. Suzy and Lim, siblings who have been terribly abused at home, escape and strike out on their own, leaving a trail of murder in their wake. The narrative, told mostly from Suzy's point of view, forces readers to reckon with her physical and emotional damage in real time. It's an eerily enchanting tale, sucking the reader in despite the horrors. Its short length and fast pace, combined with its visceral feel, pack a psychologically intense punch, yet it is also beautiful and hopeful. Kolesnik's honest tale about human monsters and the truth that hides behind the headlines will force readers to look deeply into their own souls. Read-alike: For another critically acclaimed, visceral, and thought-provoking horror-crime hybrid, try Zero Saints by Gabino Iglesias.
Unnerving Magazine has capitalized on the popularity of the horror novella and nostalgia for the gore and camp of 1970s, '80s and '90s horror films in its "Rewind or Die" series. Entry number 8, Hell's Bells by debut novelist Lisa Quigley (Unnerving. May 2020. ISBN 9781989206454), is a terrifying and humorous take on the "Satanic Panic" trope, featuring teen girls who mistakenly summon Satan in their suburban basement, and use rock 'n' roll to save themselves and the world. The characters jump off the page, the action and terror are perfectly realized, and the musical allusions are fun and frequent. Quigley is also a host of the award-winning Ladies of the Fright podcast, so her name may ring a bell with patrons. The awesome cover art surrounding this tale, and every entry in the series, will help the book circulate. Read-alike: The fourth entry in the series, Cirque Berserk by Jessica Guess, is another great choice. Both feature witless teens and slasher tropes, and are bunches of gory fun to read.
Finding an awesome debut can feel like winning the lottery, and this year's Bram Stoker Best First Novel winner is some golden ticket. The Bone Weaver's Orchard by Sarah Read (Trepidatio. 2019. ISBN 9781950305421) is an engrossing Gothic tale set in the mid 1920s within the creepy walls of The Old Cross School for Boys, located in North Yorkshire. Charley, a young, insect-loving misfit, knows there is something sinister going on in the tunnels under the school, but he has no idea just how close the horrors they hold will come. This haunted house story begins in familiar ways, with dark secrets and monsters hiding in plain sight, but it is also surprisingly original, with a fresh voice telling a compelling, character-driven story of friendship and bravery wrapped in a sympathetic coming-of-age tale. Read-alike: Fans of Mexican Gothic by Silvia Moreno-Garcia with its escalating dread, sympathetic protagonist, and sinister family secrets will also enjoy Read's lesser-known novel.
Owl Goingback won the Bram Stoker award for Best First Novel in 1996 for Crota. In 2020 he won the Best Novel statue for his captivating dark fantasy Coyote Rage (Independent Legions. 2019. ISBN 9788831959254). The story is set in two parallel dimensions, one occupied by humans, the other by shapeshifters. A change at the top of the Great Council in Galun'lati gives Coyote an opening to destroy the human world, but some shapeshifters are committed to keeping the peace and will fight alongside humanity against Coyote. This novel is so much more than its plot, however; it is thought-provoking, engaging, and original. The mythology and world building are fantastic, the action scenes and pacing exciting, and the language is engaging, even poetic at times. Read-alike: For another award-winning dark fantasy-horror hybrid with shapeshifters, lyrical prose, and mythology used to craft a complex tale wrapped in an immersive world, try Black Leopard, Red Wolf by Marlon James.
---
Becky Spratford is a readers' advisory (RA) specialist in northern Illinois and the author of The Readers' Advisory Guide to Horror (2d ed., ALA). She runs the popular blogs raforall.blogspot.com and raforallhorror.blogspot.com. Readers can connect with her on Twitter @RAforAll.
---
Neal Wyatt is LJ's readers' advisory columnist, contributing The Reader's Shelf, Book Pulse, and Wyatt's World columns. She is the coauthor of The Readers' Advisory Guide to Genre Fiction, 3d ed. (ALA Editions, 2019). Contact her at nwyatt@mediasourceinc.com