LJ's documentary film reviewer picks four stirring new works, now available on DVD/Blu-ray.
LJ's documentary film reviewer picks four stirring new works, now available on DVD/Blu-ray.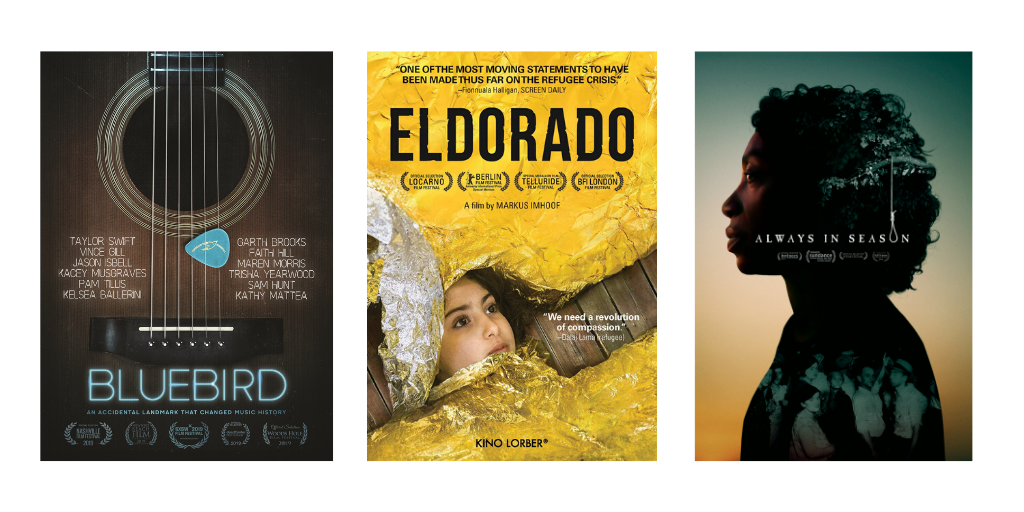 Bluebird. 83+ min. Cleopatra Entertainment. 2020. Blu-ray UPC 8946615008. $21.98.
Dreams can come true in the most unexpected locations. A nondescript space in a
Nashville strip mall might not look like much from the outside. But the Bluebird Cafe is where many country music legends began their paths to stardom. Bluebird chronicles the history of this iconic venue with musical performances and lively origin stories from the likes of Kacey Musgraves, Garth Brooks, Vince Gill, Taylor Swift, and other stars as they talk about how important the cafe and performance space has been for their careers and the Nashville music scene. Fans of musical documentaries, particularly country music enthusiasts, will adore this love letter to a legendary Music City site.
Eldorado. 95+ min. In German w/ English subtitles. Kino Lorber. 2018. DVD UPC
3832924190. $29.95.
Connecting the current global refugee crisis to a personal part of his family's history in post World War II Switzerland, director Markus Imhoof documents the dangerous travels of refugees as they cross the Mediterranean Sea outside of Italy. Imhoof is given incredible access to the entire process, from the first moment that refugees are pulled from the water to registration and health checks to extended stays in camps to living in squalid conditions and earning very little as agricultural laborers. The refugees are often subject to discrimination and violance in their new homes. Powerful and fascinating, this is an intimate exploration of what happens to desperate people who often wind up trading one hostile nation for another.
16 Bars. 94+ min. Lightyear Entertainment. 2020. DVD UPC 8536545372.
In 2017, director Sam Bathrick and a small team entered a Richmond, VA, jail with Speech, a member of the hip hop group Arrested Development, during a two-week workshop to record music. In a barebones jail studio, four men attempt to find redemption. Music is just the jumping-off point as we follow life in and outside of the walls that confine them. The men have terrible stories to tell and they all discuss their troubles unflinchingly. Each of them hopes to use music as a catalyst for dramatic life change once jail is behind them, but it is unclear whether music will be enough to help the men find the absolution they desire.
Always in Season. 89+ min. Good Docs. 2019. $129.
A soulful, blistering look into the shameful heart of America's legacy of public lynchings of African Americans by white citizens. Graphic photos and archival images do not spare viewers from the violent truths. Director Jacqueline Olive links these killings to the present by investigating the 2014 death of Lennon Lacy, who was found hanging from a swing set in the middle of the night in North Carolina. While police labeled Lennon's death a suicide, many in the community believe it was a racist lynching. Olive also depicts the activities of lynching reenactors in rural Georgia who meet every year to revisit the killing of four African Americans in 1946. Though tough to watch, Season is important viewing that promises, as one of the reenactors says while wiping tears from her face, to keep the issue "in the light."