A former white nationalist on confronting the new culture of extremism, a distinguished philosopher on learning from the Germans about dealing with America's racist past, healthcare concerns from two former members of President Obama's bioethics commission, and more.
Goldberg, Carrie & Jeannine Amber. Nobody's Victim: Fighting Psychos, Stalkers, Pervs, and Trolls. Plume: Random. Aug. 2019. 304p. ISBN 9780525533771. $27; ebk. ISBN 9780525533795. Downloadable. SOCIAL SCIENCE
Victim's rights lawyer Goldberg, who assists victims of sexual harassment, sexual assault, blackmail, and revenge porn, here explains how her clients have been attacked and how she uses unrelenting advocacy, risk taking, and client empowerment to challenge schools, companies, and individual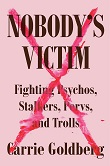 predators in court. She appeared in the documentary Netizens, and her work has inspired a forthcoming fictional legal procedural television show.
Gutmann, Amy & Jonathan D. Moreno. Everybody Wants To Go to Heaven but Nobody Wants To Die: Bioethics and the Transformation of Health Care in America. Liveright: Norton. Aug. 2019. 272p. ISBN 9780871404466. $27.95. BIOETHICS/HEALTH
It's not news that American healthcare has problems, but the emphasis here is on bioethical issues, e.g., genetic engineering, the escalation of medical research without regard to human rights (testing anthrax vaccines on children?), and the underfunding of mental and public health even as medical research booms. And the authors—University of Pennsylvania president Gutmann and Penn professor Moreno, who both served on President Obama's bioethics commission—carry a big stick.
Halpern, John & David Blistein. Opium: How an Ancient Flower Shaped and Poisoned Our World. Hachette. Aug. 2019. 368p. ISBN 9780316417662. $29; ebk. ISBN 9780316417655. lib. ebk. ISBN 9780316535328. Downloadable. SCIENCE/HISTORY
In 2017, over 60,000 Americans died from opioid overdose, more Americans than died during the lengthy Vietnam War. To explain how we've arrived at that grim statistic, Halpern, the former medical director of the Boston Center for Addiction Treatment, tracks back to poppy farmers in Mesopotamia, Greek physicians impressed with the effects of the refined poppy, colonial dominance of the opium trade, and the contemporary drug industry's modeling of a new type of pill on the poppy, with catastrophic results. Good context for a bad problem.
Hankir, Zahra, ed. Our Women on the Ground: Essays by Arab Women Reporting from the Arab World. Penguin. Aug. 2019. 304p. ISBN 9780143133414. pap. $17; ebk. ISBN 9780525505204. Downloadable. POLITICAL SCIENCE
The correspondents covering conflict in the Middle East tend to be Western, and for that matter mostly white and male, but this collection features original, first-person essays by 19 Arab women journalists speaking about their own world. Edited by Lebanese-British journalist Hankir and with a foreword by CNN's Christiane Amanpour.
Neiman, Susan. Learning from the Germans: Race and the Memory of Evil. Farrar. Aug. 2019. 432p. ISBN 9780374184469. $28; ebk. ISBN 9780374715526. PHILOSOPHY
Author of the distinguished Evil in Modern Thought, a white woman who grew up in the civil rights–era South, and a Jewish woman who has spent much of her adult life in Berlin, Einstein Forum director Neiman is uniquely positioned to write this study of what can be learned from Germany's efforts to grapple with the Holocaust as America confront white nationalist violence, debate over reparations, and the controversy swirling about Confederate monuments.
Picciolini, Christian. Breaking Hate: Confronting the New Culture of Extremism. Hachette. Aug. 2019. 224p. ISBN 9780316522939. $26; ebk. ISBN 9780316522953. lib. ebk. ISBN 9780316522960. Downloadable. SOCIAL SCIENCE
In a world where extremism is normal and extremist violence a growing trend, Picciolini can speak with authority. Once leader of a notorious neo-Nazi hate group, the Chicago Hammerskins, he abandoned white supremacism and eventually founded Life After Hate, a nonprofit working to counter racism and violent extremism. Here he draws on personal experience to explain why such hatred festers and why that needn't be the case. With a 40,000-copy first printing.
Row, Jess. White Flights: Race, Fiction, and the American Imagination. Graywolf. Aug. 2019. 320p. ISBN 9781555978327. pap. $16; ebk. ISBN 9781555978815. CRITICISM
One of Granta's Best of Young American Novelists, Row here springboards from the term white flight, e.g., the ongoing movement of white Americans into segregated communities, as he considers Marilynne Robinson Housekeeping, Jonathan Franzen's The Corrections, and other key works to consider whiteness in literature today and how white writers can better address issues of race.
Schlossberg, Tatiana. Inconspicuous Consumption: The Environmental Impact You Don't Know You Have. Grand Central. Aug. 2019. 288p. ISBN 9781538747087. $28; ebk. ISBN 9781538747094. lib. ebk. ISBN 9781538731451. Downloadable. ENVIRONMENT
Using less paper and buying fewer DVDs means that the digital world is better for the environment, right? Not necessarily, says Schlossberg, a former climate reporter for the New York Times, who explains the repercussions of online shopping and streaming movies, for instance, and the unexpected links between things like England's electricity and trees in the American South. With a 40,000-copy first printing.