Poetry's not dead—at least, it was very much alive on the night Dr. Carla Hayden, the 14th Librarian of Congress, and the 22nd U.S. Poet Laureate Tracy K. Smith, engaged in an illuminating conversation at the Schomburg Center in New York City's Harlem.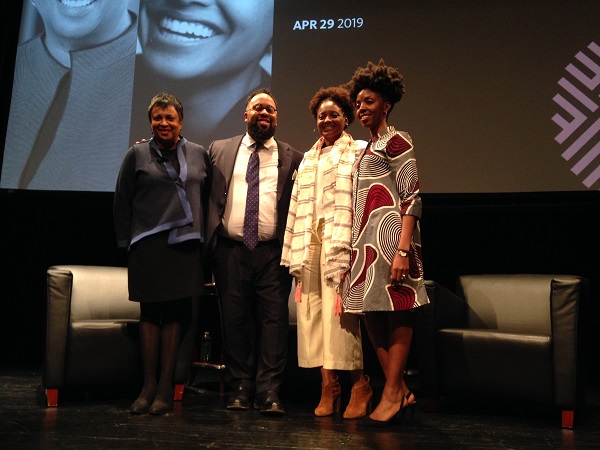 Librarian of Congress Dr. Carla Hayden, Schomburg Center Director Kevin Young, U.S. Poet Laureate Tracy K. Smith, and Novella Ford, Schomburg Center Associate Director, Public Programs and Exhibitions
Photo by Vanessa Willoughby
Poetry's not dead—at least, it was very much alive on the night Dr. Carla Hayden, the 14th Librarian of Congress, and the 22nd U.S. Poet Laureate Tracy K. Smith, engaged in an illuminating conversation at the New York Public Library's Schomburg Center for Research in Black Culture. Moderated by Schomburg Director Kevin Young, the April 29 event touched upon the power of poetry to bridge the distance between strangers, the importance of libraries and their role in educating local and national communities, and the vital way in which literature shapes historical and cultural narratives.
Kicking off the dialogue, Hayden reflected on her first impressions of the Schomburg Center. She said, "I was coming to Mecca. As a baby librarian, this was the place I had to be."
Appointed the U.S. Poet Laureate in June 2017 and reappointed for a second term in March of 2018 by Hayden, Smith is determined to shatter the misconception that poetry is a stagnant entity, ruled by the ghosts of dead white men. Through her travels across the country, which have included stops at rural communities, addiction treatment facilities, and juvenile detention centers, Smith's approach to poetry focuses on accessibility through vulnerability. In other words, poetry is a metaphorical heartstring, a tool that taps into emotion and fosters connections. Smith said, "Those poems went the distance—literally."
Smith, who won the 2012 Pulitzer Prize for Poetry for Life on Mars and is the director of Princeton University's creative writing program, uses poetry as a conversation starter, especially in the age of social media and instantaneous, unvetted knowledge. During her recent tour, aptly named "American Conversations," Smith shared the 2018 anthology American Journal: Fifty Poems for Our Time, which she edited. The book features 50 contemporary poets, spanning various backgrounds and ages, including Jericho Brown, Natalie Diaz, Matthew Dickman, Mark Doty, Ross Gay, Aracelis Girmay, and Joy Harjo.
Speaking to Smithsonian magazine in December of last year, Smith said, "We're so trained to just talk and explain and, you know, argue and outmaneuver other people. We need more practice being in rooms where we don't know what someone's thinking, where we have to actually listen to get a sense of what might be going on."
Smith recalled a visit to Alaska, where she brought her poetry to a center for veterans and pioneers. The audience of senior citizens responded to her reading with only the occasional moan. She registered their sounds as proof she'd done poorly, but she later learned that some of the people had Alzheimer's and their ability to speak was limited. Their wordless responses were not an indication of her failure but signs of emotional recognition.
As the Librarian of Congress and the first African American to serve in the position, Hayden, like Smith, wants to broaden the public's perception of the purpose of literature and its place in modern culture. She stressed the importance of keeping materials in the public domain, citing a previously unseen photo of Harriet Tubman that was unveiled in March of this year, a joint effort with National Museum of African American History and Culture Director Lonnie Bunch. The photo is a stark contrast from the familiar black-and-white portrait of Tubman, where she stands and looks directly into the camera, hand resting on the back of a chair. The newly recovered photo shows Tubman sitting down, with one hand across the top of the voluminous skirt of her dress, the other draped across the side of a chair. Taken in 1868, the photo was from an album owned by abolitionist Emily Howland. Tubman is thought to be in her mid-40s and looks "years younger than most surviving photographs that show her late in life," Hayden said.
An audience member commented that Tubman's pose reminded them of Michelle Obama's painting in the National Portrait Gallery. Hayden said the Tubman photo "shows her as the woman who led people to freedom" rather than the larger-than-life, almost mythologized icon often encountered in standard-issue textbooks. Primary sources, Hayden emphasized, can deepen understanding of historical events that can seem, in the eyes of young patrons, irrelevant or removed. The photo is just one part of the library's massive digitization project, "Enriching the Library Experience," that Hayden plans to roll out over course of five years.
For both Hayden and Smith, the library is more than a place to check out a book. It's a nonjudgmental safe space or a vehicle to open up different worlds to children. Hayden cited fond memories of the Queens Library in Jamaica, across the street from PS96. Marguerite de Angeli's Bright April was the first time she saw herself represented in a book, and she recalled how Pulitzer Prize– and Tony Award–winning playwright August Wilson said he "graduated" from the Carnegie Library of Pittsburgh. For Smith, her father, an "eclectic reader," instilled in her family a love and appreciation of literature.
And while libraries can seem like sanctuaries, Hayden noted that thanks to the benefits of digitization, librarians don't have to be as overprotective of their materials as before. Near the end of the event, audience members took the mic to ask questions or simply offer their praise of both women. When asked what she'd like libraries to do more of, Hayden quickly said, "Loosen up."
She added, "It's not our stuff; it's the people's stuff."