The author of The Dream Life of Sukhanov offers a revisionist fairy tale.
Grushin, Olga. The Charmed Wife. Putnam. Jan. 2021. 288p. ISBN 9780593085509. $27. Downloadable. LITERARY/FAIRY TALES
Winner of the NYPL Young Lions Fiction Award and a Granta's Best of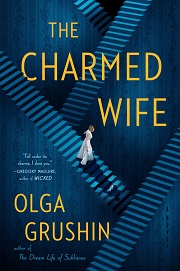 Young American Novelists honoree, Russian-born, Washington, DC–based Grushin offered acute insight into life in Soviet Russia in her singularly absorbing debut, The Dream Life of Sukhanov, and its excellent follow-up, The Line. Forty Rooms was an intriguing departure, investigating the life and disappointments of its female protagonist over decades as she moved through various domestic spaces. The protagonist of Grushin's latest novel is another disappointed woman—Cinderella herself, the presumed embodiment of happily ever after. But after 13 and a half years and two children, Cinderella is no longer so charmed by her prince and sneaks out of the palace one night to find a witch famed for her love potions. But what kind of potion does she really want the witch to brew? Twisty revisionist fairy tales are popular, especially when told from the uncommon female perspective, and Grushin should be able to make this work for readers of literary and popular fiction alike.