Though the National Book Critics Circle shut down its awards ceremony owing to the coronavirus, the voting went out, producing provocative winners.
Scheduled for Thursday, March 12, the National Book Critics Circle's annual awards ceremony was canceled owing to the current coronavirus pandemic. But the voting went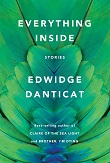 on, with results announced Thursday night. This year's fiction winner is Edwidge Danticat's Everything Inside: Stories (Knopf), a new collection from the Macarthur fellow and inaugural Story Prize winner, revealing fresh premises and unexpected ending and praised by the board as the best work of her career.
The nonfiction winner is Patrick Radden Keefe's Say Nothing: The True Story of Murder and Memory in Northern Ireland (Doubleday), which chronicles the late 20th-century conflict in Northern Ireland known as the Troubles via the December 1972 murder of Jean McConville, a 38-year-old mother of ten alleged by the IRA to have passed information to British forces. As such, it continues a long-unwinding story of post-colonialism and violence, showing that the suffering inflicted by the Troubles has never been truly faced.
The biography award was given to Josh Levin's The Queen: The Forgotten Life Behind an American Myth (Little, Brown), a detonation of the myth of the welfare queen singled out for its author's strong investigative skills. Chanel Miller's Know My Name: A Memoir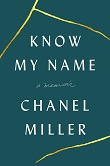 (Viking) won autobiography plaudits for its unblinking description of the author's sexual assault and the long wait before justice was served.
The poetry award went to Morgan Parker for Magical Negro (Tin House), praised by the board as an innovative and embracive study of African American womanhood. The criticism award was given to Saidiya Hartman's Wayward Lives, Beautiful Experiments: Intimate Stories of Social Upheaval (Norton) for expanding the critical approach to African American history in its examination of the lives of young black women in the early 20th century.
Finally, this year's NBCC honors include three previously announced awards. Katy Waldman, a New Yorker staff writer, won the 2019 Nona Balakian Citation for Excellence in Reviewing. Sarah M. Broom's already much-honored memoir, The Yellow House (Grove), was the recipient of the John Leonard Prize, recognizing an outstanding first book in any genre. The Ivan Sandrof Lifetime Achievement Award was given to Naomi Shihab Nye, a multi-award-winning poet, novelist, and songwriter who serves as the Poetry Foundation's Young People's Poet Laureate and frequently explores her Palestinian roots and issues of cultural inclusivity in her work.
The NBCC Board plans to honor the winners and finalists at a gala in New York City on September 12.