Two leading figures in world history get a very different kind of treatment.
Scurr, Ruth. Napoleon: A Life Told in Gardens and Shadows. Liveright: Norton. Jun. 2021. 416p. ISBN 9781631492419. $28.95. BIOGRAPHY
Lecturer and Fellow at Gonville & Caius College, University of Cambridge, Scurr tracks the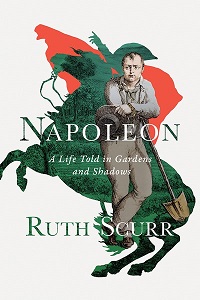 life of Napoleon Bonaparte not through the battlefields but through his affinity with the natural world as he wanders the forests and creates gardens and parks. She also discusses the scientists, architects, and gardeners with whom he shared his interest. Not what you'd expect of the Little Corporal; as Mary Beard said in the Guardian, this work is "a game-changer in the world of biography."
Tresch, John. The Reason for the Darkness of the Night: Edgar Allan Poe and the Forging of American Science . Farrar. Jun. 2021. 448p. ISBN 9780374247850. $30. BIOGRAPHY
Edgar Allan Poe's detective stories and captious raven are world famous, but how many people know that Poe also wrote "Sonnet—to Science"? Tresch, Mellon Chair in History of Art, Science, and Folk Practice at the Warburg Institute, London, investigates Poe's avid interest in scientific developments and equal interest in the fads and fakes, pseudoscientists and mystics that also shaped his era.