Evanovich reembracing Stephanie Plum, Anne Perry in time for the holidays, and more big-name authors.
Atkins, Ace. Robert B. Parker's Bye Bye Baby. Putnam. Nov. 2021. 336p. ISBN 9780593328514. $28. CD/downloadable. MYSTERY
Atkins continues to uphold Robert B. Parker's tradition, giving us another spin with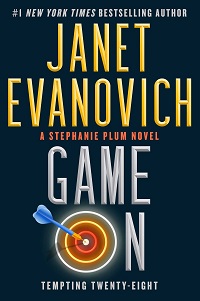 the redoubtable PI Spenser. No plot details yet, but the action ranges from Boston to the Bahamas, and the cover's sparkly jewels suggest trouble in high places.
Eriksson, Kjell. The Deathwatch Beetle. Minotaur: St. Martin's. Nov. 2021. 288p. ISBN 9781250766168. $27.99. MYSTERY/POLICE PROCEDURAL
Never mind that she's no longer a police inspector, Ann Lindell can't help but get involved when she learns that a young woman who vanished four years previously from the Swedish isle of Gräsö has been seen alive. Cecilia's remote parents and Nils Lindberg, the local scapegrace who crushed on Cecilia as a teenager, have secrets to disclose, and it appears someone on the island is out for revenge. With a 35,000-copy first printing.
Evanovich, Janet. Game On: Tempting Twenty-Eight. Atria. Nov. 2021. ISBN 9781982154875. $28.99. CD. MYSTERY
Would you believe that Evanovich is back with another Stephanie Plum mystery, 28th in a series that has claimed 24 No. 1 New York Times best sellers in 25 years? No plot details, but the game is on! With a one-million-copy first printing.
Fletcher, Jessica & Terrie Farley Moran. Murder, She Wrote: Debonair in Death. Berkley. Nov. 2021. 304p. ISBN 9780593333624. $26. MYSTERY
In the latest addition to this USA Today best-selling series, based on the hit television show featuring Jessica Fletcher, Jessica gets into the act when her favorite technician at the local nail salon is accused of murdering Nelson Penzell, co-owner of a fancy-schmancy art and treasure store in Cabot Cove, ME. Coauthor Moran is just getting involved in the long-running series.
Meyer, Nicholas. The Return of the Pharaoh: From the Reminiscences of John H. Watson, M.D. Minotaur: St. Martin's. Nov. 2021. 272p. ISBN 9781250788207. $25.99. CD. MYSTERY/HISTORICAL
In early 1900s Egypt, where he's gone because the climate might ease his wife's tuberculosis, Dr. John Watson encounters his old friend Sherlock Holmes in disguise. Holmes is investigating the disappearance of an English duke—not the first British aristocrat with a passion for Egyptology to vanish with the sand-gritty wind—and they join forces with celebrated archaeologist Howard Carter to discover what is happening. From the author of the enduring The Seven Per Cent Solution; with a 50,000-copy first printing.
Perry, Anne. A Christmas Legacy. Ballantine. Nov. 2021. 320p. ISBN 9780593159392. $21. MYSTERY/HISTORICAL
In Perry's latest holiday mystery (following 18 previous titles), Thomas and Charlotte Pitt's former maid Gracie has no desire to return to service. But when a friend is thrown out of her job without references, evidently because she knows something she shouldn't, Gracie takes the job and discovers a duplicitous couple eager to send the ailing grandmother in their care on her way. Gracie is a fan favorite, and Perry seems always to light up the holidays.
Perry, Thomas. The Left-Handed Twin: A Jane Whitefield Novel. Mysterious: Norton. Nov. 2021. NAp. ISBN 9781613162590. $25.95. MYSTERY
Jane Whitefield helps people disappear, and her latest client is a young woman from Los Angeles who cheated on her boyfriend, who then made her watch him murder the man with whom she had been involved. Despite her testimony, he was acquitted, and his Russian mafia contacts are trailing her—and Jane. Edgar Award winner Perry's first Jane Whitefield novel in seven years.
Robb, Candace. The Riverwoman's Dragon. Severn House. Nov. 2021. 256p. ISBN 9781780291369. $28.99. MYSTERY/HISTORICAL
It's 1375, and long-standing Robb protagonist Owen Archer returns home from London to find York upended by a new physician who is dead-set against wise woman Magda Digby, who has helped so many people in the intervening years. Then Magda is accused of murder after she discovers a body floating in the river. A lovely series for medieval fans, and I am one.
Thomas, Sherry. Miss Moriarty, I Presume? Berkley. Nov. 2021. 336p. ISBN 9780593200582. pap. $16. Downloadable. MYSTERY/HISTORICAL
Now this is unexpected: Criminal mastermind Moriarty himself wants Charlotte Holmes to find his missing daughter. It appears that she is somehow associated with a mysterious occult community, but perhaps this is just a trap. From a two-time RITA Award winner who has gone the mystery route; this is sixth in the "Lady Sherlock" series.