Among other titles, there's Judd Apatow on Garry Shandling, Noah Hawley on Fargo, Holly George-Warren on Janis Joplin, and great choreographers Mark Morris and Jerome Robbins on their work.
Apatow, Judd, ed. It's Garry Shandling's Book. Random. Oct. 2019. 480p. ISBN 9780525510840. $40; ebk. ISBN 9780525510857. HUMOR
Comic mastermind Apatow expands on his Emmy Award–winning documentary, The Zen Diaries of Garry Shandling, to offer a portrait of his mentor, the legendary stand-up comic and star of The Larry Sanders Show. Including previously unseen journal entries and photos, plus contributions by fellow comedians and authors, and not just laugh-out-loud: it reflects on Shandling's more spiritual quest.
Edwards, Gavin. Kindness and Wonder: Why Mr. Rogers Matters Now More Than Ever. Dey Street: HarperCollins. Oct. 2019. 224p. ISBN 9780062950741. $24.99; ebk. ISBN 9780062950758. TELEVISION
The New York Times best-selling Edwards, whose subjects range from Bill Murray to the Viper Room, explains why the star of the award-winning PBS show Mister Rogers' Neighborhood mattered so much to us and matters still. With interviews from people with fond recall of Mr. Rogers, from Rita Moreno to NFL Hall of Famer Lynn Swann.
Feaver, William. The Lives of Lucian Freud: The Restless Years, 1922–1968. Knopf. Oct. 2019. 656p. ISBN 9780525657521. $40; ebk. ISBN 9780525657538. Downloadable. FINE ARTS/BIOGRAPHY
Iconic and iconoclastic British painter Lucian Freud here gets the first installment of his first biography, written by Feaver, chief art critic for the Observer from 1975 to 1998 and curator of exhibitions featuring Freud, among other artists. Feaver interviewed family and friends, of course, but draws much of his material from the daily calls he made to Freud from 1973 until Freud's death in 2011. With a 15,000-copy first printing, plus 16 pages of four-color photos and illustrations throughout.
Fingeroth, Danny. A Marvelous Life: The Amazing Story of Stan Lee. St. Martin's. Oct. 2019. 320p. ISBN 9781250133908. $29.99; ebk. ISBN 9781250133915. CD. COMICS/BIOGRAPHY
Spider-Man, the Hulk, the X-Men: we wouldn't have any of them without Stan Lee, beloved comicbook writer and editor and former president and publisher of Marvel Comics. Lots of interviews, including new ones with Lee himself, from a comics industry veteran and award-winning writer who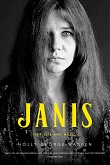 served as an editor at Marvel Comics.
George-Warren, Holly. Janis: Her Life and Music. S. & S. Oct. 2019. 384p. ISBN 9781476793108. $28.99; ebk. ISBN 9781476793122. MUSIC/BIOGRAPHY
A two-time Grammy Award nominee for writing and producing, ASCAP-Deems Taylor Award winner for edited works, former editor of Rolling Stone Press, and New York Times best-selling author of books like The Road to Woodstock (with Michael Lang), George-Warren traces the life, career, and lasting influence of the incomparable brash and bluesy rock singer Janis Joplin.
Hawley, Noah. Fargo: This Is a True Story. Grand Central. Oct. 2019. 448p. ISBN 9781538731307. $35; ebk. ISBN 9781538731314. lib. ebk. ISBN 9781538716755. TELEVISION
The Emmy, Golden Globe, PEN, Critics' Choice, and Peabody Award–winning author, screenwriter, and producer, also the author of four novels (Edgar winner Before the Falls has sold over 500,000 copies), Hawley crafts a companion to the first three seasons of his TV drama Fargo. With teaser content for Season 4; a 75,000-copy first printing.
Jacobs, Alexandra. Still Here: The Madcap, Nervy, Singular Life of Elaine Stritch. Farrar. Oct. 2019. 352p. ISBN 9780374268091. $27; ebk. ISBN 9780374714659. CD. PERFORMING ARTS/BIOGRAPHY
New York Times editor and cultural critic chronicles the life and career of multi-award-winning, multi-award-nominated Elaine Stritch on stage, in film, and in cabaret, which she performed until a year before her death in 2014. Then there was her early 2000s Tony Award–winning one-woman show, Elaine Stritch at Liberty, which won her a new generation of fans.
Mann, William J. The Contender: The Story of Marlon Brando. Harper. Oct. 2019. 736p. ISBN 9780062427649. $35; ebk. ISBN 9780062427656. FILM/BIOGRAPHY
Having assayed Kate Hepburn, Elizabeth Taylor, Barbra Streisand, and the Roosevelts and winning a Lambda Award for Wisecracker: The Life and Times of William Haines, Mann is good and ready to chronicle one-of-a-kind Marlon Brando. With a 50,000-copy first printing.
Morris, Mark & Wesley Stace. Out Loud: A Memoir. Penguin Pr. Oct. 2019. 384p. ISBN 9780735223073. $30; ebk. ISBN 9780735223097. Downloadable. DANCE/MEMOIR
Since the 1970s, Morris has been one of the durable greats of choreography, offering boundary-busting works—often with boundary-busting body perceptions—and sometimes working in collaboration with the likes of Mikhail Baryshnikov, Yo-Yo Ma, and Lou Harrison. A mega-hearted work by a mega-hearted performer, written in conjunction with performer/novelist Stace and a personal favorite.
Ridgeley, Andrew. WHAM!, George Michael, and Me: A Memoir. Dutton. Oct. 2019. 368p. ISBN 9781524745318. $28; ebk. ISBN 9781524745332. Downloadable. MUSIC/MEMOIR
Starting in 1975 with his meeting George Michael, the shy new boy at Bushy Meads School, Ridgeley relates the rise of WHAM!, one of the biggest pop acts in the 1980s. But he doesn't end with their breakup concert at London's Wembley Stadium in June 1986, hours long and attended by thousands, but chronicles their relationship until George Michael's death in 2016.
Robbins, Jerome & Amanda Vaill. Jerome Robbins, by Himself: Selections from His Letters, Journals, Drawings, Photographs, and an Unfinished Memoir. Knopf. Oct. 2019. 464p. ISBN 9780451494665. $40; ebk. ISBN 9780451494672. Downloadable. DANCE/MEMOIR
Edited and with commentary by Vaill, author of the Robbins biography Somewhere and a National Book Critics Circle finalist for Everybody Was So Young, this work draws on the letters, journals, notes, and diaries, never before published, of a master choreographer/director equally at home on Broadway and in the rarefied world of ballet. The portrait of a man and an artistic era; with a 30,000-copy first printing.